Apple's iPhone 12 generation has been an overwhelming success. Nevertheless, the iPhone 12 is not faultless, as it has its own set of problems, some of which have not been fixed even years after its release. We've compiled a list of the most often encountered issues with the iPhone 12, along with solutions.
All smartphones have their flaws, and there isn't a single one that's flawless. These problems are made considerably more severe by the fact that Apple sells millions of iPhones throughout the globe every single month.
Although some of the problems are easily overlooked, others may be deal-breakers. Fortunately, some of these problems have simple solutions, and for those that don't, there are workarounds.
Find out what problems others are having with the iPhone 12 and how to solve them.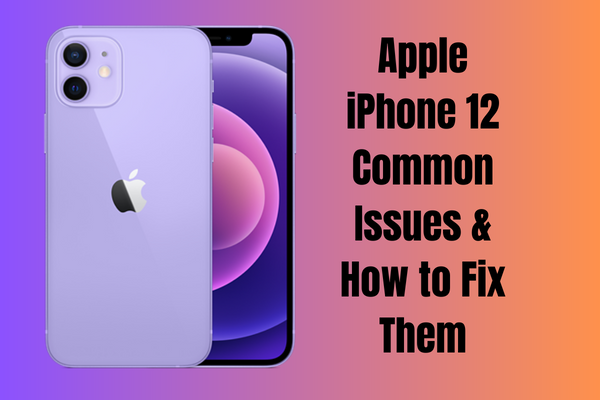 1:  The iPhone 12 Face ID Problem
The iPhone 12, like other recent iPhone models, is equipped with Apple's facial recognition software. It's an extra layer of protection that allows you to access your phone and approve purchases.
When users try to set up Face ID on their iPhones, they run the risk of running into problems if the illumination isn't quite right or if there are objects around.
If your phone won't unlock, try wiping its sensors with a microfiber cloth. Resetting Face ID is also an option. These are a few easy steps to take to do that:
To access Face ID & Passcode, tap Settings and scroll down to the bottom.
To activate any of the features described in the "Use Face ID" section, you'll need to enter your passcode.
Try tapping Reset Face ID and Setup Face ID if it doesn't work.
Modify the settings for attention awareness to suit your needs. By enabling them, you can be certain that your phone will remain secure until you face the screen and tap the unlock button.
2:  The iPhone 12 Audio Issue
Certain iPhone 12 users may have audio problems, which might also include the alarm volume being too low or too loud.
Keep in mind that this is only a temporary issue that can be easily resolved with a few simple actions. To play sounds, push the Ringer button in the upward direction. The following steps must be taken after the iPhone ringer has been activated:
To access Sounds & Haptics, go to the Settings menu.
The volume can be turned up by adjusting the settings for the ringtone and the alert volume slider.
When you reach a point where the iPhone's volume is loud enough, stop.
The iPhone has to be restarted if the ringer is set to maximum volume but no sound is coming out of the speakers.
Still, having trouble? Maybe dust has settled inside your speakers, and you need to get them professionally cleaned.
3:  The iPhone 12 Battery Drain Fast Issue
Apple did not highlight any improvements to battery life in the iPhone 12 series. The majority of iPhone 12 owners have found that their new device has a shorter battery life when they turn on the battery percentage.
Well, extreme battery drain may not have been a major concern when the iPhone 12 was originally released, but it may rapidly deplete the battery.
The latest iOS 14 upgrades are to blame for this problem. In iPhone 12 and earlier devices, the battery has suffered as a result of later point releases of the operating system, in comparison to the original public release of iOS 14, which was available to the public.
The battery drains rapidly after being used for an hour or longer, and the difference is noticeable in everyday life.
Several users have reported that the iOS 14.7 update from Apple has resolved their iPhone 12 battery issues.
Hence, you may update your iPhone 12 to iOS 14.7 to see if it resolves the battery life concerns on your iPhone.
Moreover, make sure you utilise "Low Power Mode" and disable "Background App Refresh" to get the most out of your iPhone 12's battery life.
Auto-Brightness and Change Screen Brightness are two more battery-saving features that can be turned off to save juice.
4:  The iPhone 12 Wi-Fi Connection Issue
Without a reliable Wi-Fi connection, using your iPhone might be difficult. If your phone is having trouble connecting to a network, a bad signal or a lack of Wi-Fi range might be to blame.
Problems with the connection may also be caused by factors like restricted data plans or faulty routers. You may try these solutions for your Wi-Fi issues:
Go to the Settings
Go to Wi-Fi
Forget this network
Turn on and turn off the airplane mode and restart the device
Tap the Settings menu, then choose Wi-Fi.
To reconnect to the network, re-enter the password
5:  The iPhone 12 Charging Issue
Several iPhone 12 users have had difficulties charging their devices. And it seems that this is most often due to the wireless charging function.
Resetting your iPhone should fix any problems you're having with wireless charging. Use the push and release method. Press and hold the volume down button, then press and hold the power button until the phone turns off. Try powering on the device again to ensure proper operation of the function.
When plugging in your iPhone for a charge, be sure that any cards or passes that could be stored in the case have been removed. You might also try charging the phone without the case on.
6:  The iPhone 12 5G Connectivity Issue
The iPhone 12 series is the first from Apple to embrace 5G, bringing with it much faster mobile data rates and decreased latency.
Nevertheless, given that 5G is still in its infancy, there will inevitably be problems. The majority of iPhone 12 users have complained that their device automatically switches to a 4G network or simply won't connect to a 5G network. There have been reports of 5G speeds being slower than planned.
A 5G indicator in the status bar of an iPhone 12 does not guarantee that the phone is really connected to a 5G network. This just indicates that your iPhone 12 is compatible with a 5G network.
Your iPhone 12 is only capable of delivering gigabit-plus download speeds when it is linked to a mmWave 5G network, as indicated by the appearance of the 5G UW icon in the status bar.
7:  The iPhone's Green-Tinted Screen
There were complaints about green tinting and screen flickering shortly after the debut of the iPhone 12. Apple recognised the problem with the iPhone 12 series' display and released the iOS 14 update to fix it.
Consequently, if you're having display problems (such as a green tint), the first thing you should do is upgrade your operating system.
Altering the brightness of your screen may also be helpful in certain situations. If none of them work, you may need to bring in a professional to diagnose and repair a hardware issue.
Conclusion
What more could you want? If you haven't already done so, a force restart is an excellent place to start troubleshooting if you haven't already.
All running processes will be terminated, which should fix any unexpected software problems you've been having with your iPhone 12.
If the issue does not go away, backing up your iPhone 12 and restoring it to its factory settings should put an end to any weird behaviour that may be occurring.
If all else fails, however, go to an Apple shop, keeping in mind that authorised Apple resellers generally charge less for the same hardware repairs.