Battery life problems are frequent, especially when Apple launches the new iOS 16 operating system. We also know that 5G drains batteries quicker than LTE, so these criticisms are unsurprising.
You may use the step-by-step instructions provided below to completely resolve the problem. Using them might help you resolve your battery problems quickly and avoid speaking with Apple customer care or going to the Apple Store.
This post will bring you a few solutions that might improve the battery life of your iPhone 12 Pro. There's a probability that these methods will work for you as well since they have previously worked for us.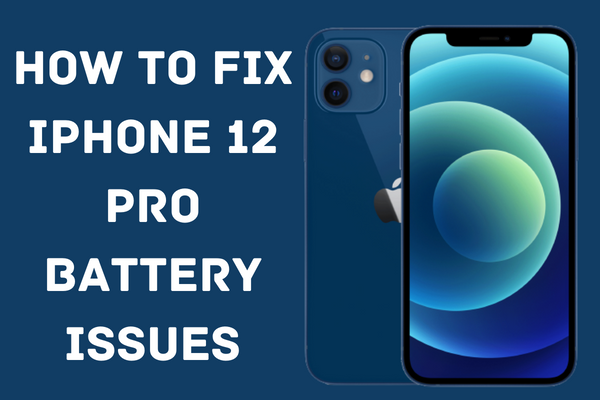 How to fix Battery issue on iPhone 12 Pro
1.   Restart your iPhone
Try resetting your smartphone if your iPhone 12 Pro's battery is depleting quickly. Turn it off, give it a moment, and then turn it back on. Sometimes, especially if your phone hasn't been rebooted recently, this works.
2.   Switch on Low Power Mode
Additionally, your phone includes a function called Low Power Mode that will assist you in preserving battery life by briefly turning off background processes like Hey Siri, automated downloads, and mail retrieval.
Anytime you wish, you may turn on or off Low Power Mode. At 20% battery life, your iPhone will also ask you to switch it on.
We usually advise adding Low Power Mode to Control Center for convenient access. This is how to accomplish it:
Start the Settings application.
Access the Control Center.
Then, choose Customize Controls.
Tap the Low Power Mode icon next to the green plus symbol.
You may press the battery symbol to activate or disable Low Power Mode the next time you access Control Center on your smartphone.
You may also activate Low Power Mode in your settings if you like. This is how to accomplish it:
Start the Settings application.
Check Battery.
Select Low Power Mode.
Turn it on.
3.   Turn Off Raise to Wake on Your iPhone 12 Pro
The Raise to Wake feature is enabled by default on every iPhone model. This might cause your iPhone 12 pro's rapid battery loss, particularly if you carry it in your hand or pick it up often. Your battery will certainly be drained by that iPhone screen that is continually on.
Turning off Raise to Wake on an iPhone involves:
Start the Settings application.
Select Display & Brightness by swiping down.
Look for Raise to Wake, then turn it off.
4.   Activate iPhone auto-brightness
Your screen's brightness is automatically adjusted by auto-brightness settings depending on ambient light levels.
To activate this function:
Start the Settings application.
Click on Accessibility.
Select Text Size & Display.
Turn on automatic brightness.
5.   Use Wi-Fi & Turn On Your iPhone's Airplane Mode
Instead of utilizing your cellular data plan, connect to a secure Wi-Fi network if available, (here's how you can reset your iPhone Network  Settings). Additionally, having your iPhone continually look for a mobile connection when you are out and about in an area with poor cellular service could quickly drain your battery.
Open the Control Center by sliding up from the bottom of your Home screen, then hit the symbol for Airplane mode to stop iPhone battery depletion (it looks like a miniature airplane.)
6.   Only while using the app, location services
Location Service is another secret thing that could drain your iPhone 12 Pro's battery quickly. Many different applications want to monitor your location and utilize it for various purposes, but most don't need to do so while you aren't using the app.
Nevertheless, some applications provide the choice to constantly track your location, whether or not you're using them. For example, Find My; you may want to keep tracking enabled for now. However, most applications don't need Location Services to be active all the time.
You may select fast whether your applications can access your location by browsing through your apps. When using the app, at all times, later on, or never. You can choose that if the app never needs to know where you are. Most applications recommend enabling Location Services while the app is being used.
How to do it:
Start the Settings application.
Select Privacy.
Then, choose Location Services.
Choose individual applications to control which apps may utilize Location Services. 
Choose Never if the app will never need to know your location to operate properly.
You may shut it off if the app does not need precise location information.
7.   Dim the screen of your iPhone 12 Pro
The power drain caused by keeping the screen on your smartphone at maximum brightness may be simply fixed. To manually dimmer your screen:
Swipe down from the top-right corner of the screen to see the Control Center.
Move the Brightness bar as far down as you can while still being able to easily see your display.
8.   Check Your iPhone 12 Pro Update
Try upgrading your device to the most recent iOS 14 if it is running an earlier version.
iOS upgrades normally don't include specific battery improvements; however, updating your operating system may assist in improving the performance of your iPhone 12 Pro.
Be careful to read reviews and investigate user comments before downloading a new iOS 14 for your phone.
9.   Reset all of your iPhone 12 Pro's settings
If it's not one of your applications, consider wiping the settings from your iPhone 12 Pro. Your settings will be reset to their factory defaults (so keep your Wi-Fi passwords close by), but it could solve your battery life problems. This is how to accomplish it:
Start the Settings application.
Select General.
Scroll down, then choose Reset.
Select Reset All Settings.
If you have a passcode enabled, enter it.
10.  Downgrade the Software
You may attempt upgrading your iPhone to a prior version of iOS 14 if the option is available if you can't resolve the problem yourself, can't wait for the next iOS update, and don't want to contact Apple customer care.
Downgrading might be beneficial if you enjoy decent battery life on an earlier iOS 14. Check out this instruction if you don't know how to downgrade an iPhone.
Conclusion
The iPhone 12 series has many fantastic features and is the most well-known and sought-after smartphone line on the market. Many consumers, however, have been bothered by the iPhone 12 battery depletion problem.
Follow these strategies to extend the battery life of your iPhone 12 as much as possible! Additionally, you may check out our blog for additional details on the iPhone's features.