Unexpected restarts are among the most frustrating troubles any mobile phone may suffer related to hardware and software variables. Memory and performance concerns cause periodic restarts in older devices. Newer devices are more susceptible to software-related issues, including malware, software update flaws, and rogue applications. Battery draining symptoms may also cause random iPhone restart.
iPhones are often reliable and durable. If you take proper care of it, it should last many years. But, like any electrical gadget, your iPhone eventually breaks. Maybe your iPhone keeps rebooting without your intervention. As a result, you'll want to find a solution to the problem right away if that's the case. Let's have a look at what's creating this issue and how to fix it.
What Causes Constant Restarts of My iPhone?
Many iPhone users ask; Why does my iPhone randomly restart? Your query has several possible answers. A malfunctioning program or a software flaw might be the cause. In almost any case, you must solve the issue. But first, you must understand why your iPhone/iPad is acting strangely. Check out the reasons why my iPhone randomly restarted itself;
Hardware malfunction
Any software flaw, like the iOS 14 loophole
Aside from technological challenges, additional issues might arise, such as:
bitterly cold season
Fake iPhone apps
Remove Faulty Apps
Troubleshooting your apple device might help you figure out why your device is behaving abnormally, such as turning off and on. It's conceivable that some apps have glitches. This causes weird device behavior, such as why does my iPhone randomly restarts and drains the battery. Remove those from your iPhone immediately. Uninstall the troublesome app as follows:
Change Your Current SIM Card and Connect to the Internet
An unreachable SIM card may cause the iPhone to restart itself, although this is not uncommon. Insert a different SIM card and test the network connection to see if it fixes the problem.
Remove your current SIM card from your phone and wipe the SIM tray clean with a dry towel using the ejector tool.
Insert the new SIM card into the SIM slot by placing it on the tray.
Next, wait a few moments as the phone tries to recognize the SIM card. The network bar shows you whether or not you're connected. To repair the problem, go to a location where you have a strong Internet connection.
Force Rebooting Your iPhone
A hard reset is another option when dealing with iOS software and iPhone randomly restart issues. It's a quick fix for small situations like iPhone restarting unexpectedly.
The iPhone 8 and onwards (iPhone 13 included)
Hold down the 'Volume Up' and 'Volume Down' buttons at the same time. Hold the Sleep/Wake button till the Apple Brand logo appears.
For iPhone 7 and 7 Plus
The Apple logo will appear when you press and hold both the Sleep/Wake button and the Volume Down button together for a few seconds.
iPhone 6/6S, iPad, and iPod
Until you see the Apple logo, press the Sleep/Wake buttons and Home at the same time.
Updating iOS
It's possible that your iPhone's problem is software-related and not hardware-related if it continues restarting. If you haven't upgraded your iOS yet, now is the moment. The next iOS version may provide improvements for the iPhone rebooting problem.
Tap the App Store.
Scroll down and hit the Updates option at the App Store's bottom. Then a list of programs that need updating appears.
To update an app, tap the Update icon next to its name.
If more than one app update is available, hit the "Update All" button in the top right corner.
Aside from upgrading applications, updating your iPhone's iOS to the newest version may help if system problems and malware are the root cause of the issue. The settings menu offers a quicker method to check for iOS updates. Follow these simple steps:
Choose a setting from the home screen of your iPhone.
Select the General option.
Now, Select Software Update from the menu.
Delete/Reset settings
Although it isn't a solution, doing Reset, All Settings may fix certain software difficulties. To reset your iPhone, go to Settings > General > Reset . To restore your iPhone's settings to factory defaults, use the Reset All Settings option. While your applications and data will not be affected, you will have to re-enter your Wi-Fi password.
Factory or Master Reset
A factory or master reset is one of the final alternatives to iPhone randomly restart issues. This may be the solution if complicated system faults or viruses are to blame. The main disadvantage of this reset is that it erases all internal memory data, including contacts, downloads, modifications, and personal data. If you want to continue, you should back up all vital files. Then follow these instructions to factory reset your iOS:
Tap the Settings app from the Home screen.
Now select the General option.
Scroll to Reset.
Enter your passcode if required.
Delete all content and settings.
When prompted, enter your passcode.
Next, select the option to factory reset your iPhone.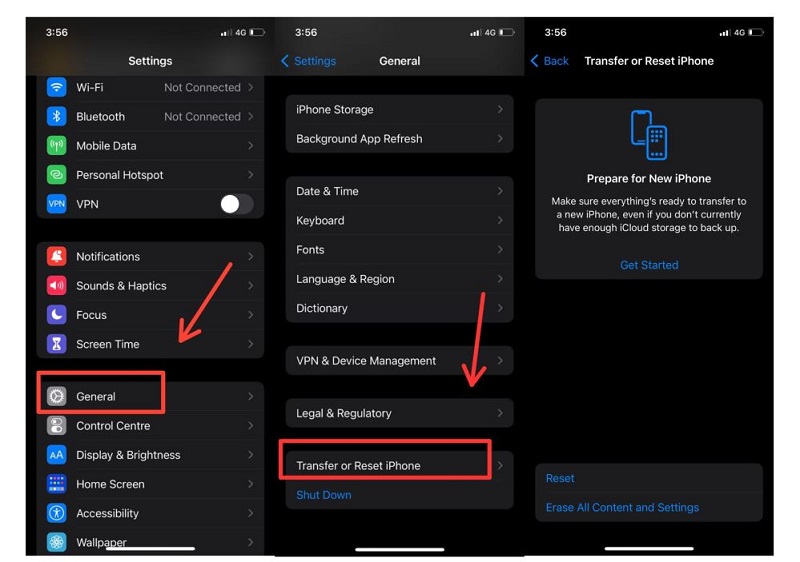 Contact Apple Store
If all preceding solutions fail and the iPhone still randomly restarts after upgrading to iOS 15/14/13/12, there might be a hardware problem. You should go to your local Apple shop to get your iOS device fixed by a high-tech Apple staff.
Summary
The iPhone randomly rebooting is unpleasant and disrupts your activity. With these above solutions, the issue may be fixed fast and efficiently. Please comment if your iPhone continues restarting or randomly restarts after updating to iOS 15/14/13/12 to assist others.