When dialling your iPhone 13 or iPhone 14's default phone number, do you keep receiving the "Last Line No Longer Available" error message? Don't worry as this is a problem that many people have to deal with. And this bug in iOS 16 has been reported by a number of iPhone 13 users.
Despite many reports of the issue on the iPhone 13, it has also been seen on the iPhone 14, and on certain earlier iPhone devices running iOS 16 or iOS 15.
We have, as usual, compiled a guide to assist you in overcoming the "Last Line No Longer Available" issue on the iPhone 13. Now is the time to get into a problem-solving mindset and consider what can be done to fix it.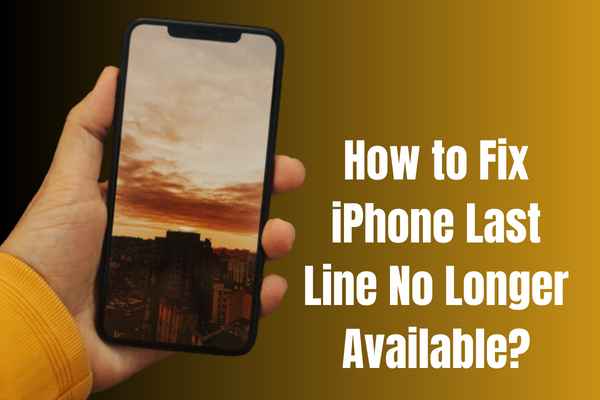 Why Does "Last Line No Longer Available" Appear?
Dual-SIM support on the iPhone was something Apple took some time to implement. Inside the Phone app, they have included a few guidelines, and it is one of these guidelines that is creating the issue.
When the user dials the number using the default line, the Phone app notifies them of a problem.
The iPhone will ask you to choose your preferred method of contact. The Dual-SIM allows you to choose between two networks.
There seems to be a problem with placing calls using the default phone number in the Phone app. In this case, the "Last Line No Longer Available" message will appear.
Every year, Apple upgrades its iOS system. It's open to a few downsides. The amount of time needed to stabilise the software on each given operating system is comparable.
In order to fix the iOS-related issues, you must wait for the firm to make an update. Meanwhile, we have provided a workaround, which you may check in order to fix iOS problems.
Did your SIM card serve you well, and the provider has just started recommending changing it? In that case, you should check the SIM card's health in a moment.
Don't freak out if your carrier suddenly stops providing service or announces plans to do so in the future. You can stick with the options Carrier has provided, or you can try a different service.
How to fix "Last Line No Longer Available" on iPhone?
We advise users to make a comprehensive backup of their devices on their local desktops (Mac OS X or Windows).
ICloud may be used to back up your device's data, but before doing so, you should verify that everything is working properly. Meanwhile, we're encouraging you to back up your iPhone since there's a chance you may lose information there.
1:  Restart Your iPhone (iPhone 13 or Earlier)
Your iPhone, like every other smartphone in the world, never gets a decent night's rest. Your iPhone might have been on for weeks straight without a charge, and the same goes for your Android phone or tablet.
For maximum performance, you should periodically put the device to sleep, which gives the system a chance to resume the applications and drivers. While the idea that machines need downtime may seem dated, but it is a fact.
2:  Security Loopholes – Get Them Fixed
Even if the iPhone isn't the only device with this security flaw, we shouldn't ignore it. The idea that iOS cannot be infected with malware is completely false.
Check out Google News for stories on the latest iOS virus or spyware.
Don't underrate the destructive power of viruses and malware. Fix security loopholes by following the below guidelines:
Go to Settings
Go to "General"
Tap on the "Software Update" Option
Your iPhone Will Connect to the Apple Server
Wait for It and Let it Fetch the Information
Next, Tap the "Download & Install" Button
3:  Clear Call History
Users of the iPhone have reported that deleting the call history fixes the "Last Line No Longer Available" issue. You should write down the phone numbers on a desktop or in another app since the iPhone's call log will be deleted.
Go to the "Phone App" from the Dock
Now, Choose "Recent" Option
Look at the Top Right Corner and Tap on "Edit" Button
Next, Tap on "Clear" Button
When a Pop-up Box Appears, Tap on "Clear All Recents" Button
If you want to stop the session, you need to force stop the Phone app and then restart your iPhone. The "Last Line No Longer Available" issue will be fixed since the iOS software reloads the services and drivers.
4:  Use Airplane Mode
Airplane mode fixes most iOS device network issues, which may seem ridiculous to some readers. When you go to airplane mode, all forms of wireless and wired connectivity are cut off. Turning on airplane mode for a short period of time won't cost you anything.
Airplane mode can be activated via the device's settings or control panel. The procedure calls for users to activate airplane mode for a brief period of time, and then deactivate it 30 seconds later. After deploying the fix, there is no need to restart the iPhone.
5:  Update Carrier Settings
Throughout the last three decades, the mobile network has seen tremendous development. Our internet download and upload rates are as fast as LAN connections.
Because of the rapid evolution of communications technology, your company has requested that you modify the network's current settings.
Sometimes it's necessary to take matters into your own hands, but you don't have to interfere with the upgrading process.
Go to Settings
Go to "General"
Scroll Down and Find "About" Option and Tap on it
Now, Swipe Down and Tap on Carrier Name
Update the Carrier Settings
6:  Outdated SIM Card
Did your network begin sending me fresh updates and making prerecorded phone calls? It's because the world is moving towards a 5G connection, and the network is phasing out the older technology.
The SIM card is from the days of 3G networks, and it's long since passed its prime. You should check if the provider is still supporting SIM cards from a previous generation. Make a call to customer support via the standard line and inquire about the next steps.
7:  Factory Reset
With older feature phones, a factory reset was a common feature. When an iOS update is installed, the system resets all user preferences to their factory defaults. The iPhone's data, however, should be backed up via iCloud or on a local desktop using iTunes, and then Factory Reset your iPhone:
Go to Settings
Choose System
Open Backup & Reset
Tap on "Erase All Data" or Factory Reset
Tap to "Confirm" the selection
Conclusion
If the "Last Line No Longer Available" error message on your iPhone continues, contact Apple. You should contact Apple's engineers and ask them to fix the problem.
Those who possess older iPhones and no longer have coverage under Apple's warranty often turn to erasing their devices. Updating to the most recent version of iOS might also fix your issue.