There is no such thing as a flawless smartphone, and Apple's iPhone 11 series is not exempt from having its own problems. Indeed, the iPhone 11 is a great smartphone, but it's obvious that there are still certain bugs and usability concerns with the device a year and a half after its release.
If you own an iPhone 11 and are experiencing any of the below difficulties, you should read this article for solutions.
Users are complaining of a wide variety of problems with the iPhone 11, and the most common problem is that the iPhone gets stuck at the Apple logo. In that case, you can either consider hard reset iPhone 11 or performing a force restart to fix this problem.
Other problems include a rapid decline in battery life while the phone is in sleep mode, inconsistent connections with mobile networks, malfunctioning cameras, and even device overheating.
The bright side is that Apple can fix these problems with the next iOS release since they are all the result of fundamental software faults.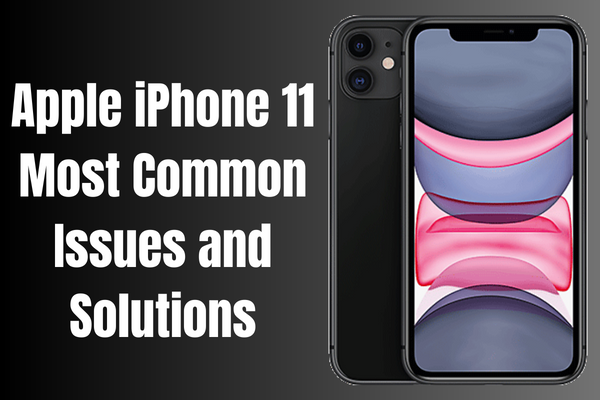 Apple iPhone 11 Most Common Issues and Solutions
1:  Bluetooth Connection Problem
Many iPhone 11 owners have reported difficulties pairing Bluetooth accessories. Pairing the device, linking it to the automobile, and keeping the link active thereafter are all examples. Before reaching out to Apple's technical support, there are a few things you may try first. Make sure you're running the most recent version of your OS.
Solutions
Make sure Bluetooth is turned on by navigating to Settings, then Bluetooth. In order to enable it again if it has been deactivated, a device restart may be necessary.
The Bluetooth device must be turned off and on again.
Verify that the Bluetooth device is powered on or connected to an adequate power supply.
If the accessory can be paired with other devices but not your phone, you should disconnect it from other devices and try again.
2:  Device Overheating Problem
Overheating has been reported in a number of iPhone 11 models, and there are concerns about how this may affect the device's battery life over time.
To put it simply, there are several standard methods for cooling down a heated phone. Take it to an Apple Store or get in touch with support if you notice that your phone overheats often. However, it's worth giving a try to the solutions mentioned below:
Solutions
You might try taking off the rear cover to see if it makes a difference.
Never leave your phone in a vehicle or out in the sun for extended periods of time.
Hold off on charging the gadget for a moment, since doing so might also cause your phone to become hot.
If you need some time away from cell phone service, try flight mode.
Mobile devices may become quite hot when playing games, particularly augmented reality games.
3:  Wireless Charging Not Working Problem
There is a wide range of issues with wireless charging. Several iPhone 11 owners have reported that when placed in a Qi wireless charger, their device identifies the charger but does not provide power, and in some cases, it may even get too hot to hold.
There isn't much you can do about it since it's not the user's fault. But, the following are some options you may attempt to address the issue:
Solutions
Keep using the cable to charge the phone.
Keep your iPhone's software up-to-date, since Apple is constantly releasing bug fixes and other improvements.
Apple offers to restart and shut down suggestions before trying again, which has worked for some people.
4:  Activation Problem
When you first attempt to use a new phone, activation issues that are not model-specific might arise. It turns out the iPhone 11 is no different. Make sure all systems are up and running, and then go over to Apple's system status page to see if there are any issues preventing you from activating your new iPhone 11.
If not everything is green, you should hold off until everything is working. If it doesn't help, double-check that a SIM card was properly installed on the phone. A SIM card switch may solve the problem. Apple recommends the following troubleshooting procedures if you get the "No SIM" or "Invalid SIM" error message:
Solutions
Verify that you have an active data plan.
Restart your device after updating to iOS 11.
Take out your SIM card and put it back in its slot. It's important to close the tray tightly. If you want to use a tray, be sure it is the one that came with your phone.
5: Poor Battery Life
Many issues related to the iPhone 11's battery have been reported throughout time. For instance, the iPhone 11 Pro Max has a reputation for having an unreasonably short battery life. In 2021, iOS had a number of issues, including misleading battery reporting, due to a bug that affected only iPhone 11 devices.
Solutions
To see the current health of your battery, go to "Battery Health" under Settings > Battery. Check it out to see if there are any obvious flaws.
If your iPhone's battery is draining rapidly, you should consider having it serviced or replaced by Apple.
Likewise, the issue ought to be resolved by the implemented fixes in iOS. It is recommended that you update to iOS 15.
Reminder: After receiving a patch in iOS 14.5's Battery Health section, the iOS was able to readjust its battery reporting capabilities. Well, the process might take a few weeks as the function must measure and re-calibrate the battery. If the recalibration determines that the battery is defective, it will instruct you on how to replace it entirely.
Conclusion
While the iPhone 11 series is technically a member of Apple's state-of-the-art smartphone lineup, the aforementioned drawbacks show that it is not without its set of difficulties.
If you want to save money, you should attempt fixing your device before bringing it in for repairs. It is hoped that you will find the aforementioned suggestions helpful and that you will be able to resolve each issue without further assistance. In case you have any more inquiries, please leave a comment below.