Even though Apple is managing to enhance their iPhone's battery capacity with each subsequent edition, these iPhones can still barely get through one day on a single charge. And that is frequently an optimistic evaluation. If an iPhone battery draining fast and you're struggling to keep it charged throughout the day, a few steps can be taken to extend the life of your iPhone's battery.
Quick Fixes to Prevent your iPhone battery from draining Fast
To see how much battery life is left on your iPhone or iPad, follow these simple steps:
Open Settings > Battery. To see how much battery life each app has used in the last seven days, choose "Last 7 Days."
Now To access the app's full information, click on the 'time' button; identify the iPhone apps that use the most battery power.
It is now up to you to decide whether to perform an app update or remove the problematic software. Ensure to uninstall any apps you don't often use if you find that they are draining your battery too much.
1: Low Power Mode should be enabled
You can save your iPhone's battery from draining so fast if you do this. The iPhone's battery bar becomes yellow when this feature is turned on.
Select the option by clicking on it.
Select the battery option.
To activate the low-power mode, just press the switch next to it.
iPhones running iOS 9 and later are the only devices that can use this feature.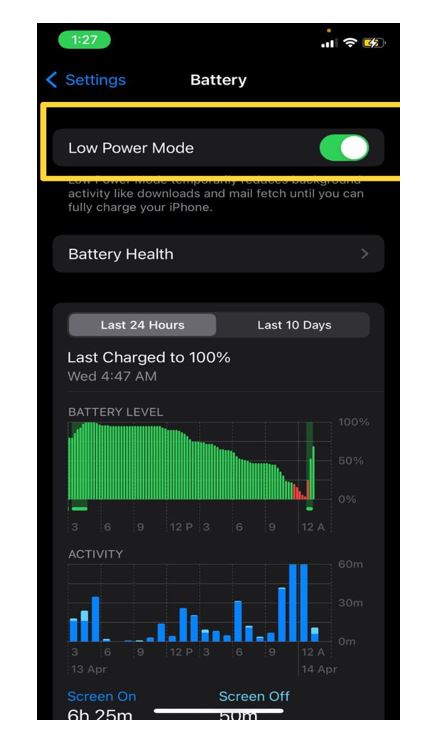 2: Restart the iPhone
While several persistent issues might drain your power, your phone's battery could suddenly start depleting. iPhones are known to "run hot," which means they get hot to touch and run out of battery power quickly. You can try restarting your iPhone by turning it off for a few minutes and then turning it back on again if this is something you've never seen before. An issue with the computer's software can be fixed by doing this.
3: Check your iPhone's battery health
The battery health of your iPhone is displayed in a section on the device. It shows the current peak capacity and performance. When your iPhone is slowing down, it will tell you whether it needs to be serviced and even let you off advanced power management—now known as performance management—if you so want.
Open the Settings app.
Tap on Battery.
Click on Battery Health.
If your iPhone was slowed down to prevent an emergency shutdown, iOS would return it to its original, uncontrolled performance settings. When you have an unplanned downtime again, performance management will resume. It's a blank slate till then.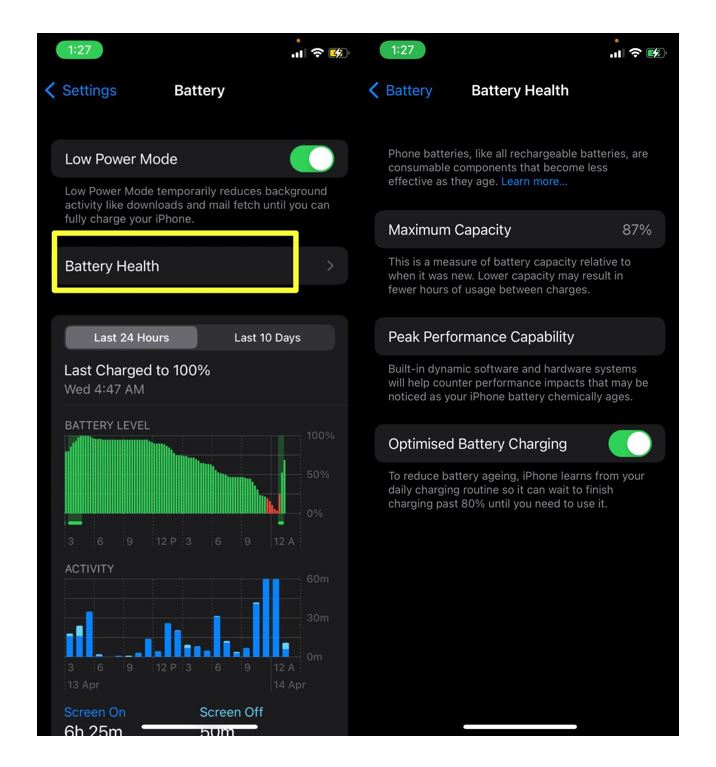 Useful links
| Image | Name | Check Price |
| --- | --- | --- |
| | Battery Kit for iPhones Includes Waterproof Sticker | |
| | YISHDA Battery Case for iPhone 13, [7000mAh] | |
| | Battery Pack For iPhone 12/13/14 (MagSafe Battery Pack by Apple) | |
| | Smartex® Black Label Battery compatible with iPhone 13 - Capacity 3232 mAh | Year 2023 | 2 Years Warranty | |
4: Update your apps
You are not required to remove or cease using an app just because it consumes a lot of electricity. In certain circumstances, applications that are up to date operate better. In other words, out-of-date applications might be a power hog.
Launch the App Store app and press the top-right account icon to ensure you're up to current. If any applications need upgrading, hit Update All in the area labelled Pending Updates.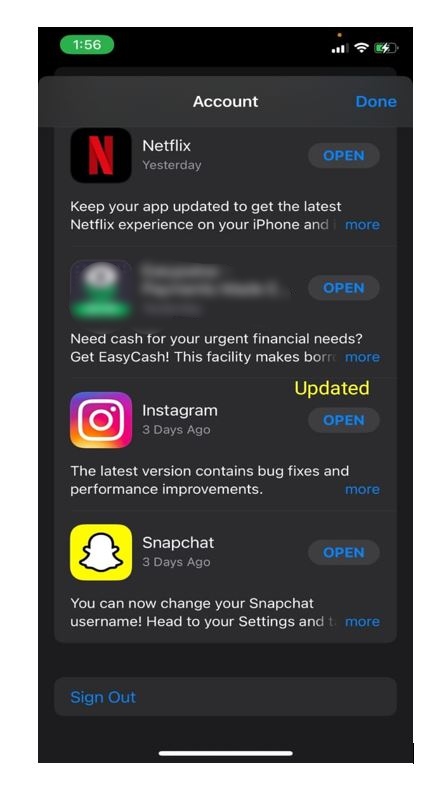 5: 'Raise to Wake' should be disabled
The iPhone's 'Raise to Wake' option is activated by default in iOS 10. As soon as you raise your iPhone or iPad from a flat surface, the screen is awakened. Your iPhone battery drains rapidly in minutes if you often carry your phone in your hand since the screen instantly wakes up and remains on all the time.
This means you may turn off the 'Raise to Wake' feature at any time to preserve battery life on your iPhone.
To disable 'Raise to Wake,' go to Settings > Display & Brightness > flick the switch next to 'Raise to Wake' off.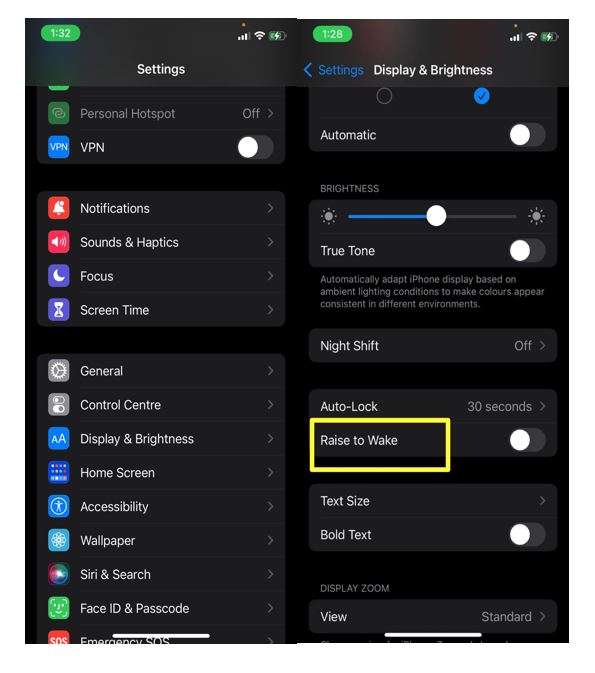 6: Disable the location services on your iPhone
While location services — which alert the applications of your position so they can provide location-specific information and functions — are helpful, they may your iPhone battery draining fast.
If you do not need location services, turn them off for at least a portion of the time. To enable or disable this function, launch the Settings app and choose Privacy. Tap Location Services, and then swipe to the left to deactivate the function. Revert to this page and allow location services if you want to utilize the functionality later.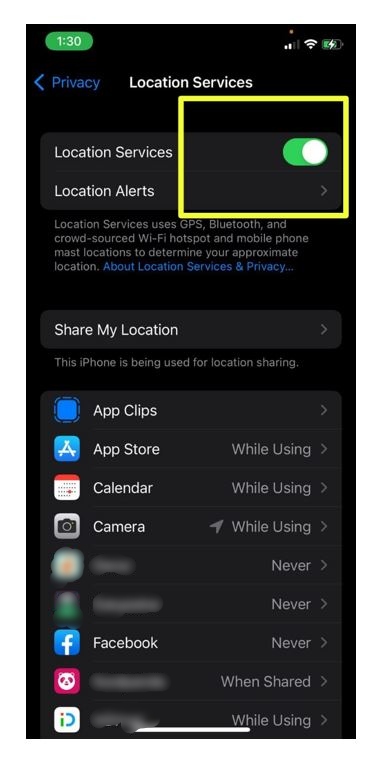 7: Turn on 'Airplane Mode'
Poor cellular coverage may be at blame if you see your iPhone's battery draining in minutes. If your iPhone detects a weak signal, it will boost the antenna strength to keep you connected and allow you to make and receive calls and send and receive data. This quickly lets the iPhone battery drain fast all of a sudden.
Airplane mode may be activated by accessing Control Center and touching the Airplane mode symbol or by going to Settings > Airplane Mode > Toggle 'Airplane Mode' on the position in the Control Center. To turn off Airplane mode after you've returned to an area with a strong signal, repeat these instructions.
Remember that while your iPhone's Airplane mode is on, you cannot make or receive any phone calls while it is in this mode.
If the battery continues to drain rapidly and the problem cannot be fixed with the above fixes, you need not be concerned about the battery life of your smartphone. Perhaps the reason your iPhone battery drains quickly and does not last as long as it could is simply because you are a heavy user. However, the only method to determine whether your battery is damaged is to take it to an Apple Store or an Apple Authorized Apple Service Center for testing or replacement.