Quite some time ago, Apple released the iPhone 13, and with it came the iOS 15 operating system. Finally, you can get your hands on the long-awaited iOS 15 update. The new operating system from Apple adds a ton of functionality to the tablet. However, iOS 15 does bring with it a few problems that have been bugging iPhone owners recently.
If you find yourself in this category, we have compiled a list of the most common issues with iOS 15 and their solutions.
The majority of iOS 15's issues can be fixed with a little bit of time and effort. Most of the time, they can be traced back to an out-of-date piece of software or an outdated app. We've outlined simple solutions to the most frequent issues with iOS15.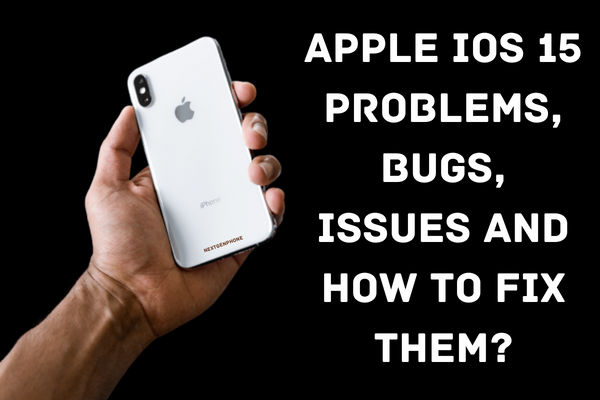 The Latest iOS 15 Problems and Solutions
1:  Fast Battery Draining
If your phone's battery life suddenly takes a dive after installing iOS 15, a software fault is likely to blame. That said, there is always the possibility of some other explanation. In order to solve the iPhone battery draining fast problem:
Go to Settings
Tap on General
Look for Background App Refresh and Tap on it to Disable
Location services are another potential cause of the lightning-fast depletion of the battery. To turn off location services, choose "Settings," then "Privacy," and finally "Location Services." You may get much better battery life by turning off both of these functions.
2:  Wi-Fi Problem
There have been a number of reports of problems with Wi-Fi on iOS 15. Nonetheless, several people have said that their Wi-Fi suddenly stopped working. Meanwhile, other users report that their devices just will not connect to the Wi-Fi. To find a solution to this problem:
Turn Off Your Wi-Fi
Wait for a Couple of Seconds
Turn On Your Wi-Fi Again
Wi-Fi users may also consider selecting "Forget This Network" as a security precaution. Try resetting your iPhone's network settings if nothing else helps.
3:  Unresponsive Display
Unfortunately, iOS screen glitches have always been a problem, and they persist in the most recent version of iOS as well. The first step in fixing this is to do a hard reset on your device.
To do this, you may use a variety of methods. If you're using an iPhone 8 or later, swiftly press and release the volume down button. Next, repeat that process with the volume up button. Press and keep holding the power button once that's done.
Resetting your iPhone to factory settings is another great option. But first, don't forget to make a backup copy of your files. Here's what to do now:
Go to Settings
Tap on General
Tap on Transfer or Reset iPhone
Tap on Erase All Content and Settings
4:  Apps Crashing on iOS 15
It has been observed by several customers that after installing the latest iOS 15, many of their iPhone apps have been randomly crashing. The majority of these problems, however, appear in outdated apps nowadays.
If you're experiencing problems with applications crashing on your iPhone, consider updating them. If it doesn't work, uninstalling and reinstalling the software could be the next best step.
You can get the latest versions of your favourite apps by visiting the App Store. Then, simply update every app with a single swipe by tapping on your profile.
5:  Bluetooth Not Working Problems
The inability or refusal of an iPhone to pair with a Bluetooth device, or to reconnect to it after being disconnected, is another issue that persists even after iOS upgrades have been installed. Here are some options that have been used successfully in the past and are proven to work.
Go to Settings and Turn Off and On Bluetooth
Forget Bluetooth Device and Reconnect
6:  Reset Network Settings
Go to Settings
Tap on General
Go to Transfer or Reset iPhone
Tap on Reset and then Reset Network Settings
Keep in mind that doing so will erase all Wi-Fi networks from your iPhone's memory. Keep your network's password handy at all times. If none of these solutions work, you'll need to get in touch with Apple or the manufacturer of the device in question.
It's likely that many other people are experiencing the same issue as you are. They might perhaps have an answer.
That's all, folks! We are certain that this article has helped you understand the various problems with Apple iOS 15 and its solutions. If you have any questions or concerns, let us know in the comments section below.