If you are experiencing low volume through Bluetooth, even when the volume is turned up to its highest level, there is either an issue with the settings or a flaw in the software causing it. You should be able to repair it by adjusting the settings for the music and audio on your iPhone.
Putting all jokes aside, it is irritating and inconvenient to have your iPhone arbitrarily lower the volume of your headphones or speakers connected over Bluetooth. It makes no difference whether the volume of the music you're listening to is appropriate or not.
Because of this, we are going to investigate what it is that causes the Bluetooth volume on your iPhone to decrease, as well as what you can do about it.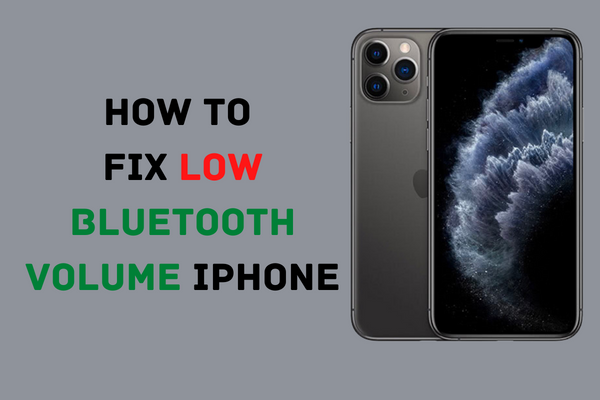 Solutions to fix Low Bluetooth volume on iPhone
Connect your Bluetooth device with another iPhone and check the volume before attempting any of the following solutions. This is to ensure that the issue is unique to your iPhone and not the Bluetooth device directly.
Next, you should attempt to change the volume using the device's physical volume controls. If you've done that and the issue remains, you may implement the following solutions:
1.    Forget & Reconnect Your Bluetooth Device
Unpairing and repairing your Bluetooth speaker should be the first and primary step. Frequently, Bluetooth connection is the source of the problem.
Simply go to Settings > Bluetooth, locate your Bluetooth speaker, and then tap the I symbol next to it.
Now click "Forget This Device" to disconnect the device.
Now, restart your iPhone and speaker and then attempt to reconnect them.
You may also try resetting your Bluetooth device to factory settings (if supported) and pairing them again.
2.    Reduce loud sound Level
Several iOS versions back, the iPhone could control the volume for specific applications. Including the Music app, the most likely source of music for Bluetooth headphones or speakers.
This function evaluates the volume of your music playing and reduces it automatically to a safe level for your hearing.
According to Apple, the safe listening level for music is 80 decibels. If your iPhone detects that the noise in your headphones exceeds 80 decibels, the volume will immediately decrease.
However, users may now deactivate "Reduce Loud Sounds" after widespread negative criticism and continue listening to music at their desired volume. Because this option is enabled by default, you must manually deactivate it. This is how to accomplish it:
Go to Settings first.
Tap Sound & Haptics > Safety with Headphones.
Turn off the Reduce Loud Sounds setting.
3.    Change the Type of Bluetooth Device
Apple iOS recognizes Bluetooth devices natively and sets specific settings depending on the device type. Occasionally, it mistakenly recognizes the device, leading to problems such as low volume levels and notification difficulties.
This problem occurs more often with non-Apple Bluetooth accessories (3rd-party Bluetooth headphones and speakers). Simply configure the relevant device type following the methods provided below.
Open the Settings app.
Select Bluetooth and locate your Bluetooth device in the My Devices section.
Next, hit the I symbol next to it.
Select Device Type and test each category to see which one provides the loudest volume.
4.    Reset iPhone To Default Settings
As a final option, you may need to reset your iPhone to its factory settings. This is NOT the same as a factory reset; all of your data and personal files will remain intact, and just the phone settings will be reset.
Obviously, you should still back up your iPhone before conducting this operation. This issue might arise after installing an update or transferring your data to a new iPhone.
Here is the solution:
Open the Settings application.
Navigate to General > Transfer or Reset and choose Reset. (Be careful to choose "Reset" and NOT "Erase All Content and Settings," since the latter option would delete all data)
Click the Reset All Settings button. Confirm the procedure if requested to do so.
Conclusion
That brings us to a conclusion. We hope this post can assist you in finding a solution to the issue of having a low Bluetooth volume on your iPhone. Or, at the very least, to better understand why it occurs.
If you have any feedback, whether it be in the form of a question, a remark, or a suggestion, please feel free to leave it in the box provided below.