In this article, we'll go through some of the most often reported issues with the Xiaomi Redmi Note 12 series, as well as some potential solutions for you. Let's check them out and fix them!
There is a new Xiaomi smartphone for every budget, making the brand one of the most popular in the world. Value-wise, these devices really shine, and their designers expect to sell millions of each model. There are millions of Xiaomi phone users, so it's no surprise that there are frequent Xiaomi phone problems.
These problems could be unique to the Android operating system, or they might be the result of flaws in MIUI. Common problems with the Xiaomi Redmi Note 12 series include GPS malfunctioning, overheating, low battery life, sluggish performance, lag, and difficulty connecting to wireless networks.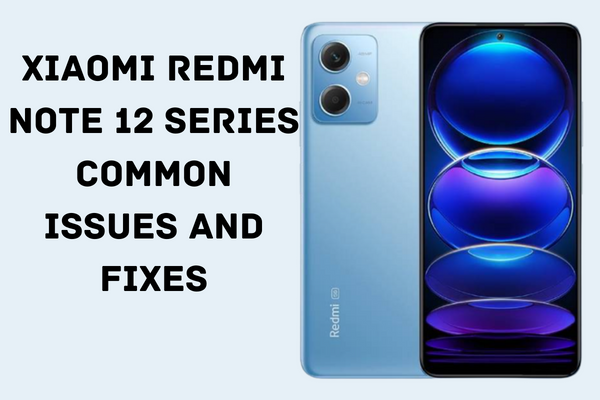 1 – Overheating Problem in Xiaomi Redmi Note 12
Overheating difficulties might develop due to several factors. When you use your phone for gaming or other functions that take a lot of power, the battery can drain quickly, which might cause your phone to become hot and warm for a short period of time.
Solutions
It's time to disable all the unused apps on your phone.
Get rid of the bloatware on your phone by uninstalling the unused applications.
Do not rely on auto-brightness and reduce the screen's brightness.
It's worth a shot to check out your device in Safe Mode.
Update your applications to the latest version, if available
Wi-Fi, a global positioning system (GPS), Bluetooth, and other connection methods should be disabled when they are not in use.
2 – Sluggish Performance in Redmi Note 12 Pro
Do you find the UI on your Redmi Note 12 Pro to be sluggish and unresponsive? If that's the case, you may relax since we've got the whole fix for your device right here.
The majority of people will experience this issue at some point, and it is especially prevalent with earlier models of mobile devices.  Even with a brand-new phone, this issue might arise when you have a lot of unnecessary data and applications using up storage space.
Solutions
Delete the applications you haven't used in a while.
You should take off your Redmi Note 12 Pro from any antivirus software or apps that clean up junk.
For a more manageable experience, try using a streamlined app like Facebook Lite, Twitter Lite, YouTube Go, etc.
If you have any applications on your phone, have you made sure they're all up to date?
Start your Redmi Note 12 Pro in Safe Mode.
3 – Network Problem in Redmi Note 12 Pro+
The Xiaomi Redmi Note 12 Pro+ often displays network errors, such as "No Network Available" or "Unregistered SIM card," which may be frustrating. Listed below are some tried-and-true ways for resolving your Xiaomi 12 Pro+ network issue.
Solutions
You should restart your Xiaomi Redmi Note 12 Pro+.
In addition, make sure you're using the most recent OS version.
SIM cards must be reinserted for network activation.
Use the Airplane mode's on/off switch to temporarily block your connection to the internet.
To prevent unauthorised access from outside applications, activate Safe Mode.
It's time to reset the network's connection settings.
4 – Fast Battery Drain in Xiaomi Redmi Note 12
With the Xiaomi Redmi Note 12, you receive a powerful CPU that can smoothly manage your intensive daily tasks, lengthy gaming sessions, and other high-use situations. The battery drains more quickly because the power-hungry processors need so much power to produce high-quality output.
You may have also observed this in your own usage of the phone since the battery life quickly drops after five hours of continuous use. The fact that you aren't using the official Xiaomi charger is only one of several potential explanations. Here's how to stop the Xiaomi Redmi Note 12's battery from dying so quickly.
Solutions
The first step is to disable auto-brightness and then adjust the brightness to your liking.
Make sure you set your screen timeout to at least the basic minimum.
Get rid of all the open apps on your phone by clearing the history.
Remove any antivirus or phone-cleaning apps from your mobile device.
You should delete any app from your mobile device that makes false promises about increasing battery life.
If your Redmi Note 12 battery is still draining quickly after implementing these measures, a factory reset may be in need.
5 – Apps Crashing on Xiaomi Redmi Note 12
This issue with app crashes has troubled users of the Xiaomi 12 since the phone's release. You need not worry; this app-crashing issue is not exclusive to the Xiaomi 12 phone; other smartphones have shown the same issue.
Solutions
The first and foremost step is to reboot your Xiaomi Redmi Note 12
If your phone tells you that a software update is available, you should install it.
If you suspect that a certain app is to blame for your phone's issues, you may try clearing the app's data and cache.
Conclusion
There you have it – We have done our best to provide a comprehensive list of the most often reported issues with the Xiaomi Redmi Note 12 series. However, if you're considering getting a smartphone from the Redmi Note 12 series, you shouldn't be overly disheartened. The issues we've discussed are common, but they're also easy to fix, so they're still a good buy.