You just have purchased a Xiaomi Poco X5 Pro, but you're already running into a number of issues. If so, then you'll be happy to know that we'll be fixing some of the most common issues with the Xiaomi Poco X5 Pro below.
Bugs and other software and hardware problems are inevitable on a smartphone. It's safe to argue that there is currently no such thing as a flawless smartphone.
If you are having software-related issues with your Xiaomi smartphone, this article will show you how to resolve them quickly and efficiently. However, if your phone's hardware breaks, you'll need to get in touch with customer service to arrange for repairs.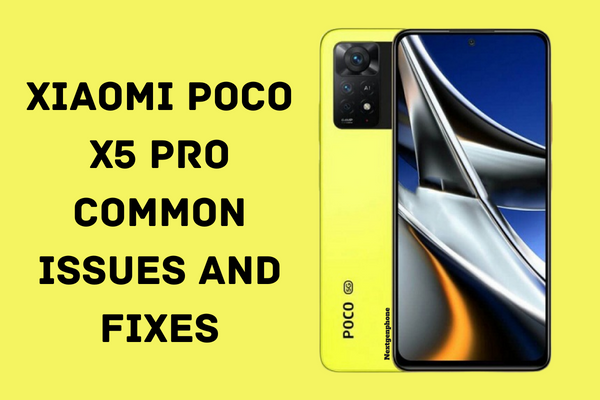 1:  Battery Draining Fast in Xiaomi Poco X5 Pro
The Xiaomi Poco X5 Pro's chipset is top-notch, meaning it can perform intensive tasks like multitasking and gaming for extended periods with little to no lag. The battery drains quickly because the power-hungry CPUs use so much energy while producing high-quality output.
Moreover, if you've used the phone for more than five hours straight, you've probably discovered that it can't survive. Some additional scenarios exist as well, such as when you aren't using the official Xiaomi charger. So, here's how to stop the battery from dying so quickly on your Xiaomi Poco X5 Pro.
Solutions
Remove any unused RAM boosting or junk cleaning software. These applications are always using your battery as they operate in the background.
When it's not necessary, disable auto-brightness and reduce the brightness.
Power saving mode can be activated on the Xiaomi Poco X5 Pro's notification menu.
It is typical to see battery depletion while using mobile data.
There are a number of possible causes for this, one of which is malware infection on your device. Remove any malicious software using your preferred anti-virus application.
2:  Camera Issue on Xiaomi Poco X5 Pro
Sometimes the camera app freezes on the camera app interface and refuses to capture any pictures. In addition, there are bugs in the default camera app that prevent you from recording precious memories. In addition to this, bugs might also affect the camera. At that point, it's best if you go look at the solutions.
Solutions
Launch the camera app after clearing the cache. See if it fixes the issue.
Possible causes include messing with the camera's settings, which might affect the experience. Put the camera back in factory settings and see if that fixes the problem.
If your phone came with a protective glass screen, you should take it off.
Is this a problem after you downloaded and used a camera app from an external source? If so, delete it and go to the default camera app.
This is due to an error in the Android operating system. You can't do anything until the manufacturer releases a patch for your device.
3:  Network Problem in Xiaomi Poco X5 Pro
It's usual for the Xiaomi Poco X5 Pro to report an error message like "No Network Available" or "Unregistered SIM card" when a connection is made. Almost all Android devices contribute to this network issue. In such a case, you should refer to the directions below.
Solutions
You should see whether there is a new version of the software for your device. You should update it if you can.
Shut down your phone. Take out the SIM card and then put it back into the Xiaomi Poco X5 Pro.
Roaming services must be enabled in the network preferences.
Go to the notification panel and turn on Airplane mode for a couple of seconds and then turn it off.
Make a call to your internet service provider and inquire as to whether or not the issue comes from their end.
4:  Overheating Problem in Xiaomi Poco X5 Pro
Sometimes it's the battery, but other times it might be something else when your phone becomes heated. When in use, mobile devices tend to become warm.
When this happens, it's generally because the device is engaged in some kind of demanding processing activity, like playing a game, streaming music, or running a bunch of programmes at once. Here's what you can do to fix the heating problem.
Solutions
Use the official Xiaomi charger and avoid charging the device to its maximum capacity.
When not in use, turn off your wireless connections (including Bluetooth and GPS).
Try closing any background applications to see if it helps.
If you've run across an issue on your Xiaomi phone, try restarting it to see if that helps.
Overheating is a common problem while playing games during charging.
Keep the operating system of your phone and any downloaded applications up-to-date.
Delete as much as you can to make space for internal storage. It will vastly enhance your phone's performance.
Heating is thought to be the normal if you play high-end graphics games.
5:  Lagging Issue in Xiaomi Poco X5 Pro
Do you find your smartphone to be sluggish and difficult to navigate? This should fix your phone if that's the case. As the most widespread issue with technological devices, this problem impacts almost everyone who uses a smartphone. This can happen even with brand-new phones if the user overloads the RAM with unnecessary apps or data. It is imperative that you read the following solution in its entirety to prevent any misunderstandings.
Solutions
You should uninstall the antivirus and junk cleanup software if you don't use them.
If your phone supports microSD expansion, we recommend upgrading to a Class 10 microSD card for optimal speed.
To see whether any updates are available for your applications, launch the Play Store.
If it doesn't work, erasing your device's cache and other temporary files should do the trick.
What kind of launcher are you using? Don't waste any more time with it and delete the app. Using a variety of launcher applications usually results in a slower smartphone.
See whether the temperature of your Xiaomi Poco X5 Pro is too high. It was found that overheating might cause the device's functionality to malfunction.
Conclusion
Undoubtedly, your Xiaomi Poco X5 Pro smartphone will experience one or more of the following problems. Instead of immediately replacing or having your Xiaomi Poco X5 Pro repaired, it is essential that you remain calm and attempt several troubleshooting methods. In the meantime, let us know in the comments section if you're having any other problems with your Xiaomi Poco X5 Pro phone, and we'll see if we can come up with any more suggestions for fixing the problem.