The Samsung Galaxy A34 is a popular smartphone due to its sophisticated appearance and powerful features. However, like any electronic device, it is not immune to encountering occasional issues that can affect its performance.
| Image | Name | Check Price |
| --- | --- | --- |
| | Samsung Galaxy A54 5G, Graphite (German Version) | |
| | Samsung Galaxy A34 5G (German Version) | |
Well, the following article will go in-depth to address frequent issues with the Samsung Galaxy A34 and provide thorough solutions on how to fix them.
By familiarising yourself with these problems and their solutions, you will improve the quality of your smartphone experience and guarantee its consistent performance.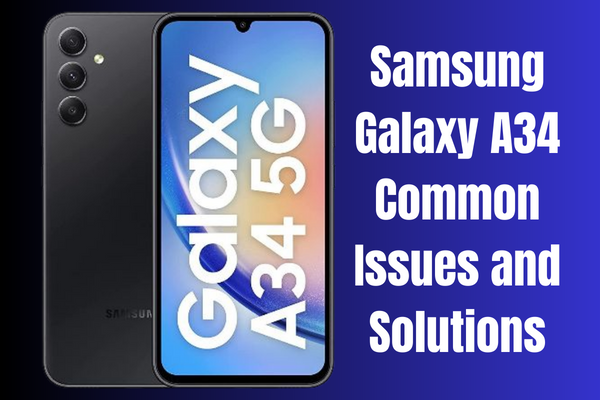 Samsung Galaxy A34 Common Issues and Solutions
1:  Fast Battery Drain
The fast depletion of a smartphone's battery is a typical complaint among mobile device owners, particularly Samsung Galaxy A34 owners. However, there are various possible explanations and solutions to consider if you find that your device's battery is draining quickly:
Reduce battery drain by adjusting display brightness and screen timeout.
Put a stop to multitasking and sync and push notifications from applications that aren't being used.
Turn off location services when not in use since GPS uses a lot of power.
Identify and eliminate battery-hogging software or tweak your use of the ones that remain.
Activate power-saving modes to extend battery life during critical situations.
2:  Overheating Problem
Another potential problem with smartphones is that they might overheat. If your Samsung Galaxy A34 becomes too hot, its performance may suffer, and it may even break. To prevent overheating, you might try the following:
Take off any covering that might be preventing heat from escaping.
Don't leave the device in the blazing sun or on a heated dashboard for too long.
To free up processing power, you should exit unnecessary applications and clean the cache often.
Turn off features like Bluetooth, Wi-Fi, and GPS while they're not being used.
If your device is becoming too hot to handle, try upgrading to the most recent software version available from the manufacturer.
3:  Slow Performance
If you find that your Samsung Galaxy A34 is performing slowly or experiencing lag, there are various things you can do to improve its speed and responsiveness. For instance:
It is recommended to routinely clear the app cache and temporary files to free up storage space.
If an application is using your system's resources, try disabling or removing it.
Periodically restarting the device may refresh the system and get rid of any hiccups.
Updating the device's software can boost its performance, thus it's important to do so.
If everything else fails, try a factory reset. Just be sure to save any important information beforehand.
4:  Camera Problems
The camera is an important part of the Samsung Galaxy A34, therefore any problems with it are frustrating. However, the following are possible solutions to frequent camera issues:
Make sure there are no fingerprints or dirt on the lens of the camera.
If the camera app is experiencing problems due to an unforeseen software fault, try restarting the device.
If you need to use the camera again, uninstall the application and start again from scratch.
Verify whether any other applications you have installed could be interfering with the camera's functionality.
Blurred photos or malfunctioning autofocus are signs that you should get in touch with Samsung support to see if you can get a replacement or repair.
5:  Touchscreen Responsiveness
Touchscreens that aren't responsive might be frustrating for users. If your Samsung Galaxy A34's touch screen is sluggish or doesn't respond when you tap it, try one of these solutions:
Remove any screen protectors or cases that may interfere with touch sensitivity.
Use a soft, lint-free cloth to wipe the screen clean of any fingerprints or dust.
When using a touchscreen, it's important to have dry, clean fingertips.
It is recommended to always use the most recent software version available for your device.
If the issue continues, you should get in touch with Samsung support to see if you can arrange for repairs.
6:  Connectivity Issues
Having trouble staying connected due to a malfunctioning wireless network or mobile device is really annoying. Here are some solutions to troubleshoot these connectivity issues:
If your modem or router isn't working properly, try restarting it.
Verify that the Bluetooth or Wi-Fi device you want to connect to is in range.
Forget and re-establish the Wi-Fi network connection or remove and reconnect Bluetooth devices.
In the device's settings, remove the Wi-Fi and Bluetooth applications' temporary files and data.
If it doesn't work, try resetting your network settings or getting in touch with Samsung's support team.
7:  Storage Insufficiency
A major problem for those who use smartphones is running out of storage capacity. Well, solutions to the problem of insufficient storage on your Samsung Galaxy A34 include:
Delete unnecessary files, such as old photos, videos, or unused apps.
You may save additional space by storing media files off-site or in the cloud.
Clearing app data and cache on a regular basis is recommended to free up space.
Find and delete unnecessary applications or huge files using the device's built-in storage management features.
If your gadget allows for more storage, consider purchasing a microSD card.
Conclusion
The Samsung Galaxy A34 is a great smartphone overall, but problems are widespread. You can more easily diagnose and fix problems if you are already aware of the most prevalent issues and solutions.
It's recommended to update your software, do routine maintenance and get help from a professional if you need it. If you take the appropriate steps, using a Samsung Galaxy A34 will be a breeze.