Email access on an iPhone might be annoying if you get the "This message has not been downloaded from the server" error message. However, there are a few other approaches you might take to resolve this problem. In this article, we'll go through the different methods so you can choose the one that works best for you.
First, let's figure out what causes this error message. Your iPhone may encounter this problem if it is unable to connect to the server where the email was sent. It might be an issue with your iPhone's settings, your internet service provider's server, or your email service. Let's go right into the solutions now: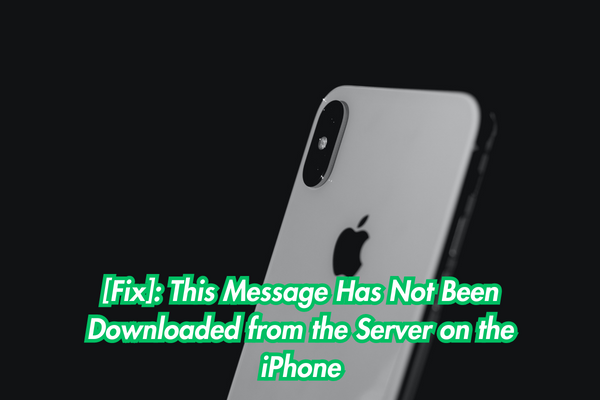 1:  Check Your Internet Connection
Your internet connection should be checked first. Verify that your internet connection is steady and then try again. Moving closer to your Wi-Fi router or switching to a different network may strengthen your connection. To see whether switching to cellular data addresses the problem, you may also disable Wi-Fi.
2:  Enable Fetch in the Phone's Settings
Either the push or fetch approach will work to fix the issue. Compared to the Push technique, which notifies you whenever an email arrives, the Fetch approach stores your correspondence on the server of your email service provider. The client keeps requesting the email, so you will continue to get notifications.
The push function is already activated on your iPhone. On rare occasions, however, the push function may fail to run smoothly in the mail app, resulting in the error "This message has not been downloaded from the server." In such a circumstance, you may skip the inbox entirely by switching on the Fetch email method.
Go to the Settings
Go to the Mail and Tap on it
Now, Go to "Accounts"
Tap on Accounts and Choose "Fetch New Data"
Next, Navigate to the "Push Button" and Turn it Off
Tap on "iCloud" and Choose the "Fetch" Option
In a Pop-up Window, Choose "Automatically" Option
3:  Remove the Mail Account and Add It Back
Because of a communication glitch or issues with your email account, you may have download issues in the Mail app.
You may sometimes fix bugs like this by removing and then re-adding your email account to your device. Here's how to get started:
Go to the Settings
Go to the Mail and Tap on it
Tap on "Accounts" and Choose the Email Account You Want to Remove
Tap on "Delete" and Confirm
Now, Again Add by going to "Accounts"
Tap on "Add Account"
Choose Your Email Provider
Enter your Email Address and Password
4:  Restart the iPhone Device
If it doesn't work, try something else. If you restart your iPhone, the Mail app should restart as well, allowing you to finish downloading any emails that weren't downloaded before.
Siri is the quickest and most convenient method to reset your iPhone. Restart your iPhone by pressing and holding the side button and saying, "Restart my iPhone" After restarting the iPhone, open the Mail app and attempt to send an email again.
5:  Update the iOS of an iPhone
This problem may have arisen because your iPhone's iOS is out of date and hence incompatible with the email server. If that's the case, you may be able to get rid of the issue by installing the most recent version of iOS on your phone. Make a backup of your iPhone before installing the update.
Go to the Settings
Tap on General
Tap on Software Update
Check if an iOS Update is Available
If so, Download and Install the Latest iOS Update
After the update has been applied, reboot your iPhone and see whether you no longer have the "message not downloaded from server" problem with your inbox.
6:  Increase the Number of Preview Lines
Increase the default number of lines shown by Mail while previewing email messages. If the app were forced to cache the whole email, rather than just the header, that could help with the "This message has not been downloaded from the server" issue.
Go to the Settings
Go to the Mail and Tap on it
Tap on Preview
Now Switch from 2 Lines to 5 Lines
7:  Factory Reset Your Network Settings
If none of the above solutions work, you can try resetting your iPhone or iPad's network settings. Fixing underlying network problems could enable the Mail app to download messages again.
Go to the Settings
Tap on General
Tap on "Transfer or Reset iPhone"
Next, Tap on "Reset"
Finally, Tap on "Reset Network Settings" and Enter the Password
Tap on "Reset Network Settings" to Confirm
Resetting your iPhone or iPad to factory settings is something you may do as a last resort. That may fix other incompatibilities that prevent Mail from functioning properly. To do a complete reset of all settings, follow the same instructions and tap Reset All Settings.
Conclusion
The aforementioned solutions should help you fix the "This message has not been downloaded from the server" problem on your iPhone.
However, if the problem continues, you may get in touch with Apple support or your email provider for further information. Furthermore, if you know of any additional alternatives, please feel free to share them in the comments section below. And also, forward this guide to your friends if you find it useful.