Unfortunately, most internet packages are overly complex. Spectrum Internet, on the other hand, is not like that, as it offers fast speeds, requires no commitment, and has no early termination fees. Those that use it agree that it's a reliable internet service.
However, despite all of that, you could still encounter a variety of problems. Spectrum Internet drops at inopportune times is one example of a problem that arises.
If your internet connection suddenly dies while you're in the middle of a crucial meeting or a timed assignment, it can be very annoying.
Simple solutions to this problem include performing a restart of a router or modem, checking the security of all network connections, and debugging your router and modem.
If the problem still persists after trying these solutions, you can learn more about how to fix Spectrum Internet keeps dropping on iPhone and Android in this guide.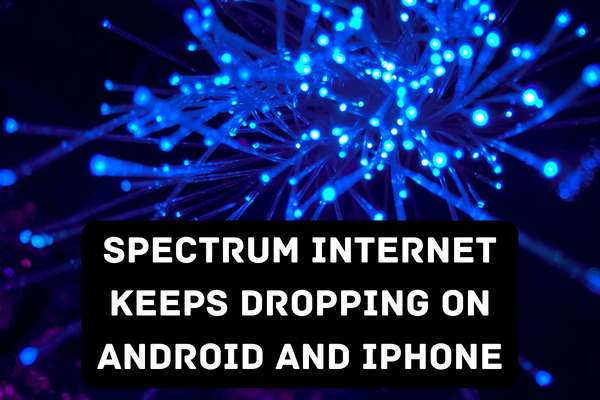 Why Does My Spectrum Internet Drop?
It's simple logic that when a network is overloaded, connection problems, like frequent disconnections, can arise. Bandwidth issues can occur if too many people are using your spectrum internet connection.
Websites won't load properly, you'll lose connection frequently, and videos won't play smoothly if you don't have enough bandwidth. When other users on the network are simultaneously streaming content or downloading large files, problems will arise.
Spectrum Internet drops are often the result of damaged, defective, or unsecured wires. Additionally, if your network connection cables are outdated, you may likely have other internet troubles, not just the internet dropping issue. Always have extra cables on hand and replace the old ones when they start to act up.
Even if it's not very common, there are situations when you could find that there are many unprotected Wi-Fi networks that share the same name. In this case, it's possible that your iPhone or Android device won't be able to tell the difference.
As a result, your device will keep connecting to the incorrect network and keep being disconnected. If you're connected to the incorrect network, your phone will end up losing service if that network goes down or has bandwidth problems.
Something Wrong with Spectrum
It's not always your fault if your internet connection is acting up. Perhaps there is a problem at the end of your ISP, Spectrum that is causing your internet to go down so regularly.
Then you'll have to be patient as your internet service provider works to fix the problem. When in doubt as to whether or not the problem is with your Internet service provider, it is best to get in touch with them directly if it continues.
How to Fix Spectrum Internet Keeps Dropping on Android and iPhone?
1:  Restart Your Router or Modem
If your Spectrum cable box gets stuck during the first application download, rebooting your network will solve the problem. You can reset your router by unplugging it from power and letting it sit for up to one minute before reconnecting it. After that, turn it on and see if the problem still exists.
2:  Relocate Your Router or Modem
The range your device is from the router and modem will determine the speed and quality of your Spectrum internet connection. Location is crucial, so make sure your modem and router are always in an easily accessible spot. Your devices will thereafter be able to connect to the internet with a strong signal.
Bringing the devices closer together might help you figure out whether they're too far apart. If the problem goes away, that's great news. If it doesn't, go on to the next fixing step.
3:  Use an Ethernet Connection
If your computer is having trouble with Wi-Fi, you may try connecting it directly to the gateway or router instead. When compared to wireless connections, wired ones are more stable and can maintain constant data transfer rates.
If you're using a Windows computer, disabling the Green Ethernet option is required. Its purpose is to reduce power consumption, however, it may degrade Ethernet network performance. In order to disable Green Ethernet, please follow these steps:
Go to Start Menu and Look for "Network and Sharing Center"
Now Go to "Change Adapter Settings"
Right Click on "Connection"
Click on "Properties" and then "Configure"
Choose "Advance" or "Power Management" Tab
Disable "Green Ethernet"
4:  Use a Wi-Fi Extender
Wi-Fi extenders allow your wireless network to cover a larger area. Additionally, they are useful because they eliminate dead spots. A Wi-Fi extender might help if your signal weakens in some parts of a big home. Many different kinds of Wi-Fi extenders are available, each with its own set of characteristics and the option to add additional extenders as needed.
5: Keep Your Internet Network Private
Be noted that your Wi-Fi connection requires constant privacy. By doing so, hackers will be unable to inject themselves into your network.
Malware can easily spread across public networks also. So, make sure your internet connection is protected with a robust and secure password, and be sure to update it at least once every 3 to 4 months.
6: Check Your Cables
Your cables are a common problem spot for every router. Be sure there is no damage to the cables and that all connections are secure. New Ethernet cables should be purchased if the current ones are damaged.
7: Don't Load Your Network with Multiple Devices
As more and more devices join the network, it becomes harder for administrators to keep up. As a result, the bandwidth available to your device may decrease, resulting in a loss of connection.
Put away any devices that aren't actively being used to access the internet at this time. You may always re-establish the links at a later time.
This helps reduce the amount of traffic on the Wi-Fi network, which ultimately results in a more dependable experience for you.
8: Contact Spectrum Support
If you've attempted these options and still can't get your Spectrum connection working, your next best chance is to call Spectrum. Call Spectrum Support and reach out to a professional for assistance with a problem of this complexity.