Technology has gone beyond the limits and usage of smartphones worldwide has increased significantly. We cannot even realise how much time we are spending over phone screens on a daily basis while scrolling and surfing over the Internet.
Thankfully, there is a handsome number of screen time trackers for both Android and iOS, enabling users to monitor their devices' screen times.
Today, we have come with all possible methods and techniques that might help you examine the screen time as well as limits the usage of an app through mentioned below Screen Time Android applications.
Make sure you stick to this page to read an entire article – so your kids won't longer be able to stick to their smartphones all day long.
Method 1: Digital Wellbeing – Best Screen Time App Android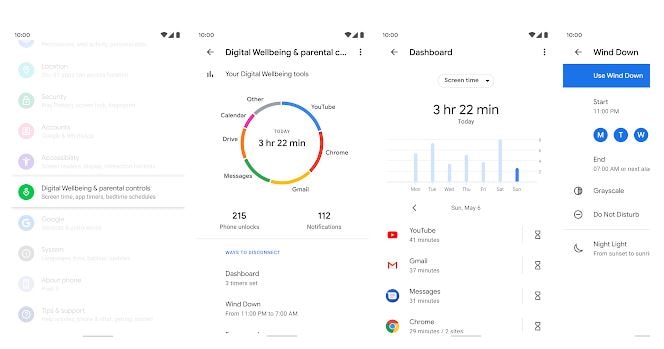 Undoubtedly, Digital Wellbeing is the most useful and Best Screen Time App Android which enables you to get a view over your digital habits like received notifications and everyday use of numerous applications, checking your phone and others.
Furthermore, Digital Wellbeing can limit the usage of a specific application. We have mentioned a complete guide in which you can use this app in the right way and limit the app time on your Android smartphone. Although Android Pie 9.0 users can only use it.
How to Use Digital Wellbeing?
Open the settings and scroll down until you find the Digital Wellbeing on your smartphone.
Click and get into it once you find it. Once you get inside, you will see a circular chart showing Screen Time for all the devices you used that day.
To gain an understanding of all the applications used, click on the circular map.
How to Use on Limit App Time?
If you want Android App Time Limit on a particular app, you spend most of your time on, get to a Digital Wellbeing interface by visiting phone's settings and scroll down and locate "Digital Wellbeing" on the list.
Once you find it successfully, tap on the Digital Wellbeing option, and a circular will appear in front of you. Hit on a circular in order to fetch the list of all the applications that you have used on that specific day.
Click now on the "inverted triangle" icon of the app you want to limit the usage of. The inverted triangle is positioned on the right side of the phone.
Finally, select the time you wish to use the specific application from the drop-down menu. And there you have it.
Method 2: Usage of Free Android Screen Time App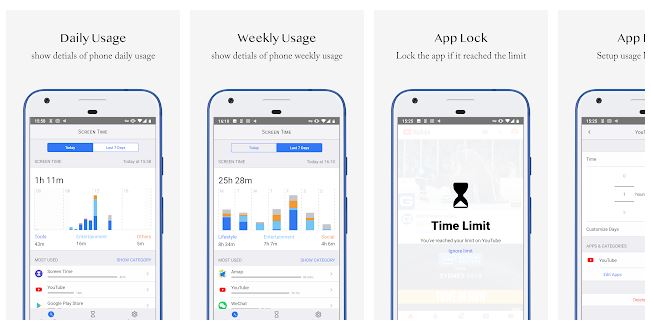 Though Digital Wellbeing is limited to some extent as it can only be used on smartphones with Android Pie 9.0 operating system.
Obviously, there are a plethora of users who don't have an Android Pie version – but they can get their hands on Free Android System Time App which can also be named as the Best Screen Time App for Android.
So, if you are one of those who are not using their smartphones with Android Pie 9.0, they can simply make use of a 3rd party app – Screen Time App.
This Screen Time Android App not only free-of-cost but also enables you to control your kids' actions they perform on their smartphones. The users can see the time that children spend on specific apps, obtain notification of the new applications that are installed, the list of their websites, etc.
The software also has its premium version, which offers you more advanced features. In all, when it comes to free Check Screen Time Android tracking, it's an excellent choice.
Method 3: Download Usage Time App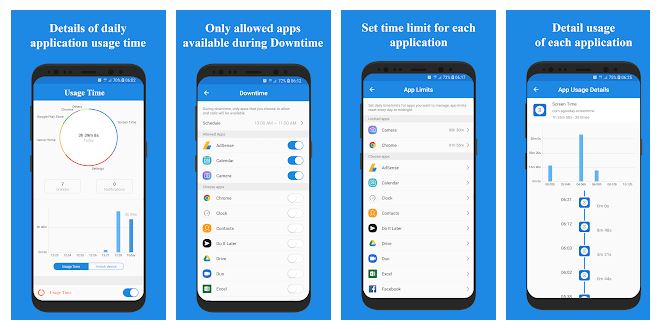 Again, if you don't have an Android Pie 9.0 operating system on your phone, you can go with another 3rd party app.
Google Play Store is loaded with hundreds of options for your convenience, but it's recommended to go for an app of Screen Time for Android named "Usage Time" as it's quite simple and easy to use.
This application offers everything you need without even needless distractions and features. It simply shows the time you spend with the phone's screen for the current day – divided between apps you used.
Not only this, but Usage Time also shows a graph of the time of apps you used, enabling you to keep the record of phone usage with ease.
Wrapping Up
And that's everything, you can see above, while very much like iOS, Android doesn't offer built-in Screen Time feature, but there are several ways you can Find Screen Time on Android feature with the help of Google Play Store.
Do not hesitate to let us hear in the comments below if you have any observations, or know of another, perhaps even convenient way to check Android screen time.
Common FAQ's
How Do You Check Screen Time on Samsung?
To check your screen time, visit your phone's settings, scroll down and find out "Screen Time" positioned near Notifications, Sounds and Do Not Disturb. Tap now on "Screen Time" to see your usage statistics. Be noted that it's a built-in option on phones with Android Pie or above. Other users might need to download an app from the Play Store.
how Do I Check Screen Time?
You can check your screen times in different ways like via Power Usage, Digital Wellbeing or Install Usage Time. Android Pie or above OS are already loaded with built-in Digital Wellbeing app for screen time whereas other users are needed to download screen time applications from Google Play Store.
How Much Time Have I Spent on my Android Phone?
Open up your phone's settings and choose the option "Battery." You will see a list of applications below with their battery usage percentages for the last 24 hours. There is a clock icon in the upper right-hand corner, click on it and you will see the time you have spent using the applications.
Does Android have Screen Time Features?
Android smartphones with Android Pie or above operating systems have built-in screen time feature named "Digital Wellbeing." Screen time feature in Android devices is indeed an adaptable feature that enables users to see their apps usage time. Moreover, it lets users enable different apps to run during your homework time and block when you are sleeping.
How to Limit Screen Time on Android?

• To limit your screen time on Android, visit your phone's settings, tap Screen Time and then App Limits
• Select the amount of time you want to spend on
• Once the limit is hit, a white screen comes up with an option to extend it by 15 minutes or simply ignore it.
Does Android Have Parental Controls?
The answer is yes! Android OS above 4.3 is equipped with basic parental controls to regulate what children on the computer can do. The second solution is included in Google Play and is available on all Android devices. The apps you can download from the Google Play can be monitored and you also need a password for app purchases.
How Can I Control My Child's Screen Time?

• To control your child's screen time, open up family link app and select your child
• Look for "Today's Activity" and tap on it to know more
• Select an app you want to put a limit on and tap edit limit
• Change the limit time according to your desire
• When the child device is next online, new limitations will be revised.