If you are the happy owner of an iPhone XR, there is a reasonable probability that you are now experiencing connection and performance concerns. Most common iPhone XR faults may be resolved without an upgrade. This article will walk you through a series of fixes to help you better comprehend how to address them.
| Image | Name | Check Price |
| --- | --- | --- |
| | Apple Smartphone iPhone XR 128GB Yellow | |
| | Apple iPhone XR, 64GB, White (Renewed) | |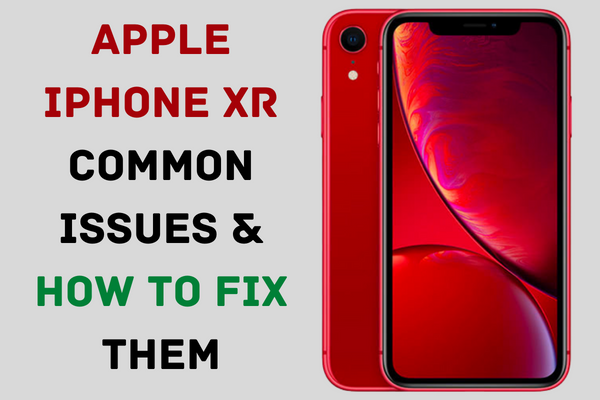 1: Face ID difficulties
There are allegations that certain iPhone XR owners would not have access to this function. Here's how to solve your issue.
Examine your face in the room with enough light. It ensures that your iPhone can accurately scan your face.
You may also choose to position your iPhone XR closer to your face. Typically, this resolves the problem.
Additionally, you must actively gaze at your iPhone for Face ID to function. In the phone's Settings, you may activate or disable this function.
If you continue to have this problem, we urge that you contact Apple Support since there may be hardware issues that cannot be resolved with a simple reset.
2: Bluetooth-Related Problems
Some iPhone XR customers are experiencing connectivity issues with Bluetooth devices or low Bluetooth volume on iPhones. If this occurs, you must do the following actions:
Access the iPhone XR's settings.
Click on Bluetooth.
Select the problematic Bluetooth connection with the I in the circle.
Select the Forget this Device option.
Attempt to reconnect your Bluetooth device.
If you continue to be unable to connect your iPhone XR:
From the setting, go to General.
Tap Reset.
Tap Reset Network Settings.
Attempt to reconnect.
3: Device Slowdown
Suppose you have performance issues with your iPhone XR, such as randomly working slowly after IOS 15 update, lockups, freezes, lag, app lockups, and shutting down randomly. It is frequent on iOS, so try these solutions.
Restart the device.
Upgrade to the most recent iOS version.
If this step doesn't work, then Free up your storage.
Navigate to Settings
Select General, then press Storage & iCloud Usage
From here, click Manage and select control storage.
If a problem still arises, then Stop the Background Refresh feature.
To do this, select General from Settings
Then click on Background App Refresh
And select disable Background and click on App Refresh.
The last option is to update your applications.
4: Issues With The Device's Network Connection
Have issues with iPhone XR's network connection? You must do the following actions.
Launch the Configuration
Select the Transfer or Reset iPhone option from the General menu
If necessary, tap Reset and then Reset Network Settings using a password.
5: Wi-Fi-Related Issues
Considering the following solutions if the iPhone XR cannot connect to WiFi, iPhone Keeps Disconnecting from WiFi, or the connection speed is excessively sluggish.
First, Check the iOS and router versions.
The newest iOS 15 must be installed, and if it does not address the issue, you may turn WiFi on and off to see if that helps.
You can force the new iPhone XR to forget the network if the WiFi connection is not functioning normally despite checking the router and operating system version. Here are the steps:
Navigate to Settings
Connect to the WiFi network
Select your link by touching the I inside the circle.
If the problem continues, then resetting the network settings is the next solution
From settings, Tap General and then Reset or Transfer iPhone
Select Reset and then Reset Network Settings
You may also try restoring the device's settings to factory default by tapping Reset All Settings on the same page.
6: Cellular Data Difficulties
If the "No Service" indicator appears on your iPhone XR, try rebooting it.
If it does not work, check for outages with your service provider. You will need to monitor Down Detector and social media for reports. Additionally, you can contact your service provider through their customer service line.
If no outage is detected in your area, activate Airplane Mode for 30 seconds before turning it off.
Check your cell phone connection once more.
If Airplane Mode does not resolve the issue, then try the next solution;
Tap cellular from Settings.
Select Cellular Data Options, then click on Enable LTE to turn it off.
Then Reactivate it and recheck your cellular connection.
7: The Alarm Volume Button Goes High Or Low
If your Alarm volume is making issues on your iPhone, then follow these steps;
First, Reboot your iPhone
Then Choose more loud alarm clocks
Check the alarm clock timer settings
Renew the alarm with a new one
Update the phone
If you have any issues during these steps, then you can get further details for the Alarm Volume Button that Goes High Or Low here.
8: Wireless Charging Problems With The Device
If wireless charging fails to function correctly on the smartphone;
You must remove any case and charge the phone again.
When charging the smartphone using a third-party accessory
Ensure that the manufacturer has approved it.
9: Sound Issues With The iPhone XR
Sound troubles are among the most prevalent difficulties with the iPhone XR and iPhones in general. Listed below are several solutions for this problem;
First, Check the mute button.
It's just above the volume buttons on the left side of your iPhone.
The orange line should be obscured to indicate that this switch is in the "unmute" position.
If so, switch it to the opposite position to unmute your phone
If it doesn't help, restart your iPhone XR or hard Reset the iPhone XR.
Detach Bluetooth from other devices. Sometimes, your iPhone XR may be paired with other devices via Bluetooth, preventing it from making a sound.
If your iPhone's speakers continue to malfunction, you may have faulty hardware. You may need to contact Apple Support to have your iPhone evaluated.
10: Battery Draining Fast
To avoid iPhone battery drainage faultily, follow these steps.
Open the Settings app.
Tap on Battery.
Click on Battery Health.
If it doesn't help, then;
Select the option by clicking on it.
Select the battery option.
To activate the low-power mode, just press the switch next to it. After that, try updating the device and then restart the iPhone.
Conclusion:
Although these fast remedies may help you repair the difficulties with your iPhone XR, if you still do not get the desired result, the best solution is to bring the device to the company's local service facility or contact with online apple store.