Apps that crash unexpectedly and often on mobile devices almost always indicate a memory problem, such as when the device is becoming short on storage space. It is possible that other performance concerns, such as symptoms of sluggishness, unresponsiveness, and sporadic restarts, will also occur in this particular scenario.
On the other hand, for brand-new devices that exhibit the same symptoms after installing a fresh software update, this may indicate something quite different.
This essay addresses a pertinent problem affecting Apple iPhone applications that suddenly keep crashing after an upgrade to iOS 13 was installed.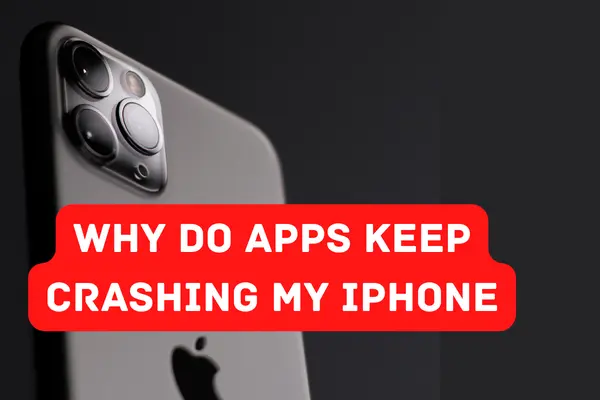 Continue reading, and if you find that you need more assistance in resolving the same post-update problem on your iPhone, refer to the options that are detailed below.
How to fix the iPhone app that keeps Crashing
There are a lot of different reasons why the applications on your iPhone can crash. Because of this, no remedy is universally applicable that can be used to repair iPhone applications that crash.
You will, however, be able to resume using your preferred applications and games as soon as you do some troubleshooting on the issue.
Let's go step by step through the procedure:
1.   Restart the iPhone
If you are constantly having problems with applications crashing on your iPhone, the first thing you should do is restart your device. It's quite simple: simply keep holding down the power button on your iPhone until you get the prompt to slide to turn off the device.
If you are using an iPhone X or a later model, press and hold the side button as well as either volume button until the Slide to Power Off option displays.
To switch off your iPhone, slide the red power symbol to the right from its previous position on the left. Wait for around 20 seconds until your iPhone has completely turned off, and then turn your iPhone back on by pressing and holding the power button (iPhone 8 and earlier) or the side button (iPhone X and newer) until the Apple logo shows on the screen.
This will turn your iPhone back on. After your iPhone has finished restarting completely, you may attempt to access an application.
2.   Keep Your Applications Updated
Outdated iPhone applications are another potential source of device instability. Bringing the applications on your iPhone up to date to the most recent version is a straightforward process that takes just a few minutes. Continue reading and follow along:
On your iPhone, launch the app for the App Store.
Locate the symbol that represents your account in the top-right corner of the screen and tap on it.
After you have scrolled down, you will see a list of your applications that have available updates.4. Next to the applications that you wish to update, tap the Update button.
If you want to update all of your applications at once, you may do so by tapping the Update All button.
3.   Reinstall the troublesome Apps
If just one or two of the applications on your iPhone continue to crash, the next step that you should take is to reinstall the problematic apps on your iPhone. In a nutshell, in order to fix this issue, you will need to uninstall the crashing programs from your device and then redownload them from the App Store.
Locate the app's icon on either the Home screen or in the App Library to remove it. While holding down the app icon, you should see the menu display. To remove the application from your iPhone, go to Settings > General > About > Remove app> Delete app> Delete.
Launch the App Store on your device and search for the software you just removed to reinstall it. Tap the Cloud symbol that is located to the right of its name after you have discovered it. After that, the application will be reinstalled on your iPhone, and it will be accessible from the Home screen.
4.   Keep your iPhone up to date
The fact that the software on your iPhone is perhaps out of date is yet another potential explanation for why your iPhone applications keep crashing. The following three actions need to be taken in order to upgrade your iPhone:
Navigate to the Settings application on your iPhone.
Tap General.
Select the Software Update option.
If an iOS update is available, tap Download and Install or Install Now to begin the installation.
If an update is not currently available, a message will appear on the screen stating, "Your software is up to date."
5.   Restore Your iPhone Using the DFU Mode
The next thing you should do is to run a DFU restore on your iPhone if the applications on it are still crashing. A DFU restore, to put it succinctly, is a specialized kind of iPhone restore that, in addition to erasing the software and hardware settings on your iPhone, also gives you a device that is fully "clean."
Please be aware that restoring your iPhone using the DFU mode, much as restoring it using the regular method, will delete all of the material and settings on your device.
Keeping this in mind, before doing a DFU restore, you should ensure that a backup of your data has been created on either your local computer or on iCloud.
Conclusion
You can now successfully fix the issue and are now aware of what to do in the event that your iPhone applications continue to crash. Be sure to share this post on social media in order to educate your friends and family members on how to solve the issue as well.
Please let us know which of these strategies worked to fix the crashing issues you were having with your iPhone applications by leaving a comment below.