Do you try to unlock your iPhone 7 by placing your thumb on the home button, but nothing happens? When the phone's primary button suddenly stops functioning, we know how frustrating it may be.
As newer iPhones are released, the Home button is being pushed out in favour of a more immersive interface. Still, some iPhone 7 and older users have reported issues with the Home button suddenly being unusable. Don't worry; we're about to go through a few suggested solutions that might help you fix the iPhone 7 home button not working.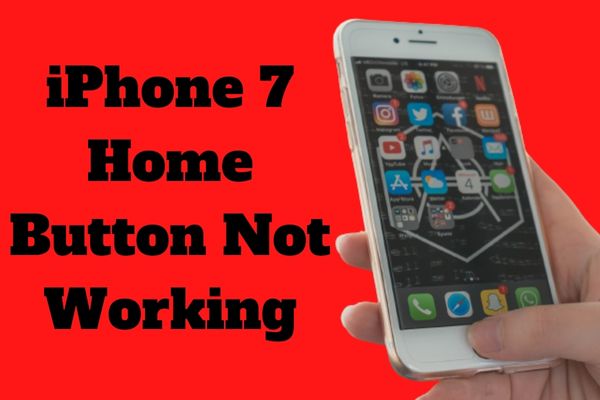 How to fix the iPhone 7 Home Button not working
1 – Clean your iPhone 7's Home Button Properly
First and foremost, try cleaning your iPhone's home button before diving into the other details. How come this technique has a chance of working?
Due to the possibility of dust accumulation, you should wipe it off with a cotton swab dampened with a little alcohol. Try pressing the Home button again to check if it now unlocks the iPhone.
2 – Perform a Force Restart
If your iPhone 7's Home button suddenly stops functioning, a forced reboot might be the answer. In order to do this, follow these steps:
Press and Hold Volume Down and Side Button
Release the Both When You See Apple Logo
3 – Calibrate iPhone 7 Home Button
If your iPhone's Home button is malfunctioning, you may try calibrating it. Your iPhone 7's Home button will become more responsive after calibration.
Unlock Your Phone and Launch any Built-in App
Hold Down a Power Button
Wait for a "Slide to Power off" Option
Now Press down the Home Button Until it Turns back to the Main Interface
Check your iPhone 7 home button again as we are hopeful that it will start operating properly. If not working, continue reading!
4 – On-screen Home Button
If you are unable to use the Home button in any of the aforementioned ways, you may run an alternative app called Assistive Touch to provide you with temporary access. However, you cannot expect this to keep you out of trouble permanently.
Go to Settings
Tap on General
Look for Accessibility
Find "Assistive Touch" and Turn it on
5 – Update the iOS Version
There are occasions when a simple software update for your iPhone might fix the problem of your iPhone's home button not functioning. Using an out-of-date version of iOS can reduce the compatibility between your iPhone and the system, which might lead to issues like the one you're now experiencing with the Home button.
Go to Settings
Tap on General
Scroll Down to Find the "Software Update" Option
6 – Restore iPhone 7
There's a chance that all you need to do is to consider restoration and calibration on your iPhone. This is by far the most typical instance of home button unresponsiveness, and it might be due to a software bug or just because your phone needs a reset.
Fortunately, there is generally a simple solution. Start by making sure you're running the most recent version of iOS on your device.
Make sure you have a recent backup of all of your data in iCloud or iTunes before restoring your iPhone and installing the iOS update. Connect your iPhone to your computer and launch iTunes.
Once your iPhone appears in the search results, choose it and click the "Restore" button. When you're done, you may power down your smartphone by holding down the sleep button and sliding to power off. After a few minutes, power it back up in the same way. This should force your device to restart and hopefully fix the issue.
Wrapping Up
This issue might be caused by a number of different things. The malfunctioning Home button on an iPhone might initially be due to technical problems, such as faulty firmware.
Then your iPhone 7's Home button, or the one on any other model, will start to wear out. Finally, the Home button on an iPhone might stop working if it becomes physically displaced.