Perhaps you've realized that you are getting your iPhone charged more often after installing iOS 13.5.1 update. Possibly, you too, have noticed that your iPhone is getting warm even when using for a minute or two. It's all because recently released Apple's iOS 13.5.1 update. Although, you won't get any exciting or extra features but it's focusing on the security of the phones.
Right after the arrival of an update, users have reported a handsome number of iOS 13.5.1 Issues over the internet and looking for solutions. Whilst release notes of recently release update by Apple aren't clear but it appears that this update addresses a susceptibility oppressed by an uncover jailbreak.
With that in mind, many jailbreakers would not prefer to get this update downloaded. The other users, however, can easily and comfortably get this update installed without having to worry.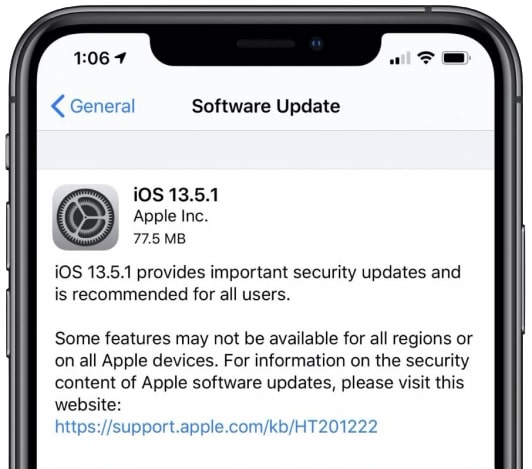 What Does This Update Bring?
As mentioned above, Apple's recently iOS 13.5.1 update didn't bring any feature but it's creating a lot of problems for iPhone users such as fast battery drain, Bluetooth connectivity problem, and much more.
All those problems, however, aren't creating a buzz as these are reported by different users across the world. You can be in luck and don't face any problem if you install such update in your iPhone. Anyways, we've done our best and gathered a list of problems reported by users and mentioned here on this single page.
Bluetooth Problem
The first and foremost iOS 13.5.1 Problem is Bluetooth connectivity problem, reported by a bunch of users. It shows that they can't connect their devices via Bluetooth after installing this update. According to the users, their iPhone devices are unable to get connected via Bluetooth even it's turned on and discoverable.
Fast Battery Drain
Immediately after releasing the iOS 13.5.1 update, we've started going through different iOS 13.5.1 Battery drain problems reported by users on Twitter. A user said, his iPhone's battery drained like crazy after installing this update.
Unfortunately, Apple hasn't yet provided any solution or further updates to overcome these problems. And it seems that users facing fast battery drain will have to wait until unless Apple releases another update.
Face ID Problem
Indeed, iOS 13.5.1 brings improvements in overall OS security and improved Face ID as well to work even with face masks. But again, different online forums have said that a number of users are facing iOS 13.5.1 Face ID problem after installing it. The user said, his Face ID doesn't work and after installing the update, it's telling that the Face ID isn't available.
What Else?
Listed above problems reported by users are very much common but putting that problem aside for a short while, many users reported a number of other problems too such as keyboard prediction, weird charging, a camera problem, SIM card problem, and a few others.
We are striving hard to find the proper and effective solutions for you but as of now, we didn't find any confirmed solution for you. According to Apple Support, there are generic solutions for these common problems but they don't work quite perfectly.
Making a long story short, all users who have installed update will have to wait for a little for Apple's next update or solution. Apple, however, is working on iOS 13.6 update and it's most likely that iPhone users won't wait for long to get rid of their problems.
If you're an iPhone user and experienced any of a problem listed above or any other problem, do let us know down in a comments box, we'll strive hard to find solutions for you as soon as possible.