How frequently do you open your smartphone, access WhatsApp and come to know that you have missed a number of calls and messages because the app didn't ring? This is an issue on both iOS and Android smartphones.
The most beneficial uses of today's instant messengers are probably voice-over IP and video chatting. However, some users have complained that WhatsApp is not ringing for them, which may be due to the fact that it is a third-party app.
Numerous people rely on WhatsApp as their preferred calling service since it became one of the earliest third-party platforms to provide this useful and cost-free feature. If it doesn't alert you when you get a call, it's not exactly helpful.
One or more of a wide variety of factors may be preventing WhatsApp from ringing for certain users. Malfunctioning notification or ringtone settings are often to blame. Alternately, it is often associated with system optimisation apps, which restrict WhatsApp from operating in the background.
If you're having trouble with WhatsApp not ringing on Android, we have a comprehensive guide that will help you solve the issue. So, let's keep going!
1 – Turn Off "Do Not Disturb Mode"
If you turn on the "Do Not Disturb" setting, you'll not be able to receive all the incoming calls on your phone or any other application. Check and disable the "Do Not Disturb" Mode on your device if WhatsApp calls are not ringing even when the screen is locked. If you follow the steps below, you can turn off the "Do Not Disturb" setting in the Settings menu of your Android device:
Go to Settings
Tap on Sound
Choose "Do Not Disturb" Option
Tap on the "Turn Off Now" Button
2 – Restart Your Device
Restarting your system is a common and easy solution to many problems. This should clear the cache and get rid of any runtime problems or hiccups that may have occurred. If you're using an Android smartphone and need to restart it, try these steps:
Long Press Your Phone's Power Button
Keep Pressing Until Selection Menu Appears
Now Choose the "Restart" Option
3 – Be Sure You Have Turned Off Silent Mode
The volume on your smartphone may be muted, which may prevent you from hearing incoming WhatsApp calls. If your phone is set to silent, you won't be notified of new texts or calls. Verify that your device's volume is turned up and that it is not set to silent.
4 – Force Stop WhatsApp App
Another solution to the problem of WhatsApp calls not ringing while the device is locked is to force-stop the app. Follow these procedures to stop the app immediately:
Go to Your Phone's Screen
Find WhatsApp App and Long-Press Icon
"App Info" will Appear
Tap on it to Open the WhatsApp App
Tap the "Force Stop" Button
Select Ok to Confirm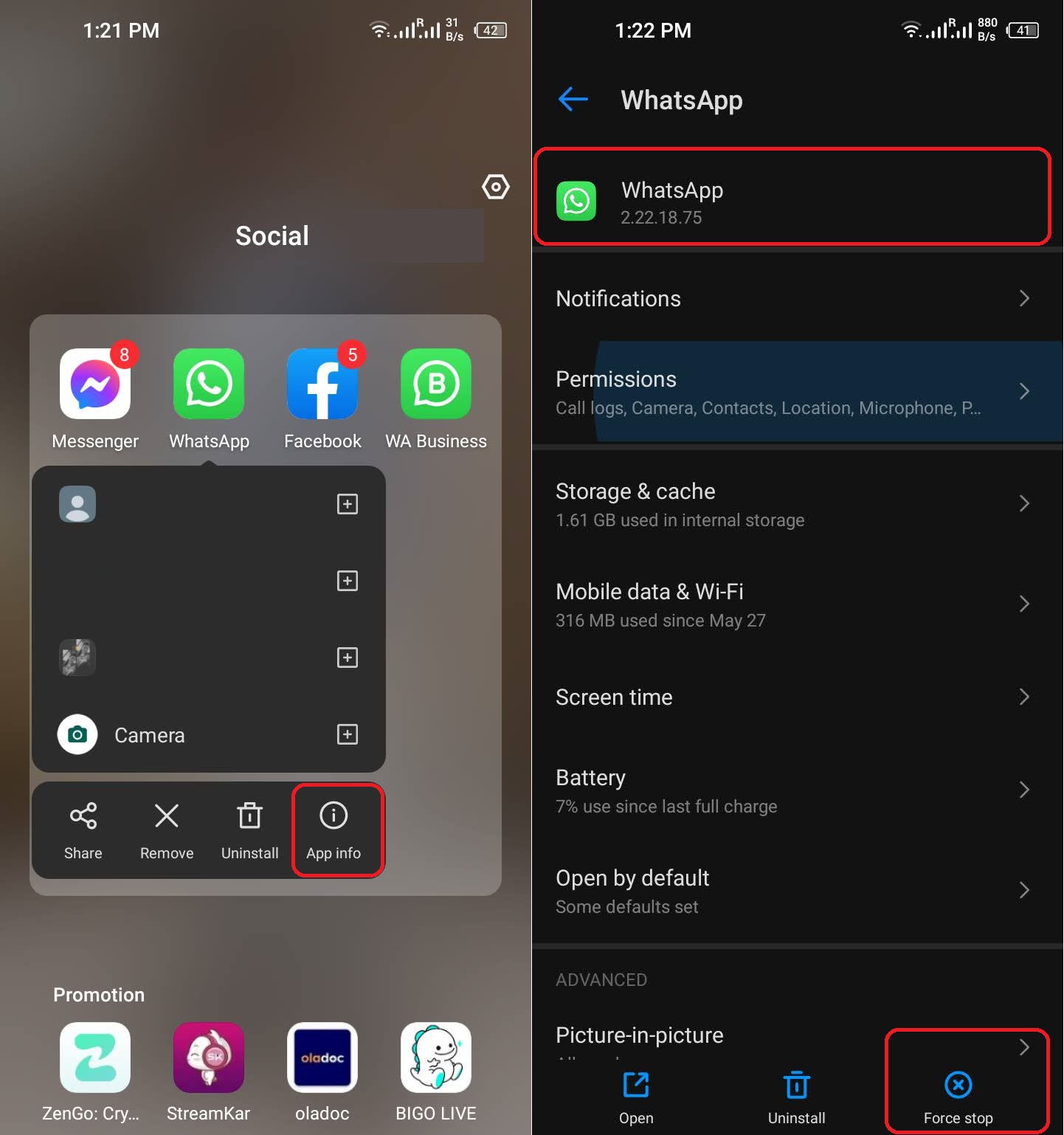 5 – Check Notification Options Again
Voice and video calls may not ring if the WhatsApp notification on your smartphone is deactivated or improperly set, even if the device is unlocked.
To fix this, go to the app's notification settings and make sure WhatsApp is enabled to receive notifications. WhatsApp notifications may be temporarily disabled if everything seems OK before being enabled again.
This may aid in resuming the proper functioning of WhatsApp's message and call notifications. These are the procedures you take to get your WhatsApp notifications working again:
Go to Your Phone's Screen
Find WhatsApp App and Long-Press Icon
"App Info" will Appear
Tap on it to Open the WhatsApp App
Select "Notifications" Options
Be Sure "Show Notifications" is Turned On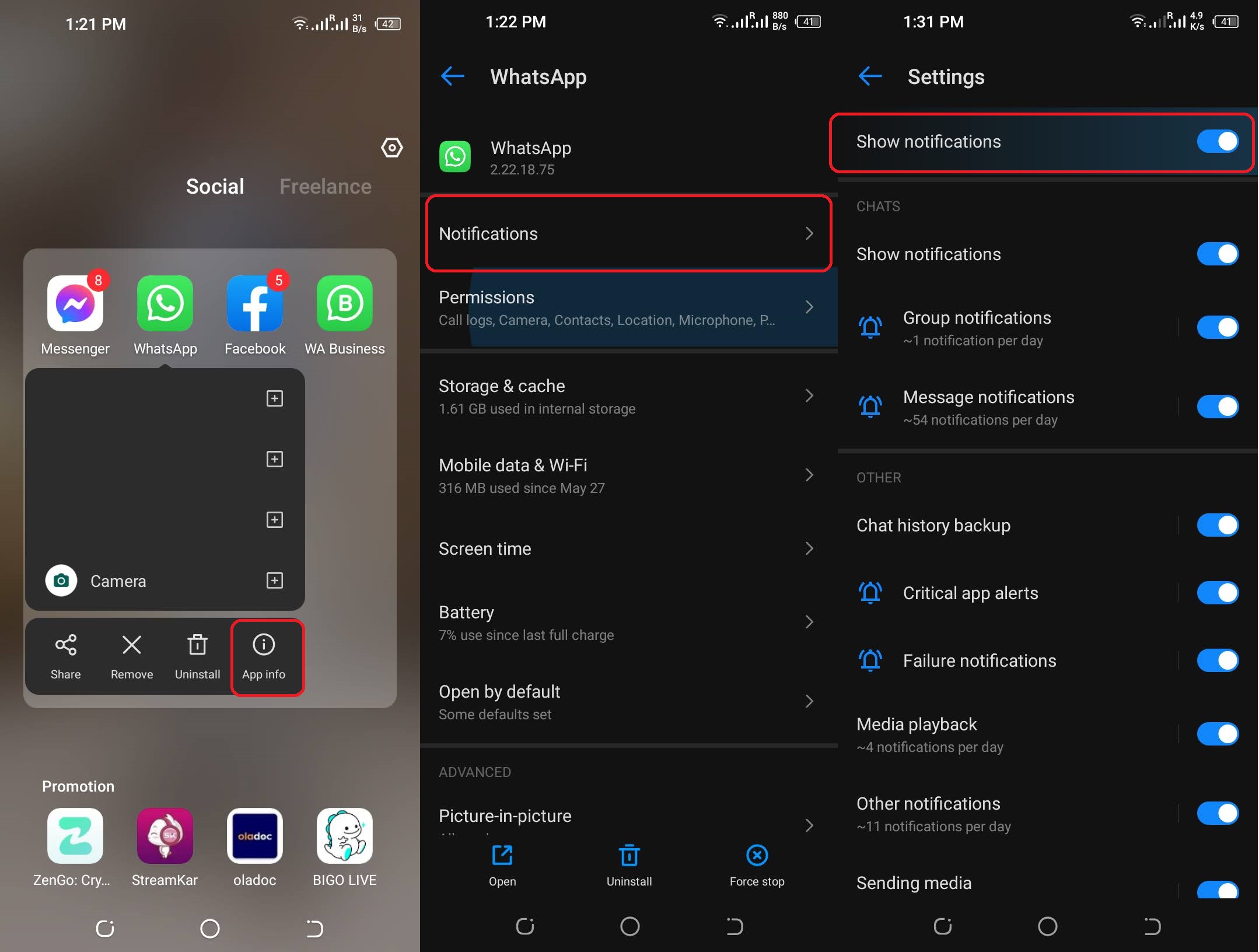 6 – Disable Battery Saver
The Android system's Battery Saver function may also be at blame. If you're trying to save battery life on your phone, turning on Battery Saver may prevent WhatsApp from notifying you of incoming calls. Well, turn off Battery Saver and see whether you can make and receive calls on WhatsApp.
Go to Settings
Tap on Battery
Find "Battery Saver" Option
Turn Off Now
7 – Check and Install Updates
There is a software glitch that is interfering with the call notifications, which is another explanation for the "WhatsApp calls not ringing" problem. Moreover, it's also crucial that you always use the most recent version of WhatsApp. Fixes for a wide range of app problems, such as faulty notifications, are included in these crucial upgrades. The procedure is as follows:
Open Google Play Store
Go to WhatsApp Page
See if the "Update" Button is Visible
Proceed to Tap It
Wrapping Up
If you're using Android and have experienced the WhatsApp call not ringing issue, we genuinely hope the mentioned-above solutions have helped. However, if the problem keeps happening, it's probably not your device but rather WhatsApp.
Besides, it's worth noting that these sorts of issues might be brought on by flaws that have made their way into the latest release. If that's the case, the WhatsApp team is probably already working on a solution, and it'll be included in the next update as soon as it's available. Moreover, don't forget to check the Play Store for updates on a regular basis so you can get them as soon as they become available.