Videos have become more important in the modern world. Therefore, having a reliable video downloader and converter is crucial whether you want to view your favourite music videos, helpful stuff or the most popular clips.
Well, as a multifunctional tool, YTD Video Downloader & Converter makes it simple to get videos from any website and then convert them to whatever format you could possibly want.
In this comprehensive article, we will walk you through its features, pros and cons and provide you with a step-by-step guide on how to use it perfectly. So, continue reading!
Features of YTD Video Downloader & Converter
Wide Platform Compatibility
YTD Video Downloader & Converter supports a wide range of popular video-sharing platforms, including YouTube, Facebook, Vimeo, Dailymotion, and more. This ensures that you can access content from your favourite sources with ease.
The tool offers extensive format support for downloaded videos, enabling you to convert videos to various formats such as MP4, AVI, WMV, MOV, and more. This flexibility ensures compatibility with different devices and players.
High-Quality Video Downloads
YTD Video Downloader & Converter allows you to download videos in up to 1080p resolution, which ensures you get the best possible quality for offline viewing.
Besides downloading, the software also serves as a video converter. You can easily convert downloaded videos to various formats or extract audio tracks from videos.
YTD Video Downloader & Converter automatically detects copied video URLs, which makes the download process even more user-friendly. Simply copy a video link and the software will recognise it and allow you to start the download.
The built-in scheduler allows you to set specific times for video downloads, ensuring that you can avoid peak internet usage times or download videos while you're away from your computer.
The software boasts an intuitive and user-friendly interface that makes it accessible to both beginners and experienced users.
Download 8K Videos with YTD Video Downloader
YTD Video Downloader offers the capability to download videos in stunning 8K resolution, as well as other high-quality formats such as 4K, 2K and Full High Definition (HD) 1080P from a wide range of major video streaming sites.
This feature allows you to enjoy your favourite content at the highest possible quality on your laptop or mobile device.
Additionally, YTD Video Downloader provides the convenience of automatic resume and retry functionality in case your internet connection encounters interruptions, ensuring a seamless downloading experience.
Pros
One of the standout advantages of YTD Video Downloader & Converter is its simplicity. You don't need to be tech-savvy to navigate and use the tool effectively. The intuitive interface and automatic URL detection streamline the downloading process.
Also, YTD Video Downloader & Converter is not limited to YouTube, but rather supports a wide array of platforms that make it a versatile choice for downloading videos from different sources.
As mentioned above, the tool ensures that you get high-quality video downloads, allowing you to enjoy your favourite content without compromising on visual and audio quality.
Cons
While YTD is the best free YouTube to MP3 converter, it includes ads, which can be a bit intrusive. However, users looking for an ad-free experience will need to upgrade to the paid version.
Limited Format Options in the Free Version
The free version of YTD Video Downloader & Converter has limitations when it comes to the available video formats for conversion. Well, upgrading to the paid version unlocks more format options.
Occasional Updates Required
To maintain compatibility with various online platforms, you may need to update the software periodically. While updates are generally beneficial, they can be seen as an inconvenience for some users.
System Requirements for YTD Video Converter
If you plan to use YTD Video Converter on your Windows computer, it's essential to ensure that your system meets the following minimum requirements:
Windows XP/Vista/7/8/10/11
Internet Explorer Version 6.0 or higher
Meeting these system requirements will ensure the smooth installation and operation of the YTD Video Converter on your Windows-based PC.
How to Use YTD Video Downloader & Converter?
Step 1:
Start by downloading and installing YTD Video Downloader & Converter from their official website. Follow the installation instructions provided during the setup process.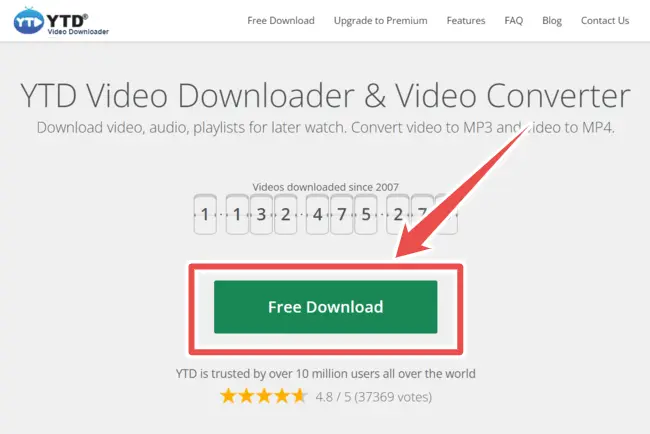 Step 2
After installation, launch the software. You will see a clean and user-friendly interface.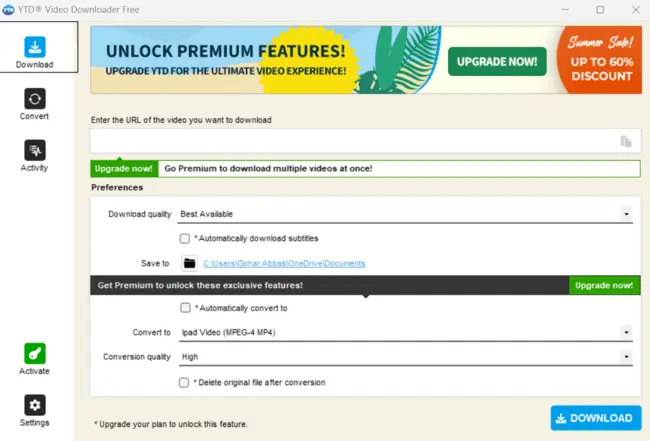 Step 3
Open your web browser, navigate to the video on YouTube you want to download, and copy its URL from the address bar.
Step 4
Return to the YTD interface and paste the copied URL into the designated field.
Step 5
Select the desired video quality and format from the available options. You can also choose to download only the audio if that's your preference.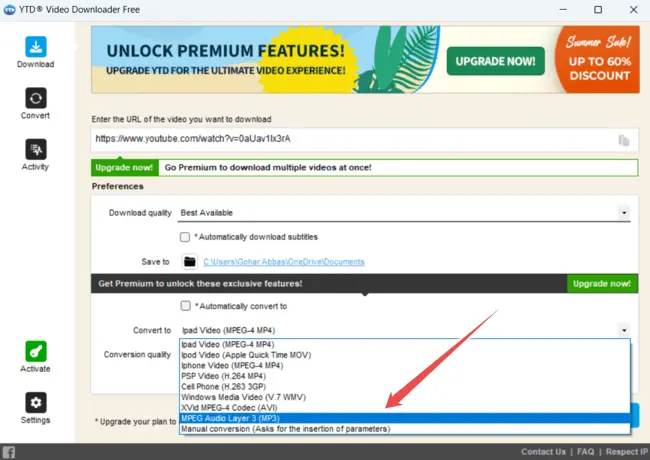 Step 6
Click the "Download" button to start the download process. YTD will automatically fetch the video and begin downloading it.
Step 7
You can monitor the progress of your downloads and conversions in the "Activity" tab. Once complete, your videos will be available for offline viewing.
The Bottom Line
Downloading and converting videos from several websites is made much easier with the help of YTD Video Downloader & Converter, which is flexible and intuitive software.
It's a must-have for every multimedia fan because of its wide range of compatibility, high-quality downloads, and versatile converting options.
Although there are restrictions and advertisements in the free edition, but they are removed and new features are unlocked in the subscription version.
All in all, if you follow our guide, you'll be able to use YTD Video Downloader & Converter to save your favourite videos and music off the web so you can listen to them without an internet connection.