Are you tired of not being able to enjoy your favourite YouTube videos and music offline? Looking for a simple yet powerful solution to convert YouTube content into downloadable formats like MP3 and MP4?
Look no further! Y2Mate, your go-to YouTube Downloader and Converter is here to fulfil all your multimedia desires. With its user-friendly interface and a wide array of features, Y2Mate enables you to effortlessly extract audio, download videos and even convert YouTube content into your preferred formats.
Whether you want to create a personal playlist of your cherished songs or keep a library of captivating videos, Y2Mate has got you covered.
Dive into this article to explore its incredible features, supported formats, pros and cons and step-by-step instructions on how to harness the power of Y2Mate for your multimedia needs.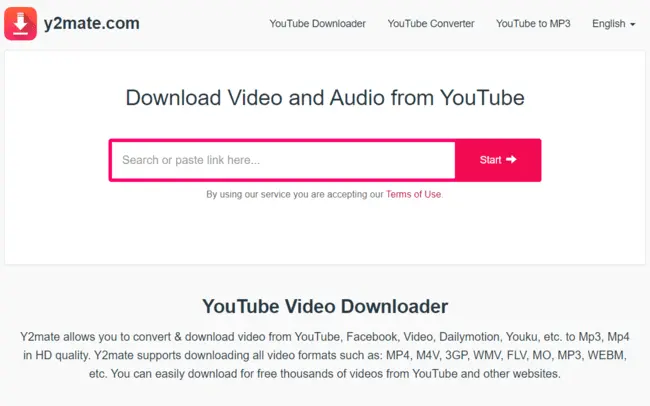 Y2Mate Features
Y2Mate is a web-based free YouTube to MP3 converter that doesn't require any software installation. It's user-friendly, which makes it accessible to users of all skill levels.
Wide Range of Supported Websites
Beyond YouTube, Y2Mate supports various popular video platforms, including Vimeo, Facebook, Dailymotion and more.
Y2Mate offers various audio formats, allowing users to choose between MP3, M4A and more, which ultimately ensures compatibility with a range of devices and players.
Y2Mate provides the option to select the audio quality and this ensures that you can enjoy your music in the desired bitrate.
You can download multiple videos or audio files simultaneously. Hence, saving you time and effort.
Y2Mate protects your privacy by not requiring you to sign up or provide any personal information.
To make sure you're extracting the desired videos, Y2Mate provides a preview mode before the conversion.
In addition to audio extraction, Y2Mate also offers the option to download the video itself in various resolutions, including HD, Full HD and more.
Cross-Platform Compatibility
As a web-based application, Y2Mate works on any platform running any major web browser, including Windows, macOS, Linux and mobile.
In order to maintain its reliability, Y2Mate receives regular updates to reflect the latest developments in the world of online video sharing.
Y2Mate can also convert YouTube videos to MP4 format, in addition to extracting audio. Users who wish to save movies for later viewing may like this feature.
Formats Supported
Y2Mate supports downloading all video formats such as:
MP4
M4V
3GP
WMV
FLV
MO
MP3
WEBM
Pros
Any device with an internet connection may use Y2Mate since it is web-based and does not need any downloads or installs.
The conversion process is fast and efficient, allowing you to obtain your desired audio files within seconds.
Because of how quickly and easily the conversion works, you can have the audio files you want in a matter of seconds.
Y2Mate isn't only for YouTube, but rather it works with a wide variety of video-sharing sites.
Y2Mate lets you choose your own audio quality, so you can be sure you're getting the best possible experience.
Cons
Y2Mate may display ads on its website, which could be a minor inconvenience for some users.
Downloading copyrighted content without permission may infringe on intellectual property rights, which can have legal implications.
How to Use Y2Mate YouTube to MP3 Converter?
Step 1: Go to the Y2Mate website using your web browser.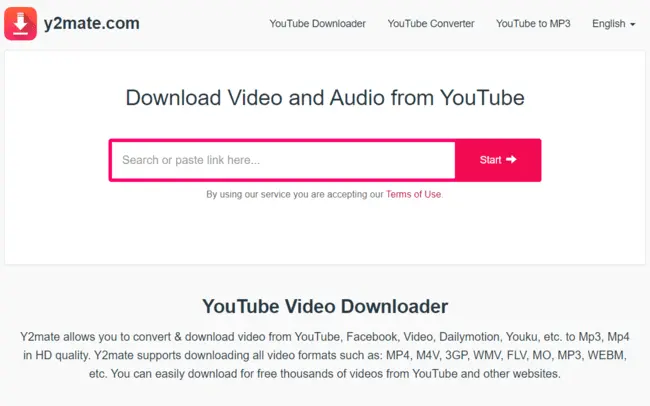 Step 2: Find the YouTube video you want to convert and copy its URL from the browser's address bar.
Step 3: On the Y2Mate website, paste the copied YouTube URL into the input field.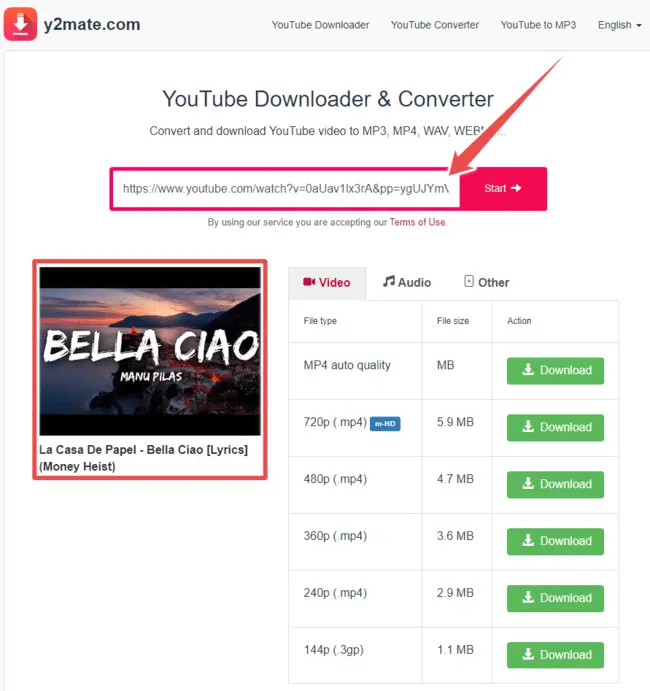 Step 4: Select either "MP3" for audio conversion or "MP4" for video conversion once it appears.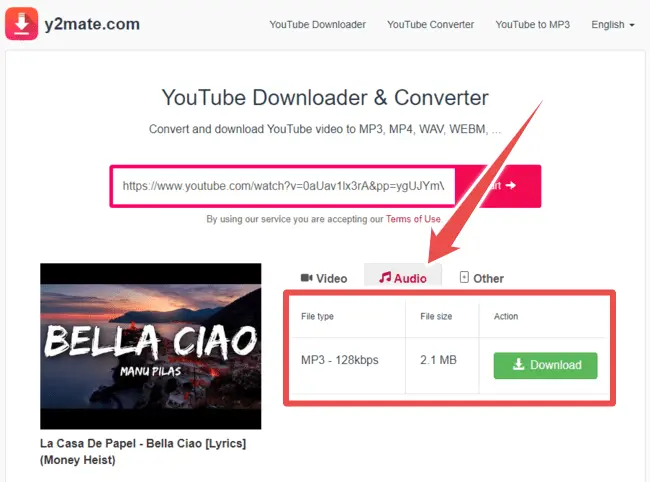 Once the conversion is complete, a download link will appear. Click it to save the MP3 or MP4 file to your device.
Conclusion
Y2Mate YouTube to MP3 and MP4 Converter is a versatile online tool that not only extracts audio but also converts YouTube videos to MP4 format.
With additional features like multiple formats support and no installation, Y2Mate provides a comprehensive solution for users seeking to download and enjoy multimedia content offline. However, users should exercise caution regarding copyright issues when downloading and using content.
FAQ's
Is Y2Mate safe to use for downloading YouTube content?
Yes, Y2Mate is generally safe to use for downloading YouTube content. It is a reputable online tool that has been widely used by many users.
However, you should be cautious and use it responsibly by respecting copyright laws and YouTube's terms of service. Downloading copyrighted material without proper authorisation may lead to legal issues.
Can I use Y2Mate on mobile devices such as smartphones and tablets?
Yes, Y2Mate is accessible on various devices, including smartphones and tablets. As it is a web-based tool, you can use it on any device with an internet connection and a web browser. Y2Mate's mobile-friendly interface ensures a seamless experience on mobile devices.