Have you ever needed to convert a video or movie to a different format for free, hassle-free, and with no limitations? Look no further! Freemake Video Converter offers a solution that has been trusted by over 103 million users for a decade.
Whether you want to convert online videos, and multimedia files of any size, or create content for your iPhone, Android device, or other gadgets, Freemake Video Converter has you covered.
In this article, we'll delve deeply into its rich feature set, exploring them with multiple pros and cons and providing a step-by-step guide for learning how to use it.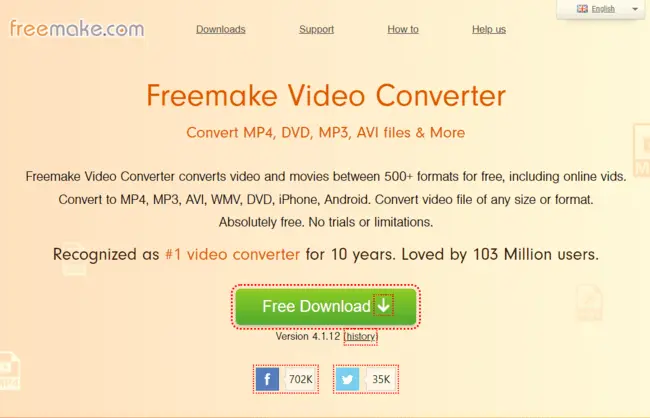 What is a Freemake Video Converter?
Freemake Video Converter is a robust and user-friendly multimedia conversion software that has gained acclaim for its versatility and reliability. With a decade of recognition and a user base of over 103 million, it stands as a go-to choice for individuals seeking a free YouTube to MP3 converter with many more capabilities.
Whether you're looking to transform online videos and multimedia files of any size, or tailor content for specific devices like iPhones and Android gadgets, Freemake Video Converter offers a comprehensive suite of tools to meet your multimedia conversion needs.
Key Features
Freemake Video Converter supports a vast array of video formats, making it easy to convert videos between formats like MP4, AVI, MKV, WMV, MP3, DVD, 3GP, SWF, FLV, HD, MOV, RM, QT, Divx, Xvid, TS, MTS, and Fraps. This versatility makes it suitable for various multimedia tasks.
YouTube to MP3 Conversion
One of its standout features is the ability to convert YouTube videos to MP3 audio files. This is particularly useful for creating playlists, extracting audio from video content, or simply enjoying your favourite music offline.
You can also use Freemake to convert DVDs and Blu-rays to digital formats, which will let you backup your physical media or enjoy them on digital devices.
It includes basic video editing tools for cutting, merging and rotating videos. While not as comprehensive as dedicated video editors, it's handy for quick edits.
Freemake supports batch conversion, which allows you to process multiple files simultaneously. Hence, it saves you time when dealing with large multimedia collections.
Compatibility with Various Devices
You can use Freemake to convert videos for viewing on your iPhone, Android, or any other device with an output format optimised for that device.
Freemake not only converts videos but also provides fundamental editing features, including trimming, combining, and flipping. It may not have all the bells and whistles of professional video editing software, but it has everything you need to make some simple adjustments.
Pros
The UI of Freemake Video Converter is straightforward and simple to use, making it suitable for users of all skill levels.
Freemake offers a free version with many features, including YouTube to MP3 conversion. There's also a premium version, but the free version is quite robust on its own.
The software is compatible with a wide variety of hardware and operating systems since it supports several audio and video file types.
You can modify the output parameters to get the video and audio quality you want, so the converted files will be up to par with your expectations.
Freemake is well-liked because of how quickly and accurately it does conversions without sacrificing quality.
Cons
The free version of Freemake Video Converter adds a watermark to the output video files. To remove it, you'll need to upgrade to the premium version.
While it provides basic editing capabilities, it lacks the advanced editing options found in dedicated video editing software.
During installation, Freemake may offer additional software installations. Be cautious and choose custom installation to avoid unwanted software.
How to Use a Freemake Video Converter?
Follow these steps to convert YouTube videos to MP3 using Freemake Video Converter:
Visit the official Freemake website and download the software. Follow the installation wizard to install it on your computer.
Open the software after installation.
Click the "Add Video" button to import the YouTube video you want to convert.
Choose "To MP3" from the format options at the bottom of the screen.
Click the gear icon to adjust the output settings, such as audio quality and destination folder.
Click the "Convert" button to start the conversion process.
Once the conversion is complete, you can locate your MP3 file in the destination folder you specified.
Note: In the free version of Freemake Video Converter, you can convert videos by importing files from your computer, while converting videos directly from URLs requires the premium version.
Conclusion
Freemake Video Converter is a versatile multimedia tool that excels in YouTube to MP3 conversion and offers a wide range of other features. While it has some limitations, such as watermarks in the free version and limited editing tools, it remains a valuable tool for various multimedia tasks, especially for users looking to extract audio from YouTube videos or convert multimedia files between formats.