In today's digital era, multimedia content consumption is at an all-time high and YouTube is one of the most popular video and audio entertainment sites.
YouTube offers everything, whether it's music, podcasts, or educational content. However, you may wish to listen to your favourite YouTube videos in audio format from time to time, possibly for offline listening. This is where ClipGrab YouTube to MP3 Converter comes into play.
In this comprehensive guide, we will delve into ClipGrab, exploring its features, pros and cons and providing a detailed guide on how to use it. So, let's start!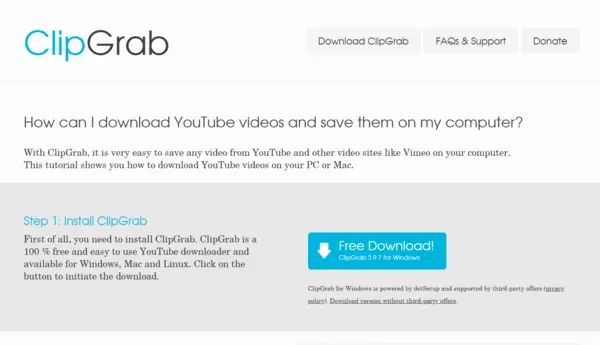 What is ClipGrab YouTube to MP3 Converter?
ClipGrab is a versatile, user-friendly and free YouTube to MP3 converter designed to download and convert online videos from various sources, including YouTube, Instagram, Vimeo and Dailymotion, into audio formats like MP3, AAC and more. It's a cross-platform application, available for Windows, macOS and Linux, making it accessible to a wide range of users.
ClipGrab Features
ClipGrab boasts a clean and intuitive interface that's easy to navigate, even for users with limited technical expertise.
Multiple Video Platforms Support
Apart from YouTube, ClipGrab supports downloading and converting videos from various popular platforms such as Instagram, Vimeo, Dailymotion and more.
Users have the flexibility to choose the video quality they prefer, including 1080p, 720p and lower resolutions, depending on their storage capacity and internet speed.
ClipGrab allows users to convert videos into audio formats like MP3, AAC and OGG, which ensures compatibility with a wide range of devices and media players.
You can queue multiple videos for download and conversion, which means you save your time and effort when dealing with multiple media files.
ClipGrab can automatically detect and monitor URLs copied to your clipboard, simplifying the process of downloading videos.
It has a built-in search function that allows you to find videos directly from the application without opening a web browser.
ClipGrab is open-source software, which means it's free to use and has an active community of developers and users who contribute to its improvement.
Pros
ClipGrab's user-friendly interface makes it easy for users of all technical levels to download and convert videos to audio.
It supports multiple video platforms and offers various download and conversion options that give users the flexibility they need.
ClipGrab ensures that the audio quality of the converted files remains high, allowing you to enjoy your favourite content without compromise.
Unlike many online converters, ClipGrab is ad-free. Thus, you're all set to enjoy a seamless experience.
Being open-source means that ClipGrab is continually improving and evolving thanks to its dedicated community of developers and users.
Cons
While ClipGrab has a clipboard monitoring feature, it lacks browser extensions for more seamless integration with popular browsers like Chrome and Firefox.
ClipGrab is primarily a desktop application, so it doesn't offer a mobile app for on-the-go conversions.
Although it specialises in video-to-audio conversion, ClipGrab doesn't provide options for downloading YouTube videos in their original format. Go to ClibGrab
How to Use ClipGrab YouTube to MP3 Converter?
Now that we've explored the features and pros and cons of ClipGrab, let's dive into a step-by-step guide on how to use it:
Step 1: Visit the official ClipGrab website (https://www.clipgrab.org/). Click on the "Download" button to get the installer for your operating system (Windows, macOS or Linux).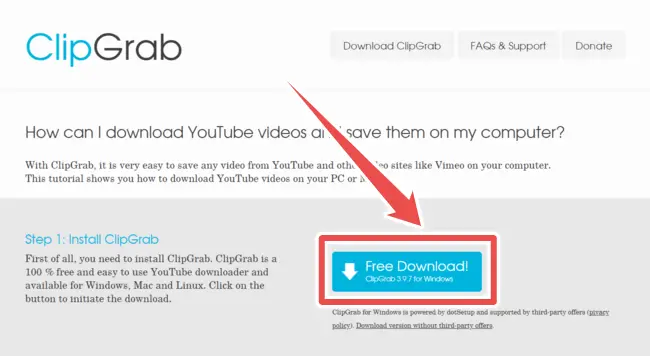 Step 2: Once installed, launch ClipGrab from your desktop or applications folder.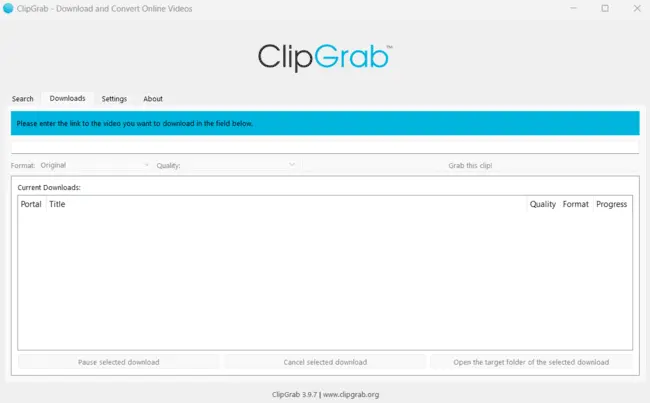 Step 3: Open your web browser and go to YouTube or any other supported video platform. Find the video you want to convert to MP3.
Step 4: Return to ClipGrab. In the "Downloads" tab, you'll see a field labelled "Enter URL." Paste the copied video URL into this field by pressing Ctrl+V (Windows/Linux) or Command+V (macOS).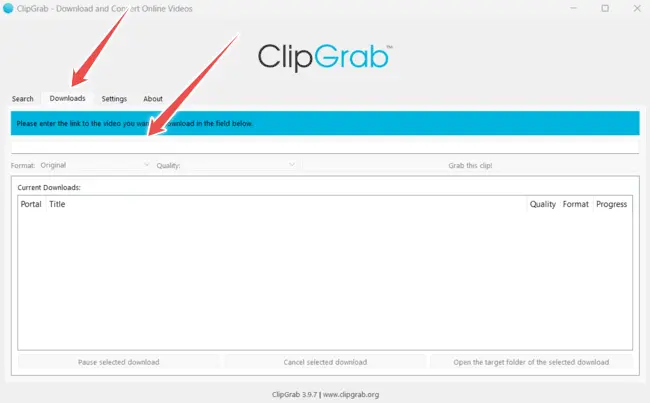 Step 5: ClipGrab will analyse the URL and display the available video quality options. Choose the one that suits your preference. In the "Format" section, select "MP3" or your preferred audio format from the drop-down menu.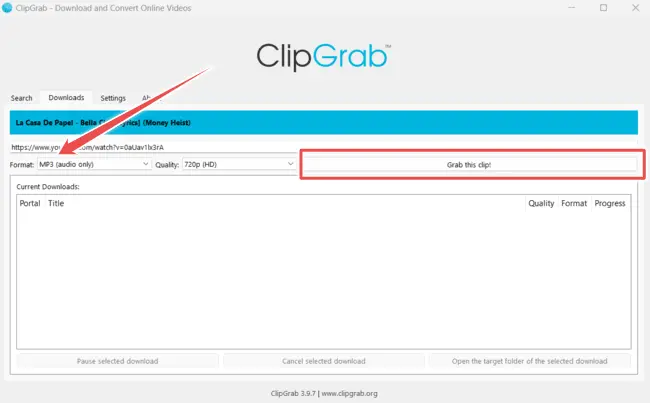 Click the "Grab this clip!" button to start the download and conversion process. ClipGrab will show the progress of the download and once it's complete, the converted MP3 file will be saved to the specified location on your computer.
Step 6: Locate the downloaded MP3 file on your computer. Transfer it to your preferred device or media player and start enjoying your audio content.
Conclusion
All in all, ClipGrab YouTube to MP3 Converter is a powerful and user-friendly tool for downloading and converting online videos into audio formats. Its simplicity, versatility and high-quality output make it a reliable choice for anyone looking to enjoy their favourite YouTube content in audio form.
While it may have some limitations, such as limited browser integration and the absence of a mobile app, ClipGrab's open-source nature ensures ongoing development and improvement.
By following the step-by-step guide provided in this article, you can easily harness the capabilities of ClipGrab to enhance your multimedia experience. So, what's the wait? Just give it a try and start enjoying your favourite YouTube content in MP3 format today.