So, you have recently got a dent in your wallet and bought one of the most expensive smartphones named the Samsung Galaxy Z Fold 4. Perhaps you'll start facing common problems like many other users who have shared their experiences on the Internet.
Well, we have designed this guide with multiple solutions to help get rid of the most common Samsung Galaxy z Fold 4 problems.
"The software and hardware of every smartphone have their flaws. There now exists no such thing as a flawless smartphone. If you have any software-related issues on your Samsung smartphone, you may be able to solve them by following the steps in this guide. However, if the hardware in your phone breaks, you'll need to get in touch with customer service to arrange for repairs."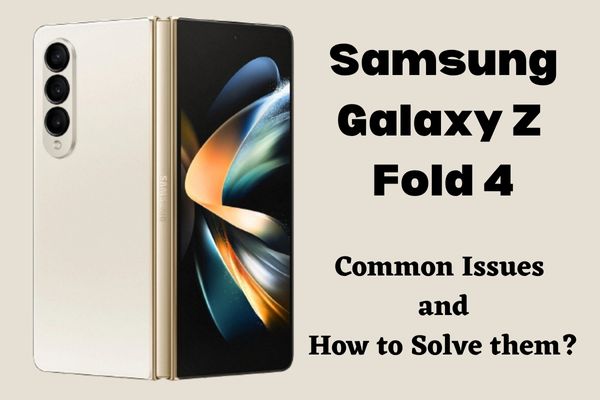 1 – Samsung Galaxy Z Fold4 Keeps Crashing
Do you ever experience a freeze or the error message "System UI stopped" when using your phone? If so, it's probably just a simple issue that can be fixed right away. Here are the steps to follow and fix the problem if your Samsung Galaxy Z Fold 4's system UI has stopped.
Solutions:
In most cases, this problem may be resolved by just restarting the phone.
This is a common problem that appears when you first launch the app. Get rid of any widgets that could be causing the issue on the home screen and see if it helps.
Open the Play Store and make sure all of your applications are up to date.
Erase all saved browser history, app data, and app cache for the System UI, Play Store, and Play Services.
Perform a factory reset of the app preferences on your Samsung Galaxy Z Fold 4.
2 – Samsung Galaxy Z Fold4 Battery Drains Fast
Every smartphone user eventually encounters this issue. In most cases, the following solutions can help you save the battery life of your Samsung Galaxy Z Fold 4.
Solutions:
It is typical to see battery drain while using mobile data.
Get rid of Cleaner and other similar RAM boosting and junk cleaning software. These applications are always using your battery as they operate in the background.
You may test whether this problem persists by booting your device into Safe mode and seeing if it still occurs.
To save power and save battery life, turn off Auto Brightness and dim the screen.
When not in use, disconnect from Wi-Fi and turn off Bluetooth, GPS, and location services.
A malware attack is one possible explanation. Use anti-virus software to clean it.
This might happen if you spend too much time watching movies or playing video games.
3 – Samsung Galaxy Z Fold4 with Lagging User Interface
Do you find your smartphone to be sluggish and difficult to navigate? If that's the case, we have the fix for your device right here. This is the most widespread issue with technological devices, and it impacts almost everyone who uses a smartphone.
However, even brand-new phones are vulnerable to this issue because of our habit to clutter up RAM with data and applications we no longer use. Follow the mentioned below steps to get rid of this issue easily.
Solutions:
You need to have some free space on your phone's storage for it to function.
Clean up your device by erasing unused software like antivirus and trash cleanup applications.
It's important to see whether the Samsung Galaxy Z Fold 4 is becoming too hot to handle. Occasionally, the device's different functions would stop operating as a result of overheating.
If there is a newer version of your phone's operating system, install it.
Check the Play Store to see if there are any available updates for your applications, then install them.
If your phone can add a microSD card, we suggest getting a Class 10 microSD card for the best speed.
4 – Samsung Galaxy Z Fold4 Network Problem
This issue with the network is often created by practically every android smartphone. If the mobile network is malfunctioning or sometimes dropping calls on your Samsung phone, try these troubleshooting steps. Taking the following into account:
Solutions:
Open notification panel. To use airplane mode, switch it on for a few seconds and then off again.
Verify whether an upgrade is available for your phone's software. Upgrade it if you can!
When configuring your network, make sure Roaming services are turned on.
Get in touch with your network service provider and see if they can tell you whether the issue is on their end or yours.
Turn off your smartphone. It's best to take out the SIM card and put it back in twice before using the Samsung Galaxy Z Fold 4.
After you've tried the above steps, restart your Samsung Galaxy Z Fold 4.
5 – Samsung Galaxy Z Fold4 Touch Screen Issue
Here are some fast fixes you may try if your Galaxy Z Fold 4's touchscreen is being sluggish or unresponsive.
Solutions:
To see whether your issue has been resolved, you need first restart your device.
Take off the current screen protector and replace it.
It's important to keep your phone's display clean.
Perform a test in Safe Mode on your Samsung Galaxy Z Fold 4.
It's a good idea to delete the phone's System cache folder.
Is the Touch screen still giving you trouble? If so, resetting your Galaxy Z Fold 4 to factory settings is your final option.
Wrapping Up
Any electronic equipment is susceptible to a few common issues. Stay calm and check out some troubleshooting steps before rushing out to get a new Samsung Galaxy Z Fold 4 or having your current one fixed. If you've tried the solutions mentioned above and still can't get your phone to work, it's probably time to take it to an expert who can figure out what's wrong with it.