No one can deny that Facebook is one of the largest social networking sites in the world. Facebook Inc. is influential because it allows people to share their everyday lives via the app and web versions.
At the moment, Zuckerberg's app is also a social media eCommerce site since it provides its users with a Marketplace where they can make purchases.
When everyone is having a great time with Facebook's new features like Vanish Mode and Dark Mode, many users have reported lately receiving a connection error while trying to access Facebook.
Are you experiencing similar issues and need to know, "what does connection error mean on Facebook?" Nothing to be worried about as we have got you covered from start to finish.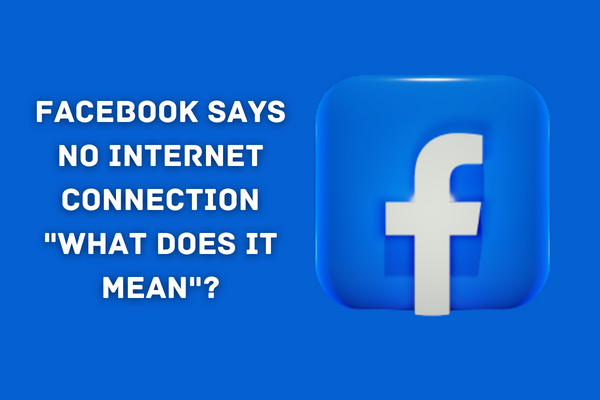 Facebook Says "No Internet Connection." What does it mean?
The Facebook app, which can be downloaded for free on smartphones running the Android or iOS operating systems, is a popular means of accessing the social media platform.
If you've tried accessing your account using both the mobile app and a web browser on your PC and are still having the same issue, the following might be the case:
Server Issues
Facebook experiences server outages sometimes as a result of routine maintenance or unforeseen issues. In that case, the Facebook app doesn't work, and you will get an error message stating that there is "no internet connection."
You'll have to wait until Facebook's servers are back up, which may be anywhere from a few hours to a day. There are a number of services, like "IsItDownRightNow," that can tell you whether or not a certain website is currently experiencing server issues.
Slow Internet Speed
Facebook on a mobile device almost always requires some kind of wireless connection, whether it is Wi-Fi or cellular data. It's possible that your connection to Facebook's server is too slow at the moment.
App Issues
Some apps may stop working properly, display errors, such as no internet connection, not loading images on Facebook, or refuse to open if you haven't updated your phone's operating system or its apps in a while. The login problem can also be caused by an old version of the Facebook app on your device.
How Do I Fix "No Internet Connection" on Facebook?
Strive to run some other applications on your device. Make sure the problem is exclusive to the Facebook app before changing your password or removing it. To check, you may disable all of your phone's applications. Afterwards, give Facebook's app another go. If the problem persists, it was likely generated by Facebook.
1:  Check Your Internet Speed
In the event that you seem unable to resolve the problem, you will need to check the speed of your network.
Go to Settings
Choose Network
Now Select Mobile Data and then Download
Select Download Limit to 3G/4G
Wi-Fi connections can sometimes stop working all of a sudden, and this is one of the main things that causes the problem.
2:  Make Changes in Facebook App Settings
The Facebook settings must be updated once the mobile data option has been modified. Here's the way to get things done:
Tap on Menu Item (Top Right Corner)
Now Tap on "Settings"
Scroll Down and Find "General Account Settings"
Under Accounts, Find the "Change Email Address" Option
Change Your Email Address if You Want, or Leave it Empty
Now Select "App Settings" and "Apps & Websites"
You'll be able to see all of the applications and websites that you've connected to your Facebook account in this section. Remove the checkmarks and just add the ones you need.
3:  Uninstall the Facebook App and Reinstall
If you're having technical difficulties with Facebook, consider uninstalling and reinstalling the app. It will give you the option to update the application on your smartphone to the most recent version, which is likely what's causing the message about "no internet connection."  Follow these steps to delete the Facebook app from your phone and then reinstall it:
Go to Home Screen and Hold Facebook Icon
In Appeared Options, Choose Remove
Next, Go to Google Play Store (for Android) or Apps Store (for iOS) and Download the App
The installation will Begin and it" Take a Couple of Seconds
Once Installed, Try Logging in Again
4:  Clear Cache and Data
If you're having trouble accessing Facebook from your web browser, try clearing the cache and other data from your browser's settings. To get rid of any saved information or cache, do these steps:
Go to Browser's Settings
Choose "Cache and Data Storage"
Scroll Down to Remove "Cache and Data"
Now Go to Settings Again and Delete "Cookies"
You'll find a Box Labelled "Cookies"
Go to Manage and Delete all Facebook Cookies
5:  Reset Your Password
You may want to try resetting your password if you keep having this problem. Facebook will offer you a link, and you must follow it. In the next step, you'll input the new code you received into the correct box.
The new password must be confirmed on a confirmation page once you've entered the code. To double-check that you entered the proper password, just input it again.
6:  Check for Facebook App and System Updates
Visit your device's Play Store or App Store to see if an update for Facebook is available. In the case an update is available, it should be installed. In addition, check for system updates by going into the settings menu on your device.
Conclusion
Hopefully, the Facebook internet connection problem will be resolved after implementing the aforementioned fixes and solutions. However, if the problem remains the same and you are still having trouble, make changes in network settings, try different Wi-Fi internet connections, and try to log in to your Facebook account on another device. That's all!