When it comes to music and other media, YouTube is second to none, but what if you want to listen to your favourite videos offline? This is where By Click Downloader comes into play, an excellent YouTube videos to MP3 converter.
In this article, we'll cover the key features to look for By Click Downloader converter, the pros and cons, and how to use it effectively. So, let's get started!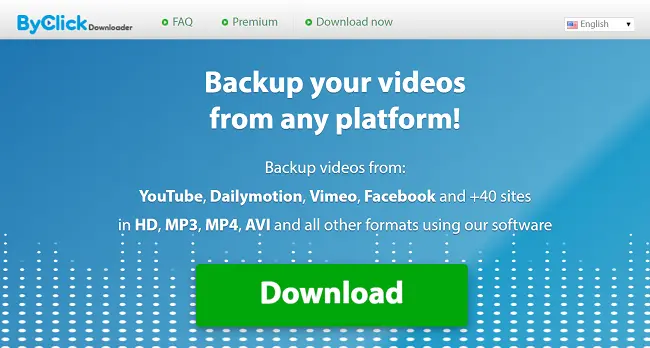 Features
By Click Downloader is a versatile and user-friendly free YouTube to MP3 converter that allows you to effortlessly convert your favourite YouTube videos into MP3 audio files. It has a wide variety of options to meet your downloading requirements. All the features alongside pricing details and pros and cons are mentioned below!
Download YouTube Playlists
By using By Click Downloader, you may easily download a complete playlist from YouTube in one go. No more searching for and downloading videos one by one.
In addition to YouTube, this converter is compatible with many more online video platforms. It allows you to convert videos from several sources so that you're not stuck with just one device.
The video quality may be adjusted to your liking using By Click Downloader. You can pick between a high-definition version and a standard-definition version if you require either.
This converter receives frequent updates to keep up with YouTube's ever-evolving technical requirements. It's dependable and steady, so you can count on it for downloads.
By Click Downloader boasts an intuitive and user-friendly interface. Navigating the software is a breeze, making it accessible for users of all experience levels.
You can convert videos to an extensive range of formats, including MP3, MP4, AVI, FLV, WMV, 3GP, WEBM, MKV, WAV, AAC, and M4A.
By Click Downloader is available in both free and premium versions, with added features in the premium version.
Pros
Versatile format compatibility and resolution options.
Easy audio extraction for offline listening.
Wide range of output formats for various devices.
Improved offline content accessibility.
User-friendly interface for convenience.
Cons
Copyright concerns with downloaded content.
Malware risks with unverified converters.
Potential complexity, especially for beginners.
How to Use By Click Downloader?
Step 1: Download and install the By Click Downloader software on your computer. Open the software.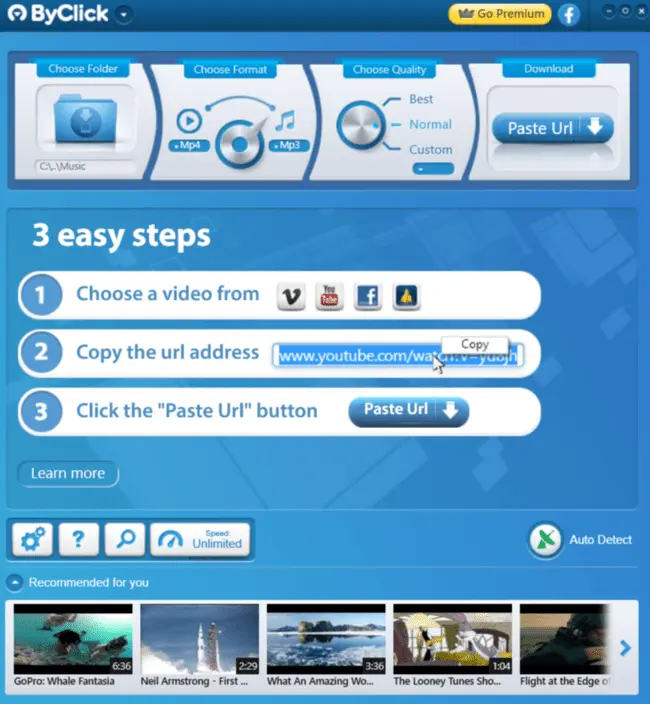 Step 2: Go to YouTube, find the video you want to convert, and copy its URL from the browser.
Step 3: In By Click Downloader, click the "Paste URL" button to paste the YouTube video URL.
Step 4: Select "MP3" as the desired output format.
Step 5: Click the "Download" button to start the download and conversion process. Once the conversion is complete, the MP3 file will be saved on your computer.
Conclusion
By Click Downloader is a versatile and user-friendly tool for converting your favorite YouTube videos into MP3 audio files.
With features like playlist downloads, support for multiple sites, and various format options, it provides a convenient way to enjoy offline content.
However, users should be aware of copyright concerns and potential malware risks associated with unverified converters. Overall, By Click Downloader offers an accessible solution for audio extraction, improving your offline content accessibility.