The G2 Guardian is an exceptional rugged smartphone that stands out from the crowd. The smartphone is intended for the "outdoor smartphone industry," which includes both professionals and hobbyists.
The original market for rugged phones was outdoorsy types like hikers, campers, SAR workers, construction techs and engineers. But it's also great for people who work or play indoors in extreme physical conditions.
Because of this, the AGM G2 Guardian can survive things like extreme temperatures, water, dust and impact stress.
Not only that, but it also contains sophisticated thermographic and heat-measuring instruments. As is the case with other rugged phones, this makes the G2 Guardian much larger and heavier than the usual smartphone.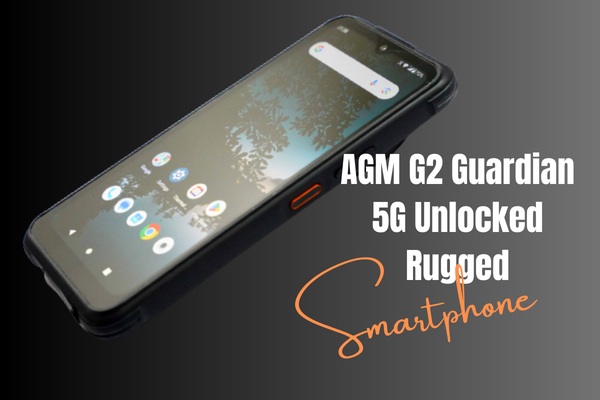 Pros
120Hz Refresh Rate for Fantastic Visuals.
Outstanding Rugged Exterior.
Up to Snuff Performance.
Cons
Not Ideal for Budget-Conscious Buyers.
Quite Heavy and Huge.
There is No Support for Future Android Updates.
AGM Glory Pro VS AGM G2 Guardian – Quick Specs Comparison
The AGM Glory Pro and AGM G2 Guardian are both rugged smartphones designed to withstand tough environments. However, there are quite a few differences in terms of specifications.
For instance, the AGM Glory Pro features a 6.53″ HD+ display, while the AGM G2 Guardian has a 6.58″ HD display. Moreover, the AGM Glory Pro is powered by a Qualcomm Snapdragon 480 5G processor and 8GB of RAM, while the G2 Guardian comprises a Qualcomm QCM6490 processor with up to 12GB of RAM, ensuring super-fast gaming and multitasking.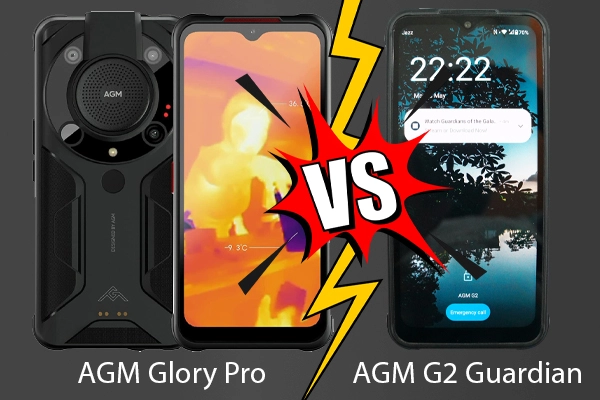 Both phones have 256GB of internal storage and support microSD cards to expand the storage. In terms of a camera, the Glory Pro has a 48MP + 20MP + 20MP trio-camera configuration on the back and 2MP + 16MP camera lenses on the front.
On the other hand, the AGM G2 Guardian comes loaded with a whopping 108 MP primary camera, paired with a 20MP + 2MP + 256*192 thermal camera on the back. The front side of the AGM G2 Guardian houses a 32MP single-camera lens for selfies and video calls.
Now, talking about the battery, the AGM Glory Pro is backed by a 6200mAh non-removable battery, whereas the AGM G2 Guardian has a slightly longer battery life (7000mAh) due to its more efficient processor.
Finishing this off by saying that the AGM Glory Pro and AGM G2 Guardian are both perfect the way they are as far as the price difference is concerned. However, the choice between these two phones will depend on the user's specific needs and preferences.
AGM G2 Guardian Specs
Release Date: March 2023
Dimensions
177.5 mm x 85.3 mm x 25.3 mm
405 Grams
Glass front (Gorilla Glass )
DISPLAY
6.58", 1080 x 2408 Pixels Resolution, 120Hz Refresh Rate
IP68/IP69K and MIL-STD-810H Ratings: 1.5m Drop Proof, 1.5m Waterproof for 30 Minutes, and Dust Proof
Oprating System
Android 12
5G Cellular Technology
Qualcomm QCM6490 5G
MEMORY
8GB+256GB
12GB+256GB
External memory: microSD card support
CAMERA
Triple Rear Camera

108 MP main lens
20MP Infrared Night Vision lens
2MP Macro Lens
LED flash, panorama, HDR
Single Front Camera
32 Mega Pixels
Thermal Camera
Thermal Monocular Camera with 500 Metres Detection Range
BATTERY
Non-removable 7000mAh Battery (18W Fast Charge)
Wireless Charging
Pricing and Availability
There is now a pre-order option for the AGM G2 Guardian on the official website, where it can be ordered for $900, which is equivalent to £722 in the UK.
Indeed, the price tag is quite hefty. And we believe that a thermal imaging phone like the AGM G2 Guardian isn't necessary for everyone.
However, if you are certain that you must have such a smartphone, we will also discuss whether or not the $722 price tag is justified.
Thermal Monocular – The Biggest Highlight
The G2 Guardian's long-range thermal monocular is its most impressive feature. Ordinary thermal imaging phones have a hard time detecting distances greater than 100 metres because an object's heat will, over time, be eliminated in the air.
However, the G2 Guardian has a 500m heat detection range. This is the primary justification for making the announcement during MWC.
This infrared lens has a 5.6x magnification and can concentrate on moving objects. This helps you identify what sort of organism is producing the heat by revealing its distinct form.
The G2 Guardian is a thermal monocular and huge speaker stand that is over 400g and an unbelievable 2.5cm thick.
It's not the most convenient phone to operate with one hand, but it's on par with the best offerings from Samsung and Xiaomi. Some individuals prefer sacrificing tactile pleasure in exchange for enhanced performance.
Besides, the Thermal Sensor Camera app serves a rather straightforward purpose in your device's functionality. A simple setting to modify the Ribbon's brightness or contrast appears at the very top.
A toggle between night vision and temperature can be found in the corner to the right. One is designed to pick up on heat signatures at night, and the other on cold spots.
Contrast is the key differentiator between the two, and frequent mode switching is not required.
AGM G2 Guardian Design & Display
In terms of physical dimensions, the exceptional AGM G5 Guardian rugged smartphone measures 177.5 mm by 85.3 mm by 25.3 mm.
However, at a proud 405 g, it is considerably heavier than the Apple iPhone and similar devices. The remainder of the design is obviously inspired by its related counterpart.
For instance, there is the one-of-a-kind case, which genuinely looks like a tank from the outside. Moreover, it's easy to see that extra padding was added to the four corners. In this case, it's easy to see that the smartphone will survive a drop to the floor.
Also, there is no risk of breakage during the procedure. This includes losses caused by water as well. According to specifications such as IP68, IP69K, and MIL-STD-810H, it is resistant to dust, water and impact damage.
The 6.58-inch screen can be found on the front, with the top section broken up by a teardrop notch. A front-facing camera can be found here.
Although it may look like a bezel-less display, the actual screen has a distinct bar, most notably in the lower screen area.
But that shouldn't put off anyone looking to purchase such a device. Now, the only thing that sits above the front-facing camera is the earpiece.
AGM G2 Guardian Performance
How fast is the AGM G2 Guardian processor? The system will never freeze and pause while using it normally, even for intensive gaming – thanks to its gigantic RAM and powerful processor.
You can get Call of Duty Mobile and play it around a little. You can also install AnTuTu 3DBench to get benchmark results. The result will be 552101.
Furthermore, everyday performance will be completely flawless, and there will be no difficulties to report. However, the thermal camera will slow down occasionally when we use it in unusual circumstances.
AGM G2 Guardian Camera
The G2 Guardian has the most cutting-edge thermal camera of any smartphone currently available. This is the first smartphone to have a thermal-only camera. The most important issue is determining whether it performs as expected. Let's find out!
In what situations might you benefit from using a thermal monocular camera? Clear pictures can be seen using a thermal monocular's infrared-sensitive lens even in low light or complete darkness.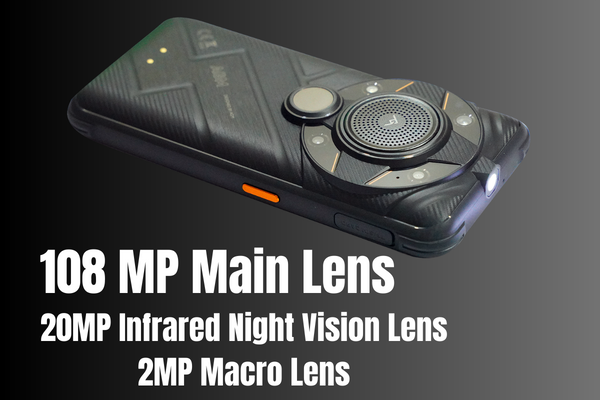 The monocular generates a visible picture by sensing the heat energy emitted by objects. Between 90 and 1.5 km is the reported range of thermal monocular cameras. Well, it's also necessary to perform a search on your own, as this sounds quite unfamiliar to us.
This also implies that we have to make a few adjustments to the G2 Guardian's thermal camera. There are a lot of options that we'll need to learn how to use. So, consider the results presented online through different online sources as initial efforts. And this evaluation will be continually revised as the sources gain expertise with the thermal camera.
Aside from that, the Thermal AGM app controls the monocular thermal camera. You may use this in addition to your regular camera app. The Thermal AGM camera app captures thermal images rather than optical ones.
According to AGM, the phone's thermal monocular can detect human heat signatures from a distance of 500 metres. However, it has been confirmed by multiple online sources that it works at a distance of 180-200 metres, which is still quite impressive and believable.
In addition, you can shoot thermal time-lapse videos with the Thermal AGM app as well as customise temperature units.
Also, the AGM G2 Guardian rugged smartphone lets you customise the colour of isotherms and the look of your images with a variety of Ribbons, and more.
This is essentially a Swiss army knife for the outdoorsman who needs to take photos and videos after dark and wants to have some leeway in adjusting the settings to get the best possible results.
AGM G2 Guardian Battery Life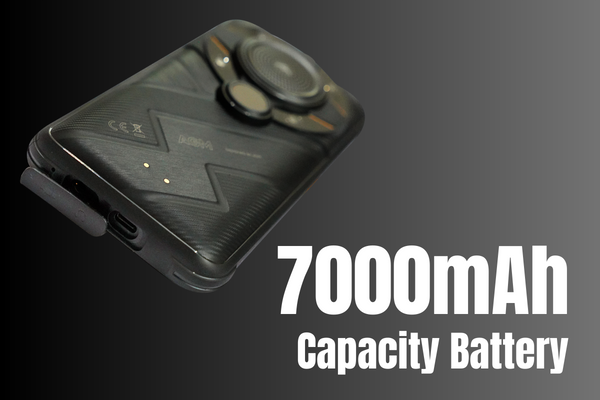 An outdoor smartphone, of course, should be robust. Having the stamina to go over the weekend is a definite plus. This is optimally promoted by the AGM. The device boasts a 7,000mAh battery.
Indeed, these numbers aren't available on mobile phones, but we do have them on tablets. However, this smartphone stands out as an exception.
With its 7,000mAh capacity, it is indeed a powerful smartphone. But, unfortunately, the battery that came preinstalled can only take up to 18 watts of rapid charging power.
That may not be a record, but it's perfectly respectable given the endurance shown. The drawback, however, is that you can't use a Qi charging mat to power up wirelessly.
The two golden spots on the bottom back, nevertheless, hint that AGM provides a different option. With their aid, you may use a docking station to charge your smartphone while you're outside.
Final Words
Its intended users will find its ability to view (and record still and moving images) in the dark to be an invaluable asset.
It has all of them, plus the standard functions that people look for in a smartphone nowadays. It also has all the necessary features, such as high processing speed, a high-quality camera, ample storage, extended battery life, 5G network support and a powerful speaker. All in all, it's safe to say this will be one of the most robust smartphones on the market in 2023.
Review overview
Summary
8.8From the perspective of its intended users, which includes hunters, hikers, fire officers, SAR workers and security guards, the AGM G2 Guardian is a technical wonder. It's durable and sturdy, so it'll remain working long after your standard mobile has been given out. The monocular thermal imaging camera for extended ranges works reliably and efficiently.