Normally, entering your passcode or using Touch ID is the standard method for unlocking your iPhone. This is a precaution to ensure that no one else can access your iPhone without your permission. Nevertheless, if you input the incorrect passcode on your iPhone too many times, it will become unusable. Because of its disability, you can't use your iPhone for anything, so it's basically useless.
Unlocking your iPhone or iPad using iCloud or iTunes is the standard recommendation. But how do you listen to your music when you don't have access to your iCloud or iTunes library?
So what if you can't use a computer because you don't have access to one? Fortunately, this article will explain to you how to unlock your disabled iPhone without using iTunes, iCloud, or a PC.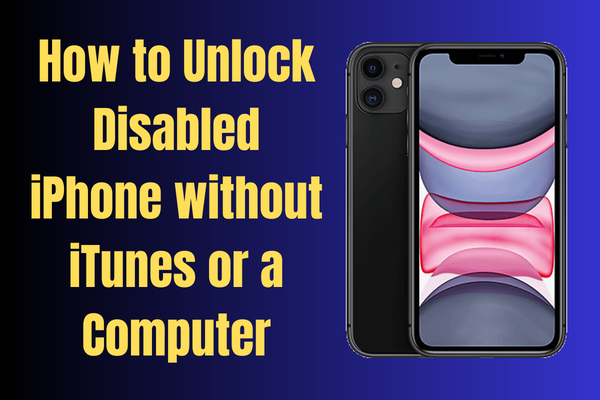 Why Is My iPhone Disabled?
For what reason does your iPhone say it's disabled? The iPhones are designed to lock out users after 10 unsuccessful password attempts.
There are many reasons behind different iPhone issues, including disabled iPhones. Either you entered an incorrect passcode too many times or you left your iPhone at home and forgot the passcode when you returned.
It's also possible that your kid accidentally dialled the incorrect number just so many times, or that a buddy mistook your iPhone for his or her own and entered his or her password.
This Apple-created security measure will remain in place for the foreseeable future. Your iPhone may have been disabled, but there are ways to get back in.
Can I Unlock a Disabled iPhone without iTunes or Computer?
Solutions to the problems related to the iPhone aren't quite numerous. For instance, finding a dead iPhone or unlocking a disabled iPhone. Nevertheless, the Wipe iPhone function was introduced in iOS 15.2 and later, is said to be able to unlock a disabled iPhone without the need for iTunes, iCloud, or a computer.
If you are running iOS 15.2 or later, however, you won't see the iPhone disabled, but rather iPhone Unavailable or Security Lockout. As iOS 15.2 is incompatible with your disabled iPhone, you'll need to utilise an iOS 15.1 or a previous version.
It rules out using the Wipe iPhone function, which is necessary for unlocking an iPhone without using iTunes, iCloud, or a computer. Fortunately, there are a number of workarounds that might help you to some extent in unlocking an iPhone that has been disabled.
Use Find My Phone to Unlock Disabled iPhone
Apple's Find My iPhone service can be utilised to bypass a disabled lock screen on an iPhone, iPad, or iPod touch. It's a convenient way to control an iOS device from afar.
To get access to your locked device, just use a different device to browse the website or app. Here's how to use Find My iPhone to get into a locked iPhone or iPad if you don't have access to a computer:
Launch the App Store on another iPhone you own, then look for the Find My iPhone app there. It's free to download from Apple's app store.
To use the Find My iPhone application, sign in using your iCloud credentials inside the app.
By signing in, you'll be able to manage all of your affiliated Apple products from a central location. Choose your iPhone from the list, then tap "Disabled."
On the next screen, at the bottom, tap Actions.
There are three possibilities. Find the option labelled "Erase iPhone" and choose it.
Important Note: If you wipe your disabled iPhone or iPad, you will also be prompted to enter a new passcode. After that, you can set up your smartphone from scratch and restore it from an iCloud backup by selecting that option during setup.
Use AnyUnlock-iPhone Password Unlocker to Unlock a Disabled iPhone
AnyUnlock is a system designed to let iOS device owners bypass security measures such as Apple ID, Face ID, Touch ID, iTunes login, Screen Time, and many more. As a result, AnyUnlock makes it possible to access an iPhone even if the owner has forgotten the device's passcode.
AnyUnlock – iPhone Password Unlocker is the simplest and easiest way for unlocking a locked iPhone without the need for iTunes or iCloud. Clearing the security code is the process that brings about this result. Just follow these simple instructions to use AnyUnlock's Screen Unlock function to restore a locked iPhone or iPad without using iTunes or iCloud.
Launch AnyUnlock and start using it on your computer.
Connect your Apple iOS device (iPhone, iPad, or iPod touch) to your computer through USB.
Choose "Unlock Screen Passcode" from the next screen.
When you're ready to get started, click the "Start Now" button.
Go with the one that says "Download." If you follow those steps, you will be able to get the iOS update that is required to finish the job.
Be patient while the file downloads. After it's finished, click the Unlock Now button.
Important Note: If your iPhone or iPad is locked, AnyUnlock will start working instantly to unlock it. A confirmation screen will appear after it's done. Just read what's on the screen, and when you're done, click the "Done" button.
Conclusion
As you can see, with tools like Find My iPhone, you can easily get access to a locked iPhone or iPad even if you don't have access to a computer. If you've ever had trouble with iTunes or Find My iPhone, but don't have access to iCloud, you may quickly fix a disabled iPhone by using AnyUnlock – iPhone Password Unlocker.
We hope this guide was helpful in regaining access to a disabled iPhone. Help out your fellow Apple device users by forwarding this article to them if you find it helpful.