In the fast-paced world of social media, Instagram users often find that they have mistakenly deleted posts, stories, or even their whole feeds.
Many of us know all too well the sense of loss that comes after a mistake like this.
Losing material on Instagram may be a digital heartache, especially if it was a precious memory, a diligently created feed, or a moment of pure inspiration. Is it possible to retrieve media from Instagram that was accidentally deleted or lost? Luckily, yes.
This guide will equip you with the information and techniques necessary to recover deleted Instagram content.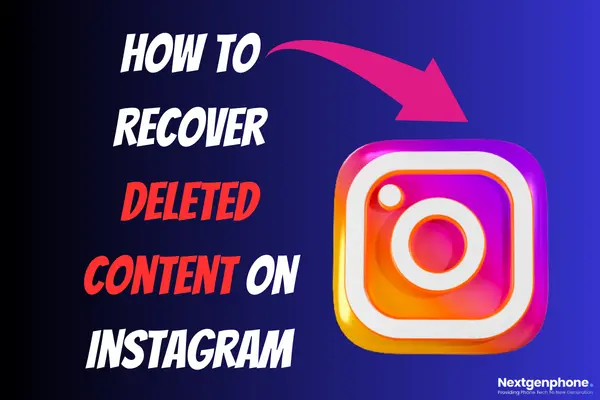 Ways to Recover Deleted Content on Instagram
Instagram's "Recently Deleted" section makes it simple to retrieve media that you've accidentally deleted.
Thanks to this handy feature, Instagrammers may restore posts they deleted up to 30 days ago. It may only be used to restore posts that have been removed within the previous 30 days.
Just do what I say:
You may either access the website in a web browser or fire up the Instagram app on your Android or iOS smartphone.
Step 1: Use your Instagram credentials to log in.
Step 2: Pick your "Profile Picture" from the menu that just appeared.
Step 3: Click the three vertical dots in the upper right corner of your profile and choose "Your activity".
Step 4: You should then choose "Recently deleted. Remember that if you haven't erased anything in the last 30 days, you won't be able to use this option.
Step 5: Once there, choose the Posts icon to retrieve recently erased images.
Step 6: The first step in restoring a picture is to locate it and Click the "More" button (three dots) in the upper right corner.  Last, choose "Restore to Profile" or just "Restore." Avoid clicking the "Erase All" button.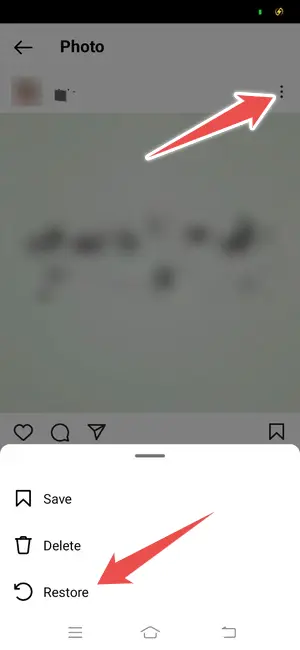 It concludes the discussion. In this way, you may quickly and simply restore previously erased media from Instagram.
If the picture you were trying to recover isn't in your "Recently Deleted" folder, it was probably removed after the specified amount of time had elapsed.
Another 3 Ways to Recover Deleted Instagram Content
In addition to the above methods, here are a few other easy ways to get back deleted Instagram content:
1.    Look in The Gallery of Your Device
If you've accidentally deleted images from Instagram, before turning to Google for help, have a look at your phone's gallery.
A duplicate of the picture is stored in the gallery's Instagram folder whenever you use Instagram on an Android smartphone. Even with iOS, it's the same deal.
You have many photo albums stored in the Photos app, with a copy of every one of them saved in the Instagram folder.
2.    Look in iCloud and Google Photos
Instagram images taken on your phone are automatically backed up in Google images. If you can't locate the images you're looking for on Instagram, try searching Google Photos.
Look for them on iCloud if you're an iOS user. Recovering deleted Instagram content is possible despite the images being in their original, unedited version on the disk.
To get your videos back, you may utilize yet another Google product.
3.    Use File Manager to look for the lost pictures
Use the file management app to access the photo gallery on an Android device. Now, locate the Instagram folder; the erased images may be still stored there.
Open the Photos app on your iOS and go to the Recently Deleted section. All the pictures you've erased in the last 30 days will be there. Locate the image you want to restore and select it.
Conclusion
If you delete images on Instagram in haste or by mistake, you may come to deeply regret doing so. Thankfully, they may be recovered on any device.
You may use these techniques to recover your deleted content on Instagram (such as pictures, videos, Reels, Stories, etc.). Instagram's user interface is superb for managing your content.