We are all aware of how popular and important the photo-sharing application Snapchat has become. We can't go out or to a nice restaurant without taking a picture and posting it online. However, there are moments during our "Snapchatting" binges when we desire to secretly save the photos of our friends and family.
If you use Snapchat, you probably already know that taking a screenshot of a snap or story is the only way to save it. The drawback is that the app will alert the person whose story you screenshot.
If you want to save the other person's images but don't want them to know, this may be a problem. Don't worry, we've got something that will help you deal with this situation.
Very much similar to our all other articles like fixing notifications on Snapchat and others in which we have outlined different ways for solutions, we have mentioned below quite a few ways too that will help you learn how to take screenshots without them knowing. So, let's keep going!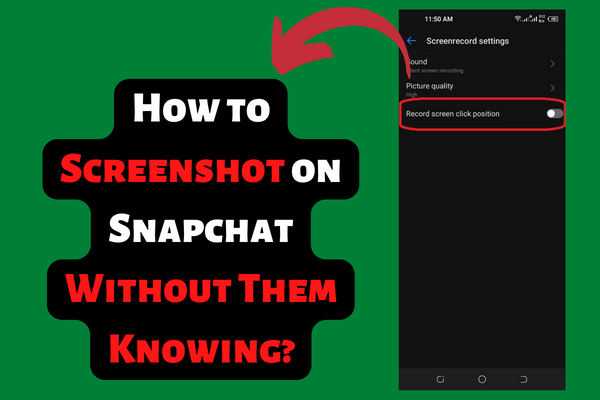 Google Assistant on Android
As part of this technique, you won't even have to lift a finger—your digital assistant will. In just two easy steps, you can use Google Assistant to capture a Snap.
To download a Snap, just open Snapchat and click on the snap you want to save. Use "OK, Google" or the home button's long press to request a screenshot via Google Assistant. It's either verbal or typed.
The screenshot you take will not be stored in your device's gallery, but you will be given the option to share it via Email, Facebook, WhatsApp, or Twitter. Next, you'll need to have it sent to you via email, then download it, modify it, and finally save it in your gallery. After that, delete your Google Assistant history, and you're all done.
Use Airplane Mode
Taking a screenshot of a snap on Snapchat may also be accomplished by activating the airplane mode on your device. Before activating airplane mode, just open Snapchat to confirm all snaps have been downloaded before turning on airplane mode.
Stop using wireless connections such as Wi-Fi and mobile data, and disconnect any Bluetooth devices you may have. Take a screenshot once you've turned on Airplane mode, opened Snapchat to the snap you want to save, and then closed Snapchat.
After capturing a screenshot, you should wait at least 30 seconds before turning on your mobile data or Wi-Fi after turning off airplane mode.
Take Advantage of 3rd Party App
Third-party applications are also available for download. You can get started right now by installing SnapSaver on an Android device or Sneakaboo on an iOS device.
Download SnapSaver, launch it, and choose one of the several saving options. You can take a screenshot of a Snapchat story without alerting the other person by going to Snapchat, opening the story you wish to capture, and clicking the SnapSaver camera icon that appears on your screen. For iOS, download Sneakaboo and connect with your Snapchat Username and Password. When the photos and videos start playing, you may save them directly from the app.
Use another Device
Taking a screenshot in this manner is one of the simplest methods to secretly capture anything on Snapchat. Simply access Snapchat, view the snap you want to take a screenshot of, use another device to take a photo or video of it, and then edit it.
Use a Mirror Feature
This is another method for taking screenshots on Snapchat, although this one will take some effort on your part. The screen mirroring feature lets you display the contents of your mobile device on a larger screen, such as a smart TV.
After that's done, open Snapchat on another gadget and start recording your Snapchat video or photo. It just takes a few alterations to someone else's Snapchat Story before you can use it for yourself, and they won't even notice.
Screen Recording
The screen recording feature is often found in an Android device's notification panel. You may begin recording by using the "screen recorder" option in the lower part of the notification bar.
If your phone does not have this capability, you will not be able to record the screen using this method. To record your screen, you'll need to download a 3rd-party app from the Play Store.
If you're running iOS 11 or later, you can utilise the screen recorder that Apple includes with every iPhone. By default, the record function is turned off. Go to Settings > Control Centre > Customize Control and there you will find a "screen recorder" option to turn it on and record your screen.
Conclusion
Taking screenshots of someone's snaps is an act that is seen as a violation of privacy. It's possible that you may get into legal problems if you did this in some countries. If you must take screenshots on Snapchat for any reason, it's best to do it discreetly to prevent any unwanted problems.