Snapchat has quickly turned into one of the most widely used social media apps since its launch in 2011. And Snapchat's innovative usage of Map is one of the features that sets it apart from the competition.
Discover your friends' locations and activities using the Snapchat Map feature. This also might be helpful for gathering information about events or getting together with friends.
Users can also browse public photos taken anywhere in the world. In addition, by enabling users to track the whereabouts of their friends, the interaction is simplified significantly. In this article, we will cover all you need to know in order to get the most out of the Snapchat Map feature inside the Snapchat app.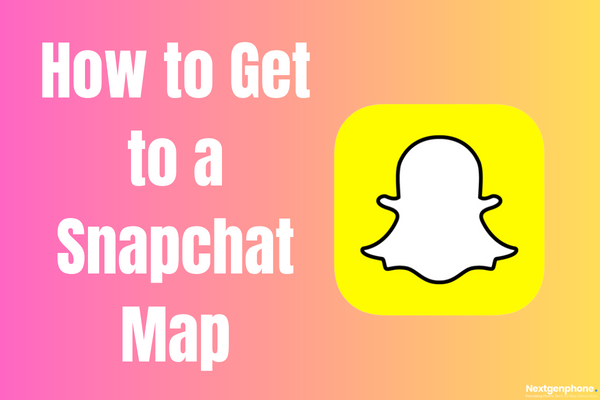 Snapchat's Snap Map Definition and Features?
Snap Map, available on Snapchat, is an interactive globe that can be used to exchange real-time location updates with friends anywhere in the world. Snaps from across the globe, including parties, events, and news reports, may be seen on Snap Map. Snap Map's primary features are as follows:
Choose a location on the map to see Snaps sent from that area. Blue means there isn't much going on there right now. When the light is red, it means there are enough.
You have the option of adding photographs taken at a certain area to a narrative collection pertaining to that location. Viewers of that collection will be treated to photos taken by "Our Story" participants at that place. The circular Story symbol can be clicked on to access the Stories.
If your friends have enabled location sharing, you may track their whereabouts. Choose a friend by clicking on them, and then click and hold to view their profile or begin chatting with them. Just click "Search" and type the person's name into the text box to bring up their profile.
This facilitates quick and simple communication with local businesses. To see the listings for a specific location, either click on the location of interest or type the name of the company you are looking for into the search bar.
How to Get the Snapchat Map on Android?
The Snap Map feature enables users to share their current location with others. Users may share their current location with their Snapchat contacts or browse photos taken all around the globe. To see Snaps from people all around the globe, you'll need to enable the Map feature in your app.
Go to Your Snapchat App, On a Camera Screen, Tap on the Location Button
Tap on "Allow Access" Now, Tap on "Enable Location"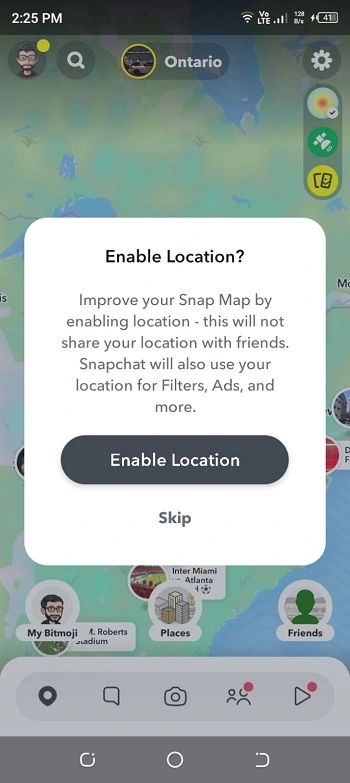 Bitmoji will Appear on Your Snapchat Map,  Next, Go to Snapchat Settings ( Snapchat will Switch to Ghost Mode after Turning on the Location)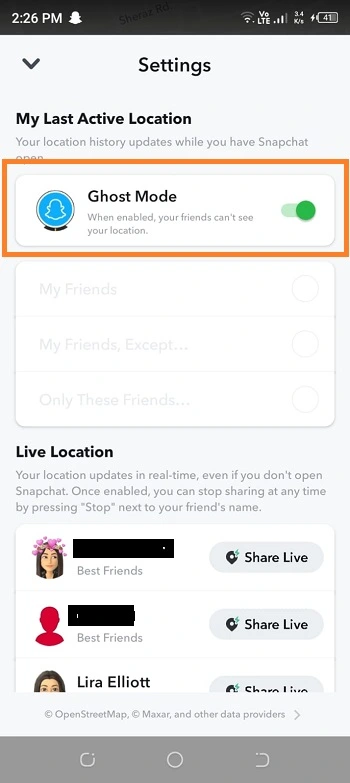 Publicize Your Location by Turning off Ghost Mode, Tap on the "Who Can See My Location" Option
How to Get the Snapchat Map on iPhone?
Go to Snapchat App
Access the Snapchat Map from either the home or camera screen by tapping the location symbol in the bottom left.
Snap Map displays your current location. You may use your thumb and index finger to enlarge the map.
You will view all the publicly posted stories surrounding you and your friends who've already published their location as Bitmoji or figures in addition to their real-time location.
Click on a red dot to see user-submitted photos from that location.
You can look for a friend by using the search bar that appears when you click the icon in the upper left.
Type the username of your close friend into the search area.
The city name, current time in that city, and weather forecast for that place will display at the top of the screen, along with your friend's location.
How to Take Advantage of the Snapchat Map?
Now you know how to get started with Snapchat Map on Android and iPhone. So, start using the Snapchat Map and take advantage of it in different ways, such as:
View Stories for Hot Spots
Story collections for well-known places and events can be found by exploring the map's shaded areas. After tapping a busy area of the map, the circular story collection will appear, and tapping the collection will bring up the stories that have been contributed to it.
Search for a Friend's Location
Are you curious about the location of a friend elsewhere in the world? Use the top-right search button to locate a particular friend on the map.
See your Friends' Locations
The Snap Map shows the locations of friends who have agreed to share their location with you. To initiate a conversation with a friend, just tap on them, and if you keep holding it, you'll be sent to their profile.
Use Snapchat's Live Location feature to share your precise location with a friend or family member. Visit a friend's profile to grant them Live Location tracking access from 15 minutes to 8 hours.
If you want to stop tracking someone's location for security concerns, you may do so at any time without their knowing. Live Location displays your current location even after you've quit the Snapchat app.
Does Snapchat Automatically Update the Location on the Snap Map?
Snapchat app doesn't automatically update the location on the Snapchat Map. While the Snapchat app is running on your mobile device, only then will the map display your current position.
Next, you'll need to activate your device's location services, and then launch Snapchat for it to detect your new location. You won't be tracked as you move. Every time it updates, your Bitmoji will be linked to your most recently visited location.