Do you find it frustrating that you can't transfer photos and videos using iMessage? Well, don't worry, as you are not alone! This is a common problem with a wide range of potential causes, but there are ways to address it.
In the following article, we will go over the process of fixing this problem. We've got you covered, whether the issue is a slow internet connection, outdated software, or incorrect iMessage configuration.
Continue reading to find out why photos and videos aren't being sent using iMessage and what you can do about it.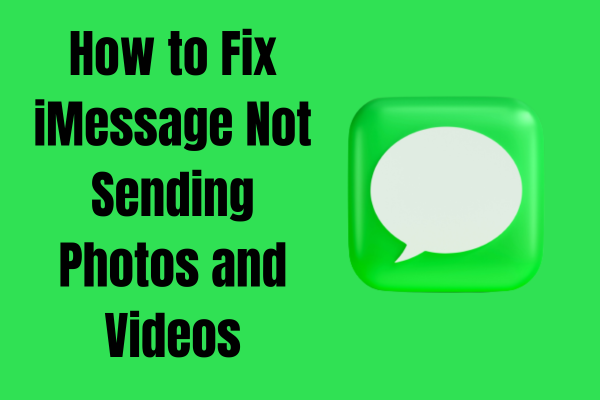 1:  Check Your Internet Connection
If you're having trouble sharing photos or videos over iMessage, it might be because of your internet connection. Improving your network connection is a simple solution to this problem. A few suggestions are as follows:
If you can, go physically closer to the Wi-Fi access point to boost the signal strength.
If you want a faster connection, try restarting your router.
Change your Wi-Fi network and check if the problem still occurs.
To determine whether the problem is with the Wi-Fi network, try using your iPhone without Wi-Fi and switching to the cellular network.
If you follow these steps, you might remove the possibility that an issue with your internet connection is preventing iMessage from sending photos and videos.
2:  Update an iPhone's Operating System
If you're experiencing issues with iMessage not sending photos and videos, it may be due to an outdated operating system on your iPhone. The most recent software update for your iPhone should fix the problem and enhance performance in other ways. Follow the steps below to update your iPhone's operating system:
Go to the Settings Menu
Then Go to General
Now, Tap on Software Update
If an Update is Available, Tap on Download and Install
Maintaining an up-to-date iOS is extremely important for your iPhone's optimal performance and security. If you keep your iPhone up-to-date, you can take advantage of the latest features and bug fixes.
3:  Check an iMessage Settings
If you haven't enabled media sending in iMessage's settings, that might be why photographs and videos aren't being sent. Solving the issue can be as simple as checking and modifying these settings.
To access the iMessage settings, go to the "Settings" app on your iPhone and scroll down to find "Messages". Tap on "Messages" to open the settings.
Next, scroll down to find the "Photos" and "Camera" options, and make sure they are both turned on. If they are off, toggle them on to enable sending photos and videos through iMessage.
While in the iMessage settings, take a moment to review other settings related to sending messages and media. For example, make sure that "MMS Messaging" and "Low-Quality Image Mode" are also turned on.
When you think you've fixed the problem by adjusting your iMessage settings, try sending a video or a photo.
4:  Clear an iMessage Cache
If you've already tried those solutions and are still having trouble sending media over iMessage, removing the cache might be the answer. Problems with transferring media files can arise as a consequence of accumulated data in the iMessage app over time.
To clear your iMessage cache, follow these steps:
Go to the Settings Menu
Tap on General
Next, Tap on iPhone Storage
Scroll Down to Find "Messages" App and Tap on it
Tap on Offload App or Delete App
The app and its data, including the iMessage cache, will be removed. However, you need not worry about losing your conversations since they are automatically backed up to iCloud.
Simply uninstall "Messages" from your device and reinstall it from the App Store. If you've been having trouble sharing photographs or videos using iMessage, deleting the cache should fix the problem.
5:  Reset an iPhone's Network Settings
Resetting your iPhone's network settings might fix the problem if none of the other solutions have worked. This will delete all stored Wi-Fi networks and passwords along with any cellular, VPN and APN configurations.
Here's what you need to do to get your iPhone's network settings back to normal:
Go to "Settings" on your iPhone
Tap on "General"
Scroll Down to the Bottom and Tap on "Reset"
Select "Reset Network Settings"
Enter Your Passcode if Prompted
Tap "Reset Network Settings" Again to Confirm
Your iPhone will restart once you have reset your network settings and you will need to re-enter your Wi-Fi passwords. If the problem persists after doing this, you may get in touch with Apple Support.
6:  Contact Apple Support
If the troubleshooting procedures above do not fix iMessage's failure to transfer photos and videos, you might need to get in touch with Apple's technical assistance. Those experiencing technical issues may seek assistance from Apple's reliable customer care service.
To contact Apple support, go to the Apple Support website and select the "Get Support" option. You can then arrange to speak with an agent through chat, by phone, or by visiting an Apple retail store in person.
It should be noted that when communicating with Apple's support team, it's important to be as specific as possible about the problem you're having. The representative will be able to pinpoint the issue and provide a workable solution with your cooperation.
Conclusion
Users who depend on iMessage for sending and receiving photos and videos must have this problem resolved as soon as possible.
We've gone through a few solutions in this article, including double-checking your internet connection, upgrading your iPhone's operating system and deleting the iMessage cache, all of which should fix the issue.
However, resetting the network settings or contacting Apple support can be required if these troubleshooting procedures are unsuccessful. We hope that this article has been helpful in resolving any issues you may have had with sending photos and videos through iMessage.