There are so many ways of how to reset the Android factory when you need your phone to be working properly as it was before. The factory reset Android smartphone comes into action when your smartphone stops responding or freezes suddenly.
Sometimes, restarting your smartphone should fix such kinds of problems but in some more serious cases, factory reset is needed.
What Should You Keep in Mind When Resetting?
To prevent losing contacts, images, messages, and other crucial information, always back up your important data before doing a factory reset.
Remember Google Account Credentials
Find out that you are aware of your Google account username and password since Factory Reset Protection (FRP) might ask for them throughout the reset process.
When feasible, utilise your device's settings menu to execute a factory reset, since this is the simplest and safest way.
If you are locked out of your device and thinking about a hard reset, keep in mind that it permanently erases all data. Use this option only if you have no other options and have previously backed up your data.
Understand that a factory reset will wipe out all data on your device. Take precautions and make sure you have enough backups.
Check that your data has been correctly recovered from your backup after resetting your device to ensure you haven't lost any important information.
Why Should You Reset Your Android Device?
Resetting your Android smartphone without a password is important in a variety of scenarios. To get started, a factory reset might restore functionality when your smartphone becomes unresponsive due to a lost password or pattern lock.
It's a useful debugging tool for addressing system crashes or freezes caused by software bugs or malware infestations.
Furthermore, if you want to sell or give your smartphone to someone else, completing a factory reset guarantees that all of your personal data is totally erased from the device, protecting your privacy.
However, restarting your Android phone might be difficult if you're locked out and don't have access to your Google account credentials.
Factory Reset Protection (FRP) is a security feature that prevents unauthorised users from resetting the device without the linked Google account password.
To avoid losing essential data while resetting your Android smartphone without a password, make a backup of your data beforehand. This may be achieved by synchronising your data to a Google account through your device's settings.
How to Get Back-up of Your Important Data?
Getting a backup of your important data means you are safe and nothing will be lost. Hence, you are ready to perform a factory reset of your Android smartphone.
Visit your phone's settings
Tap on Accounts > Backup > Backup & Restore
Turn on Back Up My Data Switch
Choose an account You want for backup data and click Ok
Tap on Sync Accounts and select Sync Now
All your data will be synchronised in a couple of minutes on your selected/chosen Google account and your phone is ready for a factory reset.
Do Consider Factory Reset Protection
Factory reset protection (FRP) can become a major issue that needs to be resolved if you aren't able to remember your Google account password. Factory reset protection is actually a security feature of Android smartphones that prevents others from resetting it.
Before performing a factory reset for Android, restrictions appear on the screen with caption "Google Account Verification" and asks for a Google account password.
Factory Reset from Settings Menu
Using the settings menu is the easiest way to perform a factory reset on your Android smartphone and interestingly, it's not really hard to follow. Go through these listed below steps and reset Android to factory settings.
Visit your phone's settings.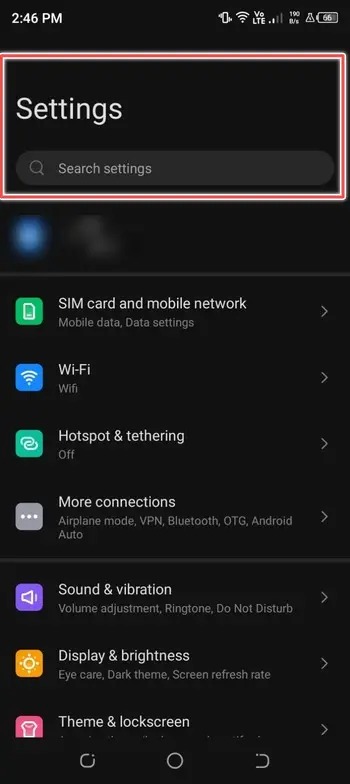 Choose System > Reset > Erase All Data.
Scroll down a page and choose "Reset Phone/Erase All Data".
Enter your pattern/password/PIN select Continue and Choose Erase Everything and you're done
Factory Reset When Phone is Locked (Hard Reset)
The most common way to reset your Android phone is by "hard reset" when it's locked and you have forgotten the password.
When it comes to hard reset for android phone, it erases all of your data but can unlock your phone and break your PIN or password easily.
It's only recommended when there is no recent backup for your phone data – otherwise, you will need to be careful before going for a hard reset.
Different smartphone brands have different ways to reset the phone's hard like if you are a Samsung user, you are required to Hold Volume Up key with Power Button and the Home key simultaneously to perform a hard reset. You will a couple of options on the screen – where you are required to go down to wipe data/factory reset by pressing volume down key.
LG smartphone users need to press and hold the volume key and the lock key or power button. Don't release these buttons until you see the LG logo on the screen of your phone.
Press now and hold the power or lock key again and release when the factory hard reset option appears on the phone.
Regardless of brand or model, it's mandatory to note that hard reset will remove all of your important and valuable data and you wouldn't be able to recover it later.
Important Note: Don't you want to lose your important data but need a factory reset to get your device opened? You should then look for a special tool or software that is best for how to reset Android phone when locked.
The Internet is loaded with a handsome range of tools and software like "dr.fone" and "iMyFone LockWiper" that perform a factory reset on your locked smartphone without even losing a small piece of your data.
All available software and tools are compatible with Samsung and other devices and can remove pattern, password, PIN, fingerprint or even facial authentication in a couple of minutes with quite a few simple steps.
Conclusion
A factory reset on your Android smartphone can be required in a variety of circumstances, such as when you forget your password, encounter system problems, or wish to prepare your phone for sale. It is important to back up your critical data to guarantee that nothing is lost throughout the process.
Also, if you've lost your Google account password, be cautious of Factory Reset Protection (FRP). While a factory reset via the settings menu is simple, a hard reset should only be used as a last option since it erases all data. Finally, if you're worried about data loss, there are specialised equipment and software available that can do factory resets on locked devices without erasing your important data.