Do you want to see Instagram messages that were previously sent but later decided to cancel? If that's the case, you've come to the right place to learn how to see unsent messages on Instagram.
Instagram is a free service that allows users to connect and share photos online. You may use Instagram to connect with everyone from corporations to celebrities to influential people to friends.
Instagram now has a messaging function called "Instagram Direct," which allows users to effortlessly communicate with one another and share media such as photos and videos. We've compiled a useful guide for anyone who wants to know how to see your Instagram inbox for unsent messages. So, let's keep going!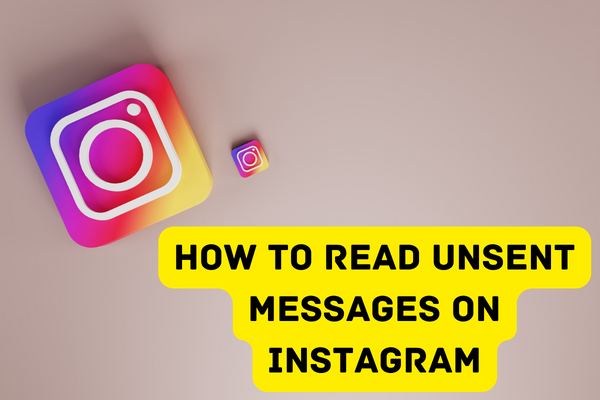 Can You See Unsent Messages on Instagram?
Instagram does not supposedly provide a mechanism to recover or see unsent messages, therefore there is no official way to do so. The "unsent" option for messages was introduced by Instagram with the intention of assisting users in deleting messages that were either of no value or that they did not want the receiver to see or use in the future.
You may use this function if you accidentally send a message to the incorrect person. The message may be erased quickly and simply, and once it's been unsent, the receiver won't be able to access it on Instagram.
Of course, there are a plethora of third-party apps made specifically to make it simple to view unsent messages on Instagram.
1: How to See Unsent Messages on Instagram Using Notisave App?
It is indeed worth mentioning that Notisave is the greatest app for saving Instagram or other app messages the moment they're sent. Thus, the message and all of its attachments (text and media) are stored in the Notisave app and may be accessed at any time, even if the sender decides to cancel the message after it has been delivered.
Also, even if you get an unsent message on Instagram, the sender's name and the content of the message will remain visible.
Here is how to use the Notisave app to see unsent messages on Instagram.
Get the Notisave app for Android from the PlayStore and set it up on your phone.
The Notisave app requires access to your notifications, so simply grant it that permission.
After that, you may save Instagram's message by toggling the app's tracking option.
At this point, the Notisave application's installation and configuration have been finished as a whole. Instagram messages may be saved with a simple tap on the app icon in the notification bar.
2: Save Push Notification
You'll get a push notification with the message's text whenever someone sends you a direct message on Instagram. If you're fast enough, you can check it out before it's deleted forever.
The problem arises because the push notification also vanishes once the communication is cancelled. Moreover, push notifications are simple to miss or delete by mistake.
A notification log software like Notisave may be helpful for making this technique more trustworthy since it stores a copy of all notifications, including Instagram direct messages. If you save unsent messages to the app's archive, you may access them at any time.
3: Link Email to Instagram DM
Although Instagram doesn't natively provide email notifications for DMs, you may use a third-party app to keep track of your DMs. AiGrow is one such software; it's flexible software that automates several Instagram-related processes. When you link your Instagram account with AiGrow, the app will notify you through email whenever you get a new direct message. Email allows you to communicate back to the sender instantly. Start by doing the following:
Start using AiGrow by signing up and linking your Instagram account.
Follow that up by activating "Email Notifications" in AiGrow's "Automation" section.
Turn on "Direct Messages" in your settings. After that point, further DMs will be sent to your inbox instead.
4: Take Screenshots
It's the oldest technique in the book. However, if you get a lot of messages, it may not be the most effective. It's best to take a snapshot of any message you're worried about sending in case you change your mind.
5: Link Facebook Account for Unsent Messages on Instagram
If you connect your Instagram and Facebook accounts, all of your Instagram messages will be saved in the Facebook Messenger archive. Now, you can read all of your Instagram messages in the Messenger app by opening the relevant thread.
How to See Unsent Messages on Instagram on iPhone?
Are you an iOS user? You're in luck too! You may use AiGrow with any mobile or desktop operating system. You may access your Instagram unsent messages via your AiGrow account regardless of whether you use an iOS, Android, Mac, or PC operating system.
Wrapping it up, Instagram does not provide any means for users to recover messages that senders delete later. However, we have written this article to help you see unsent messages on Instagram, and we hope it's useful. If you have any questions or concerns, you can leave a comment below.