Locating a phone number on Google Maps may seem like a convenient idea, but it's important to clarify that Google Maps doesn't offer a direct phone number tracking feature. Instead, the process involves tracking the location of a phone associated with a Google account, and this can only be done with the owner's consent.
Whether for finding a lost device, keeping tabs on family members, monitoring a child's activities, or supervising employee actions, this method relies on "Location Sharing" within Google Maps.
This article outlines the steps, emphasising the need for physical access to the target device and the owner's cooperation to initiate the tracking process.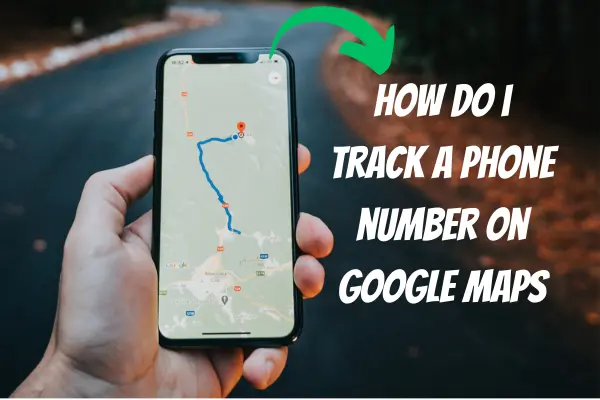 Is it Possible to Locate a Phone Number on Google Maps?
You cannot directly track a phone's location on Google Maps by entering a phone number and expecting Google to locate it. However, it is possible to track a phone's location when you have the person's consent and access to their Google account, which is associated with the phone number. This tracking can only be done online, as Google Maps offline mode is not suitable for this purpose.
In simple terms, if someone has shared their location with you using Google Maps, you can monitor their whereabouts. This process is quite similar to sharing locations through Apple devices, but it's compatible with both Android and iPhone devices.
Why Tracking Someone by Their Phone Number is Important?
Tracking an individual by their phone number serves various important purposes, including:
Locate a Lost or Stolen Device
Google Maps enables real-time tracking of your device, facilitating a swift recovery. The phone number associated with the device plays a crucial role in this process.
Keep Track of Your Loved Ones
Tracking services are valuable for monitoring the locations of your family members and ensuring their safety. This is especially useful when you cannot always be physically present, allowing you to stay informed about their activities and whereabouts.
Monitor Your Child's Activity
Using a tracking number with Google Maps, you can closely monitor your child's actions, guaranteeing their safety and preventing them from engaging in potentially risky activities.
Monitor Your Employee Activity
It's crucial to monitor your employees' performance to ensure they fulfill their job responsibilities. By utilising a tracking number, you can monitor their whereabouts and activities to maintain productivity and efficiency in the workplace.
How to Locate a Phone Number on Google Maps?
To locate a phone number on Google Maps, you can utilise the "Location Sharing" feature. However, it's essential that the individual grants you permission for location sharing – otherwise, you won't be able to pinpoint their location through Google Maps. Before you embark on tracking a cell phone number on Google Maps, make sure of two key factors:
You must have physical access to the target person's phone.
Request the target person's consent to access their location information.
Step 1: Go to Google Maps on a Target Phone
The initial and most crucial step is to install Google Maps on the cell phones you intend to track. This applies to a wide range of individuals, whether they are friends, family members, or anyone else.
Furthermore, you should also ensure that Google Maps is installed on your own device. While Google Maps comes pre-installed on some smartphones, you may need to manually install it on others.

Step 2: Go to Main Menu or Profile and Next Go to "Location Sharing" Feature
While you can enjoy built-in voice directions in Google Maps, but for tracking a device's location, it's best to follow a manual process.
Start by clicking on the main menu located in the top-right corner of the screen. From there, navigate to the "Location Sharing" option and click on "Get Started" to initiate the process of tracking cell phones.
It's important to note that tracking devices in Google Maps is only possible when the location is shared with you; otherwise, tracking won't be feasible.
Once you've initiated the process, you'll have the option to select the duration for tracking the device. For uninterrupted tracking, you can opt for the "Until you turn this off" choice.
Step 3: Choose Your Contact Number from the Target Device
You should choose a contact to grant Google Maps access to the device you want to track. Tap on the profile of the person with whom you intend to share your location from the targeted device. A confirmation message will appear, and simply click "OK" to proceed.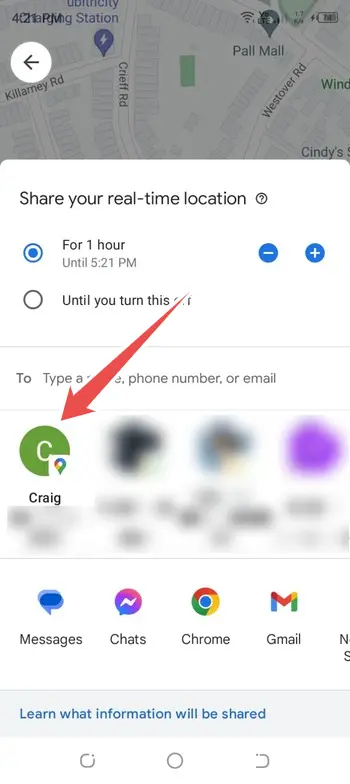 Step 4: Now Send a Link of Track Location to Your Phone
You can now share the location tracking link from the targeted device to your own via email, text message, or other messaging applications. Recipients can use this link to find your current location.
Step 5: Finally, Open a Link on Your Phone to Track Targeted Phone
To track the targeted phone, you can use the link received from the device. This link allows you to open Google Maps on your mobile and track the person's cell phone whenever you need to.
If you find that the shared location is wrong, you can easily stop sharing your location. Open the Google Maps app, navigate to "Location Sharing," select the profile of the person with whom you no longer wish to share your location, and tap the "Stop" option to cease sharing your location.
Conclusion
Tracking someone's phone using Google Maps is indeed feasible, but certain prerequisites must be met. These include obtaining the individual's consent and having access to their device. Once these conditions are met, you can initiate the process of tracking their location using Google Maps.