The most trustworthy navigation service app named Google Maps is being used by millions of people worldwide on a daily basis. However, it's not free from any error like it doesn't work seamlessly or flawlessly without a solid internet connection. And according to plentiful users, they have gone through its crashing issues. Well, we have discussed in details how to Fix Google Maps Crashing Issue in one of our earlier reports for your convenience.
Coming back to the main point, not every user has a solid Data connection all the times, and hence, he/she looks to use offline maps on Google Maps. Fortunately, Google Maps can be used offline, but without any proactive steps, this fantastic feature is rendered useless.
So, if you're ready for travelling or road trip, you'll be needing to use Google Maps offline. Make sure you follow these listed below step on how to use Google Maps offline that won't let you lost off in an unfamiliar place.
How Does Offline Mode Works?
The area of interest must be downloaded before you get Google Maps offline mode. And that's precisely what we mean. Before your internet connection goes off, you should download the map area. Luckily, there's a massive area you can access, for example, you can download a whole area of London with ease.
In these cases, you have to download massive quantities of information, so you are willing to sacrifice a great deal of storage space for your maps. Depending on the location, it can take up to 1.5GB storage of your phone. You can also transfer data to your SD card by using a device with microSD card support. Here is how to do it:
Go to Apps Menu
Choose Offline Areas
Then Choose Settings > Storage Preferences
Switch Device to SD Card
Let us add here that all Google Maps offline download will be expired after 15 days if you don't connect this app to your Internet connection. The reason behind is maps are dynamic and needs Updation on a daily basis. Google always makes sure its users get updated and accurate maps on their devices when they are offline.
However, if you are looking to keep your downloaded maps offline indefinitely, you just need to visit Offline Maps settings and turn on automatic updates. Turning on automatic updates means your all downloaded maps will be updated constantly when using Wi-Fi. You can opt to upgrade your precious mobile gigabytes to ensure that you do not waste them even with the Wi-Fi.
When it's offline, you won't get everything that is being offered by Google Maps on Data connection like near ATMs, Restaurants, Hotels, Café, Bike Routes, Traffic Details, Walking Directions and other features that actually make Google stand out from the competition. Rest of the things would work perfectly fine like you can search for addresses, locate companies and browse them easily.
Ways to Download Maps for Offline Use
To use Google Maps offline directions, it's required to access this app with a strong internet connection first. It means you need a little bit of homework before you start travelling or any road trip. Here is how to get it done:
Open Up Google Maps Application
Tap on Hamburger Menu of this App
Choose Offline Maps option
Either Choose Recommendations or hit Select Your Own Map
Choose an Area You Want to Download in a Blue Square Box
In the Blue Square Box, You can Pinch to Zoom in or Out
Once Your Area is Selected, Hit Download Button – Position in Lower-Right Corner of the Phone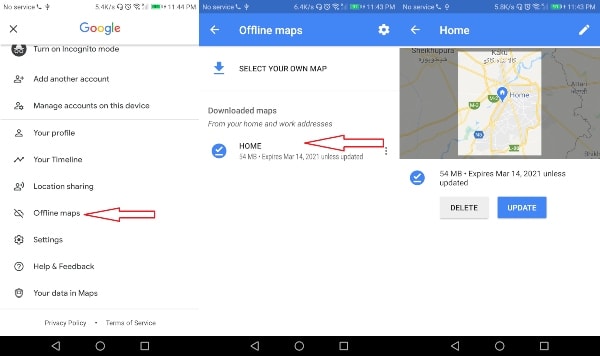 Before finalizing everything, it's highly recommended to fix all apps' issues like Fix Google Maps Not Talking Issue, crashing issue and others to avoid troublesomeness. And once your required maps are downloaded completely, you're ready to start your travel and find directions without an Internet connection. Again, not all features will be available for your extra comfort, as mentioned above.
Besides, you can use navigations offline, too, when you set them up while having a connection. With a strong Data connection, Google Maps automatically downloads your entire route and keep showing the direction if you lose the connection in all of a sudden. This, however, depends entirely on your map areas that are downloaded manually. After setting up your route, Maps can at least hold your data until it reaches your destination.