Are you considering switching carriers or searching for more inexpensive options? It's possible that unlocking your Straight Talk phone is the answer you've been searching for. It's easy to do and it can help you save money and have additional options with your phone.
Here, you'll find detailed instructions for freeing yourself from Straight Talk's network lock. We will also go through who is eligible to have their Straight Talk phone unlocked and what the policy is for doing so. We'll also talk about several other ways to unlock your phone and the advantages of doing so. So, let's continue reading!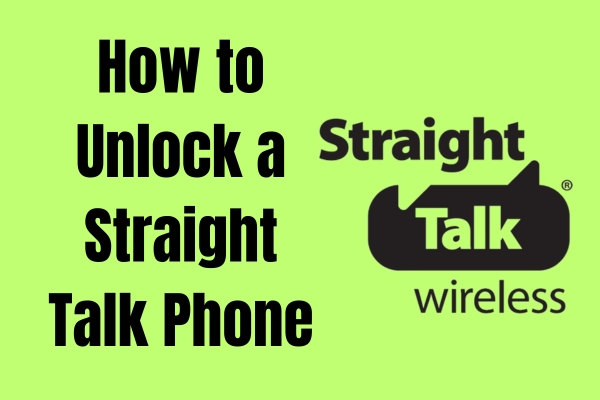 Understanding Straight Talk Phone Unlock Policy
Understanding Straight Talk's unlocking policy is crucial before proceeding with unlocking your Straight Talk phone. Certain conditions must be met in order for a phone to be unlocked by Straight Talk such as:
The phone must have been active on Straight Talk's network for at least 12 months
The phone must be in good standing, meaning it cannot have any overdue payments or be associated with fraudulent activity
The phone cannot be reported as lost or stolen
If your phone meets these requirements, you can request an unlock code from Straight Talk. However, it's important to note that there may be a fee associated with this process.
It's also important to remember that just because your phone is unlocked, it doesn't automatically operate with any other carrier. To guarantee compatibility with your new provider and phone type, you may need to take extra steps.
Straight Talk Phone Unlock Requirements
You can unlock your phone from Straight Talk for up to $300, depending on how long you've been a customer and how long you've been using the service before making the unlocking request.
If an unlock request is received that does not comply with Straight Talk's Unlocking Policy or is an effort to deceive Straight Talk or its customers, Straight Talk has the right to deny the request.
And importantly, the Unlocking Policy of Straight Talk may change at any moment. Well, online or by dialling 1-888-442-5102, you can find out whether you qualify for an unlocking request or not.
How to Unlock a Straight Talk Phone On iPhone?
If you have an iPhone locked to Straight Talk and want to switch carriers, you'll need to follow these steps to unlock your phone:
Make sure your iPhone is paid in full and hasn't been reported missing or stolen.
Get in touch with Straight Talk's support team and ask for unlock.
Don't forget to include your IMEI number in your submission.
Watch for an email from Straight Talk with unlocking instructions.
Be sure you read and follow all directions. Your phone might require to be reset and a new SIM card installed.
After unlocking your phone, you can use any GSM carrier's SIM card with it.
Keep in mind that, unlike Android phones, Straight Talk will need to contact Apple in order to unlock an iPhone. Back up your phone's data just in case the unlocking procedure deletes everything on your phone.
How to Unlock a Straight Talk Phone on Android?
Unlocking your Straight Talk Android phone might be necessary if you ever decide to switch carriers or insert a foreign SIM card. Well, when using Straight Talk, unlocking an Android phone is often as simple as unlocking an iPhone, with a few exceptions depending on the phone type and service provider.
If you have an Android phone from Straight Talk and want to know how to unlock it, read on!
Get in touch with Straight Talk's support staff and inquire about obtaining an unlock code. You will be asked for your preferred network provider and the IMEI number of your phone.
Once you receive the unlock code, power off your phone and remove the Straight Talk SIM card.
Insert the SIM card from the new carrier and power on your phone.
When prompted, enter the unlock code provided by Straight Talk customer support.
Your phone should now be unlocked and able to be used with any compatible carrier.
Straight Talk's customer service is available to help if you run into any problems when unlocking your phone, such as seeing the "SIM network unlock PIN" or "enter a network unlock code" message. It is important to note that unlocking your phone may void its warranty, so proceed with caution.
Unlocking Alternatives
Third-party services are available if you are unable to unlock your Straight Talk phone or if you just prefer a different method. It's vital to do your homework before settling on a service, since some may unlock your device more quickly and easily than others.
Unlocking phones that aren't normally compatible with your service provider's plan is a major perk of using a third-party service. The use of such services is not without its drawbacks, however. There is always the chance of becoming a victim of fraud or scams and their prices might be higher than the carrier's price.
If you must utilise an outside service, go with one that comes highly recommended. Read testimonials posted online and be sure that the company has transparent pricing and policies. Some popular options include DoctorSIM, UnlockBase and Cell Phone Unlock.
Special Advantage for Military Personnel
Members of the military are not required to conform to all of these requirements. You need to use a non-blacklisted Straight Talk phone, but otherwise there are no requirements. If you can prove your military service through your documents, Straight Talk will honour your unlock request.
While the list of requirements is short, it is still comprehensive. Once you've met the requirements, you may contact Straight Talk and request an unlock code to be sent to you through text message or email.
The benefit of Unlocking a Straight Talk Phone
Unlocking your phone allows you to switch to whatever carrier you choose, which is one of the main advantages. You are no longer bound to Straight Talk's network and are free to switch to any other carrier with which your phone is compatible. This paves the way for a plethora of options in terms of locating improved coverage, increased data transfer rates and lower costs.
The ability to use your Straight Talk phone abroad is just another benefit of unlocking your handset. When travelling internationally, it might be difficult and costly to use your phone due to the severe roaming regulations of many carriers. An unlocked phone, on the other hand, will allow you to use a local SIM card instead of paying steep roaming charges.
Conclusion
If you want to take advantage of more economical plans from other carriers, unlocking your Straight Talk phone will allow you to do so. And if you meet the requirements and follow the detailed methods in this article, you'll be able to unlock your phone quickly and easily.
However, if you have any problems or concerns, please contact Straight Talk's customer care team or look into a reliable third-party service provider. Remember, unlocking your phone is a smart financial decision that can save you money in the long run.