Unlocking your Android smartphone's full potential can be an intriguing adventure. The process of getting superuser access, known as rooting, gives you unprecedented control over your device, allowing for infinite customisation and the activation of powerful features.
It's a world where you can get rid of pre-installed junk, improve speed, and discover fascinating root-only apps.
However, this journey comes with warning signs: if you're not careful, you might violate warranties, expose your device to security dangers, and even accidently "brick" it.
In this article, we'll walk you through the thrilling, yet dangerous world of Android rooting, allowing you to make educated decisions about the future of your smartphone.
What is Rooting?
Rooting is the process of giving Android users privileged authority over various Android subsystems. It's essentially the same as running applications as an administrator on a computer, giving you greater power and access to system files and settings. Rooting has a number of advantages, including:
You can install custom ROMs, tweak system files, and change the appearance and functionality of your device.
Pre-installed applications that you might not be using can be removed, freeing up storage space and boosting speed.
If you're a techie, you can overclock your device's CPU to improve performance.
You can quickly generate entire device backups and restore them.
What Should You Do Before Starting?
There are various things to think about before attempting to root your Android device:
Determine that your smartphone is compatible with the rooting method you wish to employ.
Back up your whole smartphone, including all vital data, applications, and settings. Data loss can occur as a result of rooting.
Before you can root some devices, the bootloader must be unlocked. This might void your warranty, so be aware of the implications.
To minimise disruptions during the rooting process, make sure your device has enough battery capacity or is connected to a power source.
How to Root Android Device?
1:  KingRoot
KingRoot, a well-known Android root tool, is commonly used to root Android devices. Rooting entails replacing the native Android OS with a custom ROM and unlocking the bootloader.
Unlocking the bootloader might be a difficult operation, but there are effective tools accessible in the digital arena that allow you to do it without using a computer.
Once the rooting procedure is complete, you may use the Root Checker app to confirm its completion. This application gives users administrative access to the device, thereby certifying root success.
It's vital to remember that this action has consequences, such as voiding the device's warranty and changing other device-related properties.
Follow these step-by-step actions to root your Android phone without a PC using KingRoot. This approach works with a variety of Android devices, including Huawei, OnePlus, and Redmi.
Begin by installing the KingRoot app on your phone. To install it, simply follow the on-screen instructions.
When the installation is finished, launch the app and look for the "One Click Root" button. To begin the rooting procedure, press this button. Allow the phone to complete the rooting process.
After a successful root, you'll get a notice that says "Rooted Successfully."
2:  Framaroot App
This tool is one of the best options for rooting Android smartphones without the need for a PC. It allows you to install Superuser and quickly use numerous rooting vulnerabilities. To utilise it, go through the following steps:
Download the Framaroot APK from the official forum.
Install the APK (Make sure your device's settings allow installation from unknown sources).
Start the Framaroot app.
On the home screen, select "Install SuperSU" under "Select an action to execute after root."
Choose the exploit that is appropriate for your device.
Run the exploit and then restart your device.
This simple procedure allows you to quickly root and unroot your Android handset.
3:  Root Master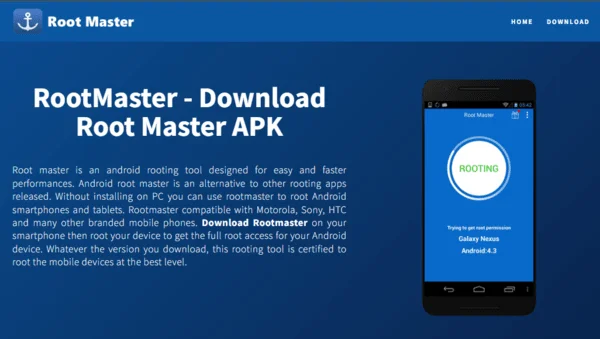 Here's a fascinating rooting software that makes rooting your Android phone easier. The app works with all Android versions and uses a one-click rooting approach.
It has an easy-to-use UI and does not require a PC to root. RootMaster not only allows you to root your smartphone but also eliminates unwanted software. Here's how to put it to use:
First of all, get the Root Master APK file from the official website.
Install and start the app on your Android device.
Once the application is launched, just hit the "Start" button to begin the rooting procedure.
During the rooting process, the device might reboot many times.
After successfully rooting your phone, you will have administrator capabilities and will be able to conduct numerous things on it.
This approach is a simple way to root your Android device and improve its capabilities.
Why Should You Root Your Android?
Rooting your Android smartphone offers you enhanced rights, allowing you to do sophisticated customisation, access system files, and remove bloatware.
It can boost speed, enable the installation of custom ROMs, and give you access to root-only apps. However, there are hazards like voiding warranties and other security issues, so approach with caution.
Is it Legal to Root?
In the majority of countries, rooting your Android device is legal since it is your device and you have the right to change it.
It may, however, destroy your device's warranty, and some acts, such as breaking DRM for unlicenced software installs, may violate copyright laws. Therefore, before rooting, always check your local laws and manufacturer restrictions.
Conclusion
Rooting your Android smartphone can be a gratifying experience that provides you with greater power and customisation possibilities. It is, however, not a decision to be taken lightly.
Make sure you do your homework, read the directions for your equipment, and understand the potential dangers and consequences. Before attempting to root your Android smartphone, always approach with caution and evaluate the consequences.