If you are fed up with routine device recoveries and want to customize your device according to your demands and the security system of your device does not allow you to customize due to bootloader, the unlocking of the bootloader is a necessary step.
If you are new to the term "bootloader", then you must have pop-up questions in your mind like what is a bootloader? In which devices it is found? Why should we unlock it? is it exist in Samsung devices? Can we unlock the bootloader of our device ourselves?
If you are not new, then this guide will help you to learn more things that have not ever learned before. So, you will find the answer to the above questions in this article, because we are going to explain to you even a minor detail about it so be stay with to know how to unlock bootloader Samsung Galaxy smartphones.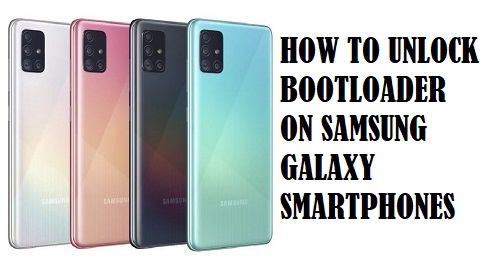 To start, first, we will brief you that what is a bootloader?
A bootloader is a software that runs first on-screen when a device is powered on and decides that whether it would turn on normally or get into recovery mode, in other words, basically it verifies that all the existing files are, as it is or there is an unusual activity if there is everything as it is, then it proceeds normally if there is something unusual it will go to recovery mode automatically.
Now the question arises is it exist in Samsung devices? Like the other devices, the bootloader also runs on Samsung phones and decides whether to load normally OS or to move in a recovery mode, it comprises kernel, system framework, and boot file, this help to run the phone effortlessly and faster at all times.
Why it is important?
A bootloader is usually locked for security reason because Android is an open-source system and anyone can do anything with it, so just to maintain its security OEMs usually does not allow to unlock the bootloader.
But if you get dull of usual stock and recoveries and wants to customize the device like root, install custom ROM and want to mould your device according to your need then you have to unlock the bootloader because in locked condition bootloader is restricted to download apps that are not compatible to your device, third-part launcher, root installation, so it is a necessary step.
Unlocking bootloader will provide access to you unlimited customizing opportunities, advance users with locked bootloaders cannot dive deep down, so just to use deeply you have to unlock the bootloader
Advantages of unlocking bootloader
To root your mobile, unlocking the bootloader is a necessary step.
You will be able to install custom ROM.
You can install custom recovery
Few OEMs provide the tools and methods to unlock the bootloader.
Disadvantages of unlocking bootloader
The first and main loss by its unlocking is that the Samsung phone will be devoid of warranty.
You may feel a clear performance difference.
You may brick your device (if you are unaware of its proper unlocking method.
You will No more be able to use banking and UPI payment apps. (but you can make it usable with the help of Magisk hide)
it becomes hard to relock.
Privacy may be affected and it becomes easy to hack that device.
Pre-requirements
You must have a PC or laptop and a USB cable.
Make sure that your device is fully charged, and at least must be 80%. Because unlocking the bootloader will take a long time to proceed.
Download ADB tool and fast boot tool in your PC and install.
Don't forget to take backup device data.
Make sure that this guide is only applicable for Samsung devices, do not try it on other devices.
Step-by-step method without PC
The first thing you have to do is enable the developer option, to enable the developer the follow the given procedure;
First of all, go to the mobile setting of Samsung.
Then tap about the phone.
Click on the software information, then click 5-7 times on the builder option.
Then back to set again.
see the developer option in the setting of the Samsung phone.
Tap on the developer option.
Click the toggle button OEM unlock.
Method to unlock bootloader Samsung (ADB and fast bootloader)
In this procedure, you will need a PC or laptop to unlock the bootloader with ADB and fast boot. So, to unlock the bootloader of Samsung devices follow the given instruction illustrated below.
First of all, enable the developer option, as mentioned in the previous method.
Turn on the USB debugging from the developer option so that you can your phone to PC.
Install and download the ADB and Fastboot on your PC.
Now connect your device to a PC or laptop through a USB cable.
After connecting the device to the PC, turn your phone off and enter it in Fastboot mode. If you don't know how to do it, simply just press the power and down volume button for a couple of seconds. Mobile will enter in Fastboot mode.
After that go to the folder where you have installed ADB and open the command window.
Type the following commands;
ADB devices
You will see a pop up to allow USB Debugging on your device.
Type the next command and tap enter.
ADB reboot bootloader
Now the device is rebooting into bootloader mode, now check if your device is showing the locked bootloader or not, if showing the type and press enter.
Fastboot devices
If you see Fastboot number on ADB and fastboot screen, then it means that your phone is ready for further procedure, if not showing then try the above procedure again.
Once you have done, follow the next CMD.
Fastoot OEM unlock
Now press enter, this command will unlock the bootloader of your device. Type next command.\
Fastboot reboot
Now you're your device will reboot in the system.
Now finally is successfully unlocking the bootloader.
The verdict
We provide here two simple methods to unlock the bootloader, you can follow according to your need or which is more suitable for you, read the article carefully and apply the method on your Samsung carefully.
Otherwise, you may face brick and severe damage to the device, so, do not play ducks and drakes, and follow it carefully.
Once again let us remind you that this guide is only for Samsung phones, if you try it on other phones you will No more be able to use your phone and you have to install new software.