Android OS is famous for its modification and customizing capabilities. Most Android devices have an "absolute Bluetooth volume control" feature enabled by default. This function is now accessible on devices running Android 6.0 or later.
Unfortunately, you may have trouble with the Android smartphone's Absolute Bluetooth Volume control. That's why it's important to know how to disable Absolute Bluetooth Volume in case it's the root of the issue.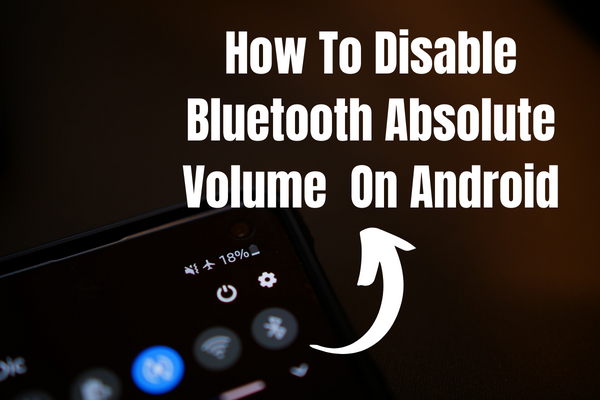 How to disable Bluetooth absolute volume on Android
To turn off Bluetooth absolute Volume on an Android device, you must first access the Developer Settings menu.
On your Android device, start the Settings app and choose the "About Phone".
Depending on your Android version, go to the Build or Model numbers in the About section (whichever you see on the page).
To activate developer mode, you must tap the build number seven times in a row. As you approach, there will be a countdown that will let you know you're almost there.
On the Settings app, choose System.
Choose the "Developer Options"
Locate Disable absolute volume and then slide the button right.
After turning Bluetooth back on and pairing a Bluetooth audio device, the Volume controls on both the phone and the audio device will function separately.
What happens if you turn off the Absolute Bluetooth Volume?
With the phone's Absolute Volume function and the Bluetooth speaker or headphones, you may synchronize the volume levels of both devices. The Volume of the Bluetooth speaker or headphones will change with the volume setting on the phone.
The use of this single slider eliminates the need for many ones. Two, if you want to use your phone and wireless headphones simultaneously (and earbuds or speakers). This feature, in a sense, gives more weight to the main audio output device.
Absolute Volume Bluetooth has some issues, in androids though and one of the issues is a probable volume difference between the two devices.
You may find that even with the Android Volume at its lowest setting, your Bluetooth headphones or speaker are still excessively loud. On the other hand, if you turn up the Volume on your phone, the Bluetooth volume may be too low.
Also, there are many posts on various online forums from people lamenting the lack of Bluetooth loudness on their Android smartphones. Although most people wouldn't notice, those with really refined tastes would. The success of pairing your phone with a Bluetooth headset depends on its settings and the headset's capabilities.
If Bluetooth Absolute Volume is turned off, dedicated volume control for Bluetooth devices will appear. From then on, raising or lowering the Bluetooth Volume using the phone's physical volume controls will solely affect the media volume.
If your Bluetooth device doesn't have a volume control (such as physical buttons or touch controls), you'll need to utilize the phone's built-in volume controls or a third-party Bluetooth volume slider to adjust the Volume.
Conclusion
As not all Bluetooth devices support absolute volume control, it's a comfort that Android didn't make it default. Also, people sometimes want more control over their devices so they can turn up the Volume.
Android devices of all make and models should make it simple to turn off absolute Bluetooth Volume. You're good to go as long as the Developer Options are on. After you've done that, it's as simple as pie.