One of the oldest kinds of online communication is text messaging. The usage of text messaging has dropped noticeably in recent years due to the dominance of social media platforms. Although the messages are no longer utilized, it does not indicate that they are outdated. Peer-to-peer verification and communication may still be done securely and reliably using this technology.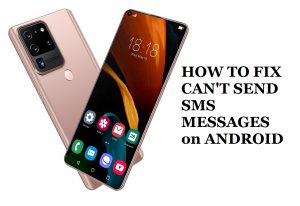 Despite the rise of secured instant messaging programmes like WhatsApp and Facebook Messenger, text messages are still commonly used. Aside from not being able to send text messages, not being able to receive them on your Android mobile might cause anxiety. Even worse, you may be concerned that your gadget has been hacked, although this is quite unlikely.
Despite the fact that the messaging tools may function flawlessly even without a network connection, this does happen from time to time. The solutions provided in this article might help you repair the problem of "text message failed to send on Android phone."
1. Soft reset on your phone
Restarting your phone is all it takes to do a soft reset. Your Android problem may be solved simply by rebooting your phone. You can see whether it works if you turn your phone off and on again for a bit. You may, of course, just click Reboot. This approach gives you the best chance of resolving your issue.
2. Reset SMS Preferences to Default
It's likely that the default SMS settings were altered if you switched SIM cards before the issue occurred. As a result, sending text messages might be difficult since each service provider has its own specific preferences for delivering texts.
In order to restore your phone's default SMS settings, open the Messages app and click Settings.
Try sending a text message again after resetting all the settings to their default values and restarting your phone.
3. Perform a Phone Cache Cleanup
Android difficulties are often solved by deleting the cache memory. Consequently, many technicians suggest using this approach. Your Android phone's cache may be cleared as follows:
The Application Manager may be found in the Settings menu by selecting the application.
Slide the menu to see the list of applications, and then browse for the Message app.
Clear Data and Clear Caches are available under the App information.
If the issue persists, try wiping the data and clearing the cache, followed by a restart of your device.
4: Examine the SIM card and the network coverage
The majority of the software-based troubleshooting procedures have been addressed in this article. In addition, a SIM card that is incorrectly positioned might prohibit both phone calls and text messages from being sent.
Check to see whether the SIM card is securely in place by opening the SIM card tray. Take a closer look at your smartphone after resetting it. Make sure your network is stable and efficient.
5. Reset the network configuration
Also, try resetting your network settings. If you're incorporating SMS and MMS messaging, things might go wrong. Follow these procedures to re-set Android's network settings:
The first step is to go to Settings.
Tap on the system.
Choose Reset options.
Reset Wi-Fi, mobile, and Bluetooth by tapping
Confirm your choice.
6. Force the Message App to Exit
The Message app itself may sometimes prevent you from sending text messages. You may attempt to restart it by pressing the power button. Follow these instructions to terminate the app abruptly:
Open the application in the Settings menu.
Swipe down to view all of the apps in the Application Manager.
Once you've found the messaging app in the list, click on it.
Force Stop is an option you'll find in the app's information.
Restart your smartphone by tapping on it.
7. Restore Factory Settings to Your Android Device
When everything else fails, the final option is to restore your Android phone to factory default settings. When you do a factory reset on your phone, you return it to its original setup condition. You may now proceed with the necessary actions. Make an Android of all your Android data files before moving on to the next procedure. Because all of your current data and files will be deleted if you do a factory reset on your smartphone. The steps for resetting an Android smartphone are as follows:
Go to the phone's settings and find the General tab.
Make a copy of your data and then restore it.
This option is found at the bottom of the Backup and Reset settings. "Factory Data Reset" is an option.
Restart your phone by pressing and holding the power button for a few seconds.
Despite the fact that all of your phone's data will be wiped clean, you will still be able to send texts from your Android device.
Get in touch with your SIM service provider if you need assistance.
At this point, if your phone still won't send text messages, the problem is more likely to be with the SIM card than the phone itself. It is possible that a trip to your Internet service provider's actual location may solve this problem. You may also explain the problem to your network provider by contacting them online or by calling their toll-free customer service number.