Do you want a simple method to have your iPhone read your text? Apps that convert text into audio are helpful for those who would rather listen to information than read it. Well, with numerous options available, it's important to choose the best one that suits your needs.
We have put together a list of the top 5 best free text-to-speech applications for the iPhone in this article. We have covered everything from natural-sounding voices to customisable features.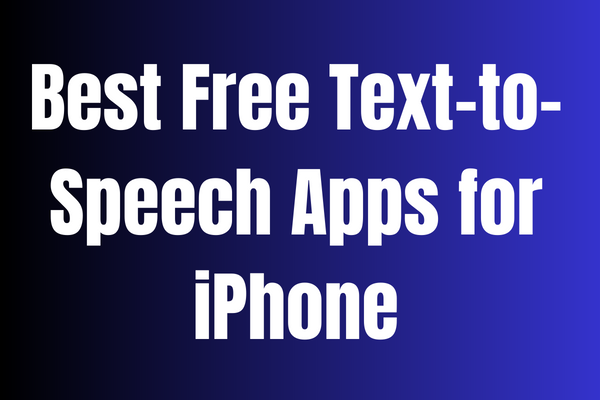 What are Text-to-Speech Apps and Why They are Important?
Software applications called "text-to-speech apps" translate text into spoken language. These applications are crucial because they meet the requirements of people who have impairments, learning issues, or just prefer to listen to stuff rather than read it.
The ability to have a text-to-speech app read out stuff like webpages, emails and books is a huge time saver. They can additionally assist those who have trouble reading by giving them another option that is not text-based.
Aside from that, the development of text-to-speech technology has led to the creation of voices that are more convincing and pleasant to listen to, therefore increasing the popularity of audio material. However, the variety of text-to-speech applications means that consumers can discover the perfect fit for their listening needs.
Top 5 Best Free Text-to-Speech Apps for iPhone
1:  Text to Speech
If you need an app to convert your written work into spoken word, Text to Speech is the one for you. A human-sounding voice will read the content you type into the app's text box.
The synthesised voice can be modified and altered in limitless ways, thanks to the 95 available voices and the controls for speed and pitch. Interestingly, there is no need for an internet connection to utilise Text to Speech.

2:  Speechify
To save time, retain more information and maintain attention, Speechify, a smart and sophisticated text-to-speech audio reader, converts what you're reading into interactive audiobooks. Speechify can serve as a personal reading aid, reciting text from books, papers and articles. In addition, it can import scanned images into iCloud, Google Drive, Dropbox and more and it can even scan paper book pages using your device's camera.


3:  Voice Dream Reader
You can listen to any paper or ebook using text-to-speech with the 2021 Apple Design Award Winner Voice Dream Reader. It has been honoured by Apple as the Best New App and App of the Day in 81 countries. Moreover, it's a part of the App Store Permanent Collections in Education.
Voice Dream Reader can read a wide variety of documents, including online articles, books from Bookshare, EPUB ebooks, PDF, plain text, Microsoft Word, Microsoft PowerPoint, RTF as well as Google Docs. And most important of all, you can store the spoken word as audiobooks in the form of MP3, or MP4 files.


4:  Voice Aloud Reader
When it comes to text-to-speech applications for the iPhone, Voice Aloud Reader is among the better options. The application turns the content of any document, e-book, web page, or physical book into a human-sounding voice and then reads it loudly.
Furthermore, the software supports multitasking, allowing you to keep a PDF reader open and active while the application is reading it to you.


5:  Narrator's Voice
Another great app for converting text to voice is Narrator's Voice, which can export your work as an MP3 or MP4 file. A variety of voices and languages are available with only a copy-and-paste of the text. Moreover, the app's primary selling point is the abundance of unique sound effects it provides, including echo, gargle, reverb, chorus and many more.


How to Choose the Best Text-to-Speech App for Your Needs?
When choosing the best text-to-speech app for your needs, consider the following factors:
Try to choose an app that has voices of good quality, one that sounds natural and that can be easily understood.
If you want to change the voice's tempo, pitch and loudness to suit your needs, you should look for an app that offers those options.
Think about downloading an app that has a user-friendly layout and is straightforward to use.
Even while text-to-speech applications are widely available without cost, some may charge for premium services. Check to see whether the premium options are worthwhile.
Make sure that the app is compatible with both the device and the operating system you're using.
When you know what you need from an app, you may check out a few different ones to see which one works best. Get a few applications and try them out with various pieces of media. This will let you evaluate the app's usefulness and efficiency for yourself.
Conclusion
Finding the right text-to-speech app might seem like a difficult task, but it doesn't have to be. You can choose the best apps for your requirements by thinking about things like voice quality, customisation possibilities, convenience of use and pricing.
The mentioned top 5 best free text-to-speech apps for iPhone include some great options that are sure to provide natural-sounding voices and customisable settings. These applications can help you in a variety of ways, whether you're trying to get more done, increase your knowledge, or deal with a disability.