Today's connected world has made flight-tracking applications an indispensable tool for keeping tabs on air travel. A reputable flight tracking app on your iPhone or Android smartphone is essential, whether you're a regular flier, a loved one waiting for an aircraft's arrival, or an aviation enthusiast entranced by the marvels of the sky.
These applications provide a wide variety of useful features, such as worldwide coverage, in-depth aircraft information and real-time flight status updates.
Here, we'll take a look at five of the finest flight tracking apps for both iOS and Android, revealing their impressive features and emphasising what makes them stand out.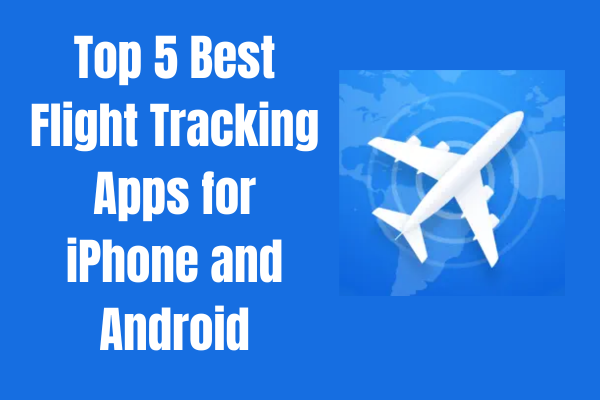 Top 5 Best Flight Tracking Apps for iOS/Android
1:  FlightAware
FlightAware is the best app available for Android and iOS devices for monitoring commercial flights in real-time, including seeing maps and flight paths in real-time.
The Android and iOS versions of FlightAware, a live flight tracking application, are both available for free. The application allows users to track aircraft by entering the flight number, city pair or airport code.
Moreover, FlightAware's real-time push-based flight notifications are a major plus. You can see what planes are departing and arriving at airports nearby. All in all, it is highly recommended that you make use of the FlightAware app in order to track your flights.
for Android:

for iPhone:


2:  Flightradar24
Another well-known flight tracking app, Flightradar24, has been praised for its worldwide coverage and comprehensive flight data.
The application allows users to monitor planes in real-time, including their current location, altitude, and speed and planned path. Users can either enter a particular flight number or browse the map to learn more about the current air travel patterns throughout the globe.
Also, Flightradar24 offers augmented reality (AR) features, allowing you to point your device's camera at the sky and identify planes flying overhead.
Well, the premium membership grants access to additional features such as 3D views, weather layers and more, in addition to the free version's fundamental functionality.
for Android:


for iPhone:


3:  FlightStats
If you're looking for an app to keep tabs on your flights, look no further than FlightStats. Flight details such as departure and arrival schedules, gate information, delays and cancellations can be tracked in real-time using this app. It includes a large number of airlines and airports throughout the globe, providing full coverage.
Airport weather, terminal maps and services are just some of the details that can be found on FlightStats. Most interestingly, the app's low price makes it a viable alternative for anybody in need of an app to keep tabs on their flights.
for Android:


for iPhone:


4:  RadarBox
RadarBox is an advanced application for monitoring flights that provides a comprehensive experience for aviation fans. Information about where planes are, where they've been, how fast they're going, how far up in the air they are and more are all available in real-time.
Playback is a unique function in the app that lets users review and evaluate their previous trips. Furthermore, you can search for individual planes and get details about them in RadarBox's large aircraft database.
The app offers both free and premium versions, with the premium version offering enhanced features such as custom alerts, weather overlays and filters.
for Android:


for iPhone:


5:  Flight Board
To keep track of flights anywhere in the globe, download the free and lightweight Flight Tracker app for Android and iOS. You can see any flight's departure and arrival times with ease.
It's ad-free and available at no cost to you. The app also lets you check the local weather at your destination, input your boarding pass and get real-time updates on the status of your flight and terminal.
In addition, The Flight Tracker has a special sharing function that allows you to tell others about your flight's crucial details. To cut a long story short, if you're looking for a superb flight-tracking app for Android or iOS, go no further than The Flight Tracker.
for Android:


for iPhone:


What Makes the Flight Tracking Apps the Best?
Comprehensive Real-Time Tracking
The top flight tracking applications are unparalleled in their ability to provide precise and timely flight data. They combine dependable data sources and sophisticated algorithms to provide real-time monitoring, letting users keep tabs on planes as they travel. The latest flight information, including location, altitude, speed and route, is always at your fingertips with the help of these applications.
The best flight tracking applications allow you to monitor flights from any location around the globe. To cover every commercial and private aircraft, they combine data from several sources and tap into massive databases. These applications make it simple to track your flight's progress across many time zones.
The top flight tracking applications put the user experience first, providing simple and straightforward interfaces. These applications provide aesthetically pleasing presentations of information, with simple and intuitive interfaces that enable users to easily obtain flight information, airport facts and other pertinent data. A well-designed interface improves the app's performance and keeps users interested.
Different flight-tracking applications compete with one another by providing unique features. One such feature is the augmented reality (AR), which would allow users to detect aircraft in the sky by pointing their device's camera in that direction. Some applications enable users to listen back to previous flights so they can see patterns and make improvements. Moreover, the flight tracking application stands out from the pack with its useful features, such as weather overlays, aeronautical charts and airport information.
Free and Premium Versions
The most important flight tracking features may often be accessed without spending anything thanks to the free versions of many flight tracking apps.
However, upgrading to a paid version usually enables more functionality and personalisation options for the user. The demands of aviation aficionados and regular fliers might be met by these premium versions, which might come with features like limitless flight notifications, comprehensive weather overlays and customised filters.
Conclusion
Real-time updates, worldwide coverage, user-friendly interfaces and extra functionality are just a few of the ways in which flight-tracking applications have revolutionised aviation tracking.
Because they provide up-to-date flight information and keep users linked to the ever-changing world of air travel, these applications are vital for travellers and aviation enthusiasts.
The best five flight tracking apps discussed in this article distinguish themselves from the competition thanks to their thorough tracking, user-friendly interfaces and sophisticated features like augmented reality and replay. So, download one of these best flight monitoring apps for your iPhone or Android smartphone to stay informed and involved in the world of aviation.