The most recent upgrades to iOS 16 and iPadOS 16 from Apple include some really interesting new features. Version 16.5 was released on May 18 and brings with it a number of improvements.
For instance, bug fixes and security enhancements. It's also an indication of some major upcoming additions to the iOS platform for the iPhone and iPad.
However, the beta period for iOS 16.5 and iPadOS 16.5 started on March 28 and continued for 51 days until the improvements became a stable release.
Even if there are not as many new features as iOS 16.4 advertised, there is still new stuff that you'll surely want to know about. And it includes significant improvements in Apple News, new Siri commands and Apple Pay.
Apple is now finishing up work on iOS 16 and iPadOS 16 in order to devote more resources to iOS 17 and iPadOS 17. Starting on June 5, 2023, Apple will have its Worldwide Developers Conference (WWDC).
There the company is anticipated to introduce new software updates and other items. For example, a long-awaited xrOS software for the fabled Apple VR/AR headset.
That implies iOS 16.5 and iPadOS 16.5 might be the last feature-packed software with all the iOS 16.4.1 issues resolved. As a reminder, the original development cycle of iOS and iPadOS 15 saw just three minor upgrades. And it was mostly focused on security updates and bug fixes.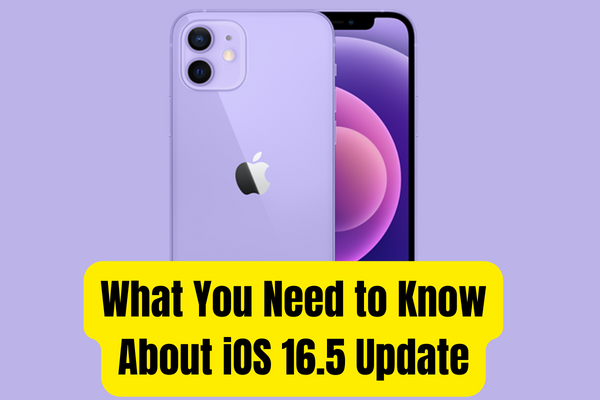 New Features in the iOS 16.5 Update
1:  Sports Tab in Apple News
The Apple News app now has a dedicated sports section starting with iOS 16.5. Fans may keep tabs on their favourite teams, players and competitions. My Sports schedule and scorecards in Apple News also link directly to the respective game sites, where fans can get much more information.
Apple announced the new feature with the following statement:
Sports tab in Apple News gives easy access to stories, scores, standings, and more, for the teams and leagues you follow.
2:  Pride Celebration Wallpaper
In recognition of the rich cultural heritage of the LGBTQ+ community, Apple has released a new Pride Celebration wallpaper. You can use the new wallpaper on your lock screen as well as your home screen, and it has some cool animations.
3:  Bug Fixes
With iOS 16.5, Apple has addressed a number of bugs. It includes those that might cause Spotlight to become unusable, prevent Podcasts from loading in CarPlay and prevent Screen Time settings from syncing across devices.
Interestingly, a new Siri command to begin and end screen recording was included in an earlier beta version of iOS 16.5. Well, as a result of user feedback, the functionality was eventually deleted from the following betas and will not be included in the final version of iOS 16.5.
4:  Merged Search and Following Tabs in Apple News
Apple News has combined the Search and Following tabs into one, with a redesigned symbol that does double duty and makes place for the brand new Sports tab. Similar to before iOS 14.5 when the search was moved to its own tab, but with a different icon.
5:  Always-on Tap-to-Pay Sounds
With the latest update to iOS, you can now use "Tap to Pay" to accept payments made with other mobile devices or cards that support contactless technology.
The "Tap to Pay Screen Lock" toggle, renamed "Tap to Pay" on iPhone Screen Lock," can be found in the settings of a compatible "Tap to Pay" app, such as Stripe. The new "Always Play Sounds" option allows completed Tap to Pay transactions to sound off even when silent mode is activated on your iPhone.
What Should You Do Before Installing iOS 16.5 Updates?
1:  Cleanup your iPhone's Storage
Are you upgrading to iOS 16.5 from an earlier version? You might need to free up space on your iPhone if it is currently full. The installation of iOS 16.5 might eat up a lot of space on your iPhone's storage. Therefore, to create space for the download, check your device's storage. Remove any unnecessary files if you're getting close to the limit.
2:  Make a Backup of Your Data
It is highly recommended that you back up your iPhone or iPad before downloading any significant software update, including iOS 16.5.
In the unlikely scenario that anything goes wrong during the update process, your personal information, settings, applications and other essential data will be securely maintained thanks to this precautionary measure.
3:  Check iOS 16.5 Reviews Online
We understand that you're reluctant to upgrade to iOS 16.5. That's why we recommend that you conduct some research about user experiences with the new version. Updating Apple's newest iOS 16 software carries the risk of introducing new problems and/or slowing down your device.
Do you possess an older iPhone model like the iPhone 8 and are worry about upgrading to iOS 16.5? You should seek out the experiences of those who have already made the switch.
This commentary can help you spot flaws and errors before they become serious. You might also find out about the advantages of using Apple's software.
4:  Learn How to Downgrade
Apple enables users to go back to previous iOS versions. If your iPhone is experiencing issues with iOS 16, this will help.
There is no guarantee that Apple will keep the option to revert to an older version of iOS available indefinitely. There may come a time when you need to downgrade, so it's best to be prepared now rather than later.
How to install iOS 16.5 Update?
Last but not least, we recommend that you have at least 50% battery life. It should be connected to a Wi-Fi network before attempting to install iOS 16.5 Over-the-Air (OTA) using the Settings app unless you are using an iPhone 12 or later on a 5G network. In addition, the iOS 16.5 update can be installed using iTunes. It's as easy as plugging in your gadget, selecting it from the list and checking for updates.