These days, everyone has an Android smartphone to download and stream their favourite music wherever and whenever they want. However, picking the best music download application from an ocean of options might be a challenge. Don't worry! We can help with that!
Here are the best six music download applications for Android in 2023, based on our research of the available options and widespread use. Whether you're on a budget or willing to splurge, we've got you covered. So, sit back, relax, and let's dive into the world of music download apps!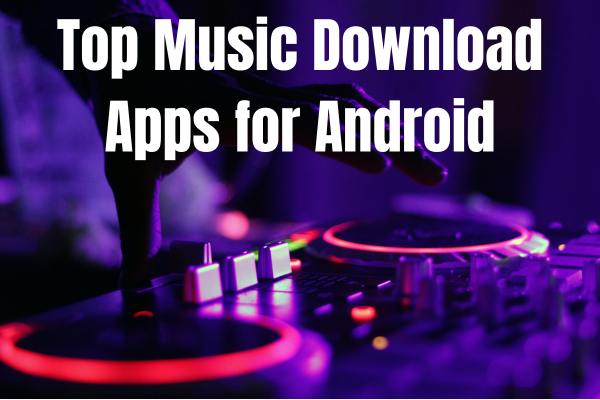 The Best Music Download Apps for 2023
1:  Spotify
Spotify is a well-liked music streaming service that also facilitates song downloads for later playback. With over 70 million songs available, customers are sure to discover what they're looking for. Spotify also has a simple UI and can make playlists specifically for each user. Although there are ads in the free version of the application, users can pay for Spotify Premium to remove them and get access to other features.

2:  Tidal
If you're looking for a high-quality music download app, look no further than Tidal. Over 70 million songs are available on the app, including several that are unique to the app.
Tidal also has a podcast section and tailored playlists. Moreover, a user's listening experience won't be interrupted if they choose to download music for later offline playback. Tidal offers a 30-day free trial, and after that, users can choose from various pricing plans.


3:  Deezer
Deezer is a free app that provides access to more than 73 million songs. It's simple to use and users can save music for later playback.
The application also provides users with customised suggestions and playlists. Besides, Deezer is a free music streaming service, but also offers a premium subscription with ad-free listening and other benefits.


4:  Amazon Music
Amazon Music is a paid app that provides access to more than 80 million songs. The app has a simple design and lets you save music to listen to later. Also, Amazon Music lets users create custom radio stations and playlists depending on their tastes. In addition, users can hear new songs before anybody else.
After a 30-day free trial, Amazon Music subscribers can choose from a variety of paid subscription packages.


5:  Soundcloud
Soundcloud is a free music streaming service that now has over 200 million tracks. The UI is intuitive, and users may save music for later playback. Users can additionally utilise the app to upload and share music they've created. Although Soundcloud is free to use, but users can upgrade to a premium plan for additional features.


6:  Audiomack
It's another one of the greatest music downloader applications for Android, so you can listen to and save all the latest songs. The application gives users access to an abundance of streaming media.
The tracks you've downloaded, however, are kept inaccessible until you create an account and log in. There are advertisements inside the app.


What to Look for in a Music Download App?
The quality of your music listening experience is significantly influenced by the app you use to download the music. When choosing a music download app, keep the following in mind:
Try to find an application that has an easy-to-navigate interface. The more straightforward it is to track down specific information, the better.
In order to swiftly and easily find desired music or artists, a powerful search bar is required.
The app's library should provide a diverse selection of music and performers, and it should be updated often so as to remain updated.
The application should provide access to high-quality downloads, preferably in several file formats like MP3 and FLAC.
You should avoid using up your data plan or Wi-Fi by searching for an app that lets you save music to your smartphone for offline listening.
Think about what the app will cost you. While you can download certain applications for free with adverts, others will demand a membership or one-time purchase for unlimited playback without interruptions.
With these considerations in mind, you find the best music download app for your requirements and take your songs with you everywhere you go.
Conclusion
If you want to listen to your songs on your Android smartphone, you need to download the correct music download application.
This article has introduced you to a variety of music download applications, both free and paid, that can be found in the Google Play Store and the Apple App Store.
You can choose an app that meets your requirements and tastes among the 6 best music downloaders for Android in 2023. So why not give them a try? Start downloading your favourite tunes today!