With the release of iOS 14 and continuing with iOS 16 devices, Apple finally gave iPhone customers a long-awaited feature: the option to design their own home and lock screens.
Apple also revamped widgets, making them more flexible in terms of size and presenting more data at a glance.
The iPhone comes preloaded with a number of widgets, and there are also a number of third-party applications available that make it simple to modify and create new widgets.
We offer a wide variety of the most useful iPhone widgets waiting for you to try them out.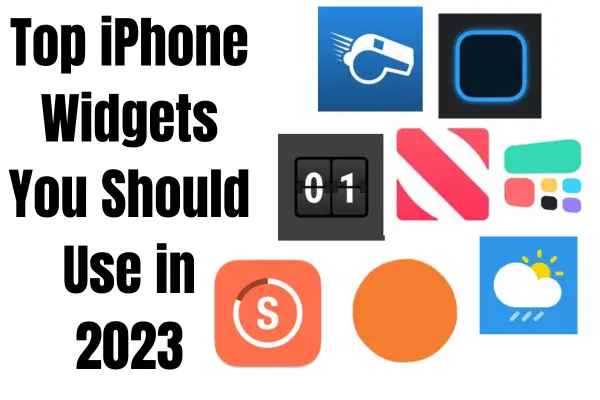 1:  Streaks

Streaks redefine the function of a task widget in its own distinctive way. It's made to assist you in reaching your objectives in a variety of areas, and it can even keep track of your progress in degrees or discrete steps.
Tasks might range from the simple, like eating well, to the more difficult, like jogging 25 kilometres this week. Streaks can keep tabs on a dozen different metrics at once and even help you schedule your work.
2:  Headspace: Mindful Meditation


Headspace helps you, as the name suggests, achieve the appropriate mental state at any given time of day. The widget dynamically cycles through a variety of daily mindfulness exercises.
You may use Headspace to help you obtain a good night's sleep by listening to a sleep podcast after a morning meditation session.
3:  Weather Pro


The weather app Weather Pro is a must-have for every mobile device. Apple's Weather app, included by default on iPhones, gives you a comprehensive look at the day's prediction and current conditions.
If you want to quickly check the weather, you can add Weather Pro's widget to your iPhone's home screen. The Weather widget currently comes in three different sizes.
The tiny and medium-sized widgets are the most useful since they provide you with the day's forecast and may be arranged in a Smart Stack to make more efficient use of your home screen space.
4:  Photo Widget: Simple


The Apple Photos widget is quite helpful. Nevertheless, there are no customisation features available.
The home screen featured photos will be automatically retrieved by the stock photographs widget application, even if you have disabled this function.
You can deactivate featured photos using the stock photo widget, however, it's not very convenient. An outstanding third-party widget for viewing photographs on an iPhone is the answer to this issue.
The Photo Widget allows you to instantly rotate through your photos. You can create an album of your favourite photos and choose how often it will be updated. Furthermore, you may cover up certain ones if necessary.
5:  Widgetsmith


Because of its wide variety of helpful features, Widgetsmith has become one of the most popular iPhone widgets. The widgets' parameters can be modified to suit individual preferences.
Your personalised widgets can show you the weather in the morning, the schedule of forthcoming activities at work in the afternoon, and the immensely helpful activity ring status in the evening.
6:  Colour Widgets


Anyone looking for a wide variety of colourful, highly modifiable widgets for their iPhone home screen might consider Colour Widgets.
The iPhone's widget app comes with a number of visually appealing widget templates, some of which include a clock, a reminder, a countdown timer, a calendar, and much more.
The app's library is constantly updated with brand-new widgets. So, users may choose from a broad variety of aesthetically pleasing options.
You can also make things more your own by customising the interface with widgets for the home screen that utilise the photos, fonts, and colour scheme of your choosing.
7:  Triplt: Travel Planner


Is it necessary for you to often travel for work? You may use TripIt to plan your trip and leave on time. This app's customizable widget makes it easy to monitor important trip data.
Within the compacted area, you will find your flight number, the time of departure and arrival, as well as the terminal number. You can also choose the most relevant details shown to you based on the method of transportation you'll be using.
And most importantly, once you arrive at your location, the widget can be set to display the following items on the schedule hotel check-ins, important business meetings and much more.
8: Bears Countdown


The ideal iPhone widget is the one that shows the countdown to special events like birthdays, anniversaries, and vacations.
That's why getting the Bears countdown installed on your phone is a must. The countdown window can be customised to display your own colour and bear mascot.
Besides, the tone of the countdown can be determined by the method used. You also have the option to select the bear size as well as the countdown pop-up.
To make your widget even more engaging and specific, you may just slide in some comments or suggestions for each event.
9:  Sports Alerts


Follow your preferred teams and players with this personalised widget. All the main sports leagues are covered. It has a top-notch design and looks great on the home screen.
Besides, depending on the details you like to showcase, choose a small, medium, or large widget. If you want to keep track of every game in the specified league as it happens, the huge widget size is the way to go.
You're free to switch sports and leagues whenever you want.
10:  Spotify


The Spotify widget must be placed on the home screen for immediate access to your music collection, so you can stay in sync with your favourite sounds at all times.
Currently, widgets come in two distinct styles. Any music you've recently listened to or liked will be shown.
It's now as simple as tapping the screen to return to the last track you were listening to. The largest library of music and podcasts from all around the globe can be found on Spotify, making it an unmatched music streaming service.
Conclusion
All of the aforementioned iPhone widgets are not only very functional, but also compatible, portable, and adaptable.
Moreover, with the help of these widgets, you can keep tabs on the most important notifications from your favourite applications without ever having to open them.