We all know that iPhones normally come with a small display size until unless you bear a dent in your wallet and go for a "Plus" variant. However, when it comes to comparing the iPhone display with the iPad, it's a little bigger in size but still looks quite small in terms of display.
And if you are a user of iOS and you love playing games and watching your favourite movies on a large screen, you don't have to compromise on a small screen anymore. In this article, we are going to discuss the top 10 screen mirroring apps for iPhone and iPad alongside their features and links to get them from the Apps Store with immediate effects.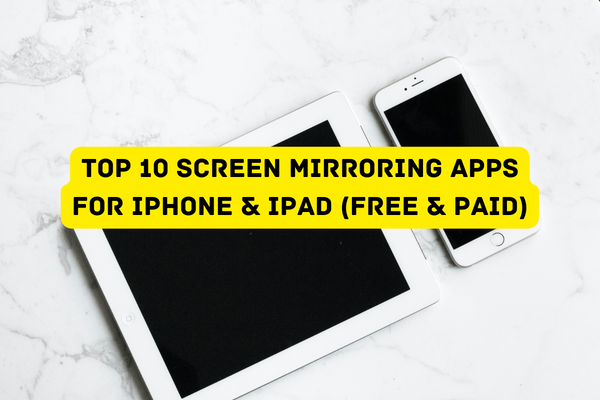 Top 10 Screen Mirroring Apps for iPhone & iPad
1 – AirDroid Cast (Free)

Screen mirroring has never been easier than using the free app AirDroid Cast. It performs a vital purpose, and yet it is easy to use. AirDroid Cast allows you to manage your Android or iPhone from your computer. You can now touch, scroll, and text on your smartphone while sitting at your desk, and then finish up on your computer.
Features
Compatible with multiple devices
HD mirror screen and less delay
Concentrate on cast and control
2 – TeamViewer (Paid)


TeamViewer is the most powerful iPhone screen mirroring app available. That being the case, you may help your friends out with their computers by showing them what's on your screen from afar using your iPhone. Using this app, you may perform this task whenever and wherever you choose. One further way in which this app is useful is that it guarantees your devices' total security at all times.
Features
Easy to chat with teammates
Perfect solution meetings and web seminars
Easy to access remotely
3 – AnyDesk (Free)


You may use AnyDesk on a wide variety of platforms, including Windows, Linux, Mac, and more. You can access videos and other applications on your mobile phone no matter where you are if you have an iPhone. Furthermore, you may use it whenever you choose, at no cost.
Features
Outstanding streaming
Easy-to-use features
Reliable and quite secure
4 – Mirroring 360 (Paid) (Download)


There are a number of reasons why Mirroring 360 is considered the greatest iPhone screen mirroring app. As a first benefit, it lets you capture and distribute video from your desktop to larger displays. Furthermore, the Amazon Fire TV stick can be easily connected to it.
Some of its capabilities can be used by other screencasting applications. But this is very useful since it enables you to share your screen with up to 40 other people at once. But you'll also need to install the Mirroring 360 app on your computer to use this one to its fullest.
Features
Can be used perfectly for educational purposes
Allow you to play games
Best for web meetings and presentations
5 – Chrome Desktop Remote (Free) (Download)


Chrome Remote Desktop is a reliable option for mirroring your iPhone's screen. Your iPhone can use your computer's storage and applications, and your computer's storage may use your iPhone. The app is web-based, so you'll need to download it on your iPhone before using it on your computer. In addition, it offers a fantastic mirrored experience when using high-quality equipment and a stable internet connection.
Features
Easy to link with your own Google account
It supports screen sharing
Easy to access your PC from any location using your phone
6 – Microsoft Remote Desktop (Free)


Another amazing application that can be downloaded to your iPhone is Microsoft Remote Desktop. Using the app to mirror your computer to your phone is a breeze. Also, the application may be used as a screencasting tool for remote desktop access. With this feature, the app becomes the top choice for mirroring iPhone screens.
Features
Audio and video streaming
Easy to use and quite safe
Multiple-touch gestures
7 – Replica (Paid)


Another excellent iOS app that mirrors your screen is Replica. During business meetings, you may use Replica to give presentations while simultaneously sharing online media, local files, or both. All it takes to start watching your preferred movies and pictures is a two-step setup process. Even when seen on much bigger displays, the quality of these movies and graphics remains unchanged.
Features
Compatible with all iOS devices
Stunning and HD quality
Very much easy to set up and use
8 – TV assist (Paid)


Using this application, you may project the screen of your iOS device onto a nearby TV. As a result, you can share your favourite photos, videos, and tunes with anybody, anywhere in the world. Furthermore, it can find and play content stored on other DLNA devices that are connected to the same TV. In addition, it's possible that this app may play the role of a media renderer or receiver. You may use this to quickly and easily watch videos on any other device that supports TV Assist.
Features
Easy to record videos and audios and play on TV
Compatible with all iOS devices
Easy to set up and use
9 – ApowerMirror (Paid)


ApowerMirror is not only useful on iOS devices, but also on Windows computers and media projectors. When you want to show off the videos, images, and documents saved on your iPhone, you may get fantastic results.
Therefore, it may be useful in professional settings such as business meetings and PowerPoint presentations. It also allows you to operate your computer from your iOS device and share your screen with other people.
Features
Offers high-quality audio and video
Best to use for PowerPoint presentations
Compatible with all iOS devices
10 – VNC Viewer (Free)


The VNC Viewer is another free app that will allow you to mirror your Android or iOS device's screen to a computer monitor. This application works well with a wide range of platforms, including Windows, macOS, Linux, Android, and iOS. Many features, including scrolling, zooming, and whole screen management, have been included in the most recent version.
Features
Easy to connect via cloud service to PCs running VNC Connect
Support for Bluetooth keyboards
Backup and syncing connections
Conclusion
The iPhone's screen mirroring applications revolutionise how we watch online videos. They are gradually replacing the inconvenient method of watching movies and videos on tiny smartphone devices. Screen mirroring apps for the iPhone might seem complicated at first, but they are easy to set up and don't cost much, so you may be able to watch movies and play games on a bigger screen in a whole new way.