The "No Service" notice may often appear if you reside in a location with poor mobile phone service. However, if there are no network difficulties in the region and you still have no service on your iPhone, the problem may be software-related.
It might be annoying to have no service on your smartphone even when you are in an area with excellent coverage. You cannot send messages, use the internet, or make emergency phone calls.
While there are solutions to repair the "No Service" issue on your iPhone on your own, it may still hinder your productivity and prevent you from completing essential activities.
Here are some indicators to help you determine whether you are experiencing a network outage.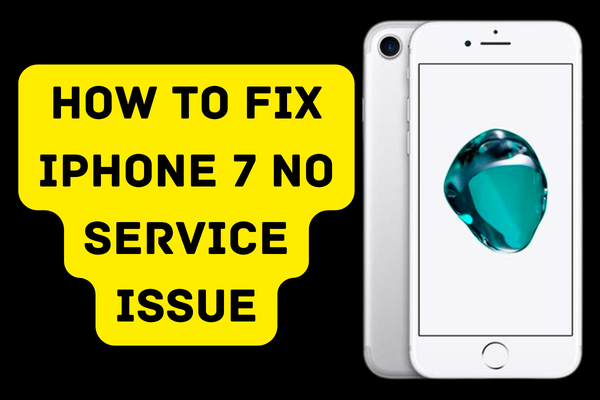 Common Causes of iPhone 7/7 Plus Lack of Service
Usual iPhone 7/7 Plus No Service issues, such as signal losses, network connection failure, and inaccessible connectivity, might be caused by an issue with your device, and not your network provider.
When this occurs, the No Service error will appear on your iPhone 7 or iPhone 7 Plus, and you will be unable to send or receive text messages, conduct or receive phone calls, or connect to the web unless you use Wi-Fi. Follow the following troubleshooting steps to resolve issues fast.
Methods to fix iPhone 7 no service issue
1.   Check for iOS Updates
New upgrades provide robust security fixes that address flaws or problems. To check for available updates, choose Settings > General > Software Updates > Check for Updates from the menu.
The procedure is to always have Automatic Updates enabled.
2.   Restart the iOS device
This is an effective method for clearing your iPhone's memory and eliminating any network-related bugs. Hold down the side or top button till the slider shows on the screen to restart. To switch off your gadget, drag it.
Hold the side or top button until the Apple logo returns to restart. In addition, you may restart your iPhone 7 by navigating to Settings > General > Shut Down and then turning it back on.
3.   Check Mobile Data
On occasion, you may get signals yet have difficulty connecting to the internet. If you are experiencing this difficulty, check your cellular data settings.
You may have inadvertently deactivated Mobile Data or neglected to enable Roaming settings while traveling abroad.
To determine if your Mobile Data and Roaming settings are enabled, go to Settings > Mobile Data > and check whether Mobile Data and Roaming are enabled.
4.   Enable Automatic Network Option
Occasionally, manually choosing the network might also resolve the "No Service" problem. To do this, you must access the Settings app on your iPhone.
To disable Automatic, go to the Cellular menu, then Network Selection, and then set the Automatic option off. The gadget will then manually search for networks and provide a list.
Choose the carrier that corresponds with your SIM card to address the network problem.
5.   Check for Updated Carrier Settings
If your carrier's settings have not been updated, you may potentially get the "No Service" error on your iPhone. On your iPhone, go to Settings > General > About to see whether an update is available that you haven't installed. Scroll to the bottom to see the information about your carrier.
If an update is available, you should immediately connect your device to a Wi-Fi network and run the Update.
6.   Insert the SIM card again
Removing the SIM card and then reinserting may resolve network problems. Don't forget to switch off the phone before beginning! You may also insert a different SIM card to check whether the issue is with the card, the provider, or the phone.
7.   Toggle Airplane mode
Turning the iPhone's Airplane mode on and off might enable it to receive carrier signals.
8.   Change Data Options
iPhones may use either a 4G or 3G connection depending on your needs. Navigate to Settings > Cellular > Voice & Data and toggle between 4G and 3G to see whether this resolves the "No Service" error on the iPhone.
9.   Reset Date and Time Setups
When traveling to a new area, or even to a different time zone, the "No Service" error may appear unexpectedly. This occurs because the device was unable to update its settings during the time zone transition. You should attempt to connect your iPhone to a Wi-Fi network to resolve this issue.
After connecting, go to Settings > General > Data & Time > and enable Set Automatically. If you are linked to the internet, these settings should soon be changed, and the gadget will begin to display the network.
10.   Reset network settings
This troubleshooting method may resolve phone network-related issues, but it should be your last resort. Why? This is because network resetting in iPhone will remove all stored Wi-Fi passwords, VPN and APN settings, and cellular information.
Network problems are often not that significant. You may resolve the issue with a system restart, system update, or any of the other solutions listed above.
Nonetheless, if your iPhone continues to display the "No Service" message despite your best efforts, there may be a problem with the hardware, and you should call an iPhone service center to get it evaluated and repaired.
Conclusion
Contact your carrier to confirm that the network is not having outages, that your account is in good standing and that your service is operating, and that your iPhone is not being prevented from sending or receiving data.
If none of these solutions work, contact Apple Support or visit your local Genius Bar for more assistance.