Have you ever wondered how to get rid of trash on an Android device? Android smartphones include an in-built feature that makes it simple to wipe data with a single press. Following the steps in this article will help you successfully delete the trash from your Android smartphone.
If you want to permanently remove a file from your Android smartphone, you may use the device's built-in feature to search for it in the file system and then delete it. When you delete a file from your Android smartphone, it is immediately removed from the device's storage and cannot be recovered in any way.
On the other hand, you likely have a large number of items (including apps and images) on your Android smartphone and may want to erase several of them simultaneously.
You could, of course, remove each file individually from your device, but it would be a difficult process. So, how do you empty the trash on an Android device? Let's get started!
1:  Clear Android App Cached Data
Cache data is temporary information that is saved locally on the device to speed up its operation. Cache, on the other hand, boosts speed but uses up storage space on your mobile device. In order to free up space on your device, it is recommended that you delete your cache.
If you want to remove all of your Android device's cached information at once, go to "Settings" and then "Storage." Several types of information that have been stored on your phone's internal memory will be shown. To remove them, go to "Cached data" and click the respective button.
Additionally, you have the option to erase the cached data associated with each individual app one at a time. You may free up space and delete the cache for any app by following these steps:
Go to Settings and Tap on "Apps" or "Manage Apps"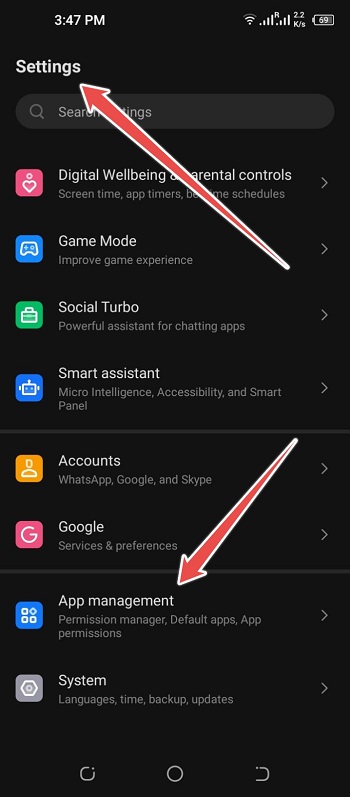 You'll Find All Installed Applications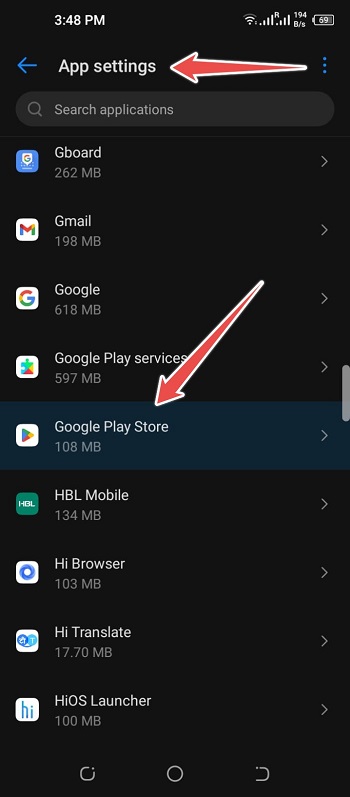 Choose a Particular App to Clear its Cache
Now Tap on the "Clear Cache" Button to Clear it
2:  Delete Downloaded Files
There's always something new that we want to save on our phones, whether it's a picture, a file, etc. The data we download serves a temporary purpose, but they take up space on our phones' hard drives and we never use them again. If we remove all of those files, we can make more space in the RAM. Simply go to the "download" area and remove any unnecessary files from there.
Find the "File Manager" Folder on Your Phone
Tap to Open it and Find the "Downloads" Folder
Choose Now the Unwanted Files You Want to Delete
3:  Use Smart Storage Option
Since Android version 8, users have had access to Smart Storage. You may find this function on any Android smartphone running Android 8 or later.
This function helps in clearing out duplicate or otherwise unnecessary information from the phone's storage. Here are the steps to access Smart Storage and delete unwanted files:
Go to Settings and Look for the Storage Option then Tap on It
Below, You'll Find the "Storage Manager" Option with Toggle Button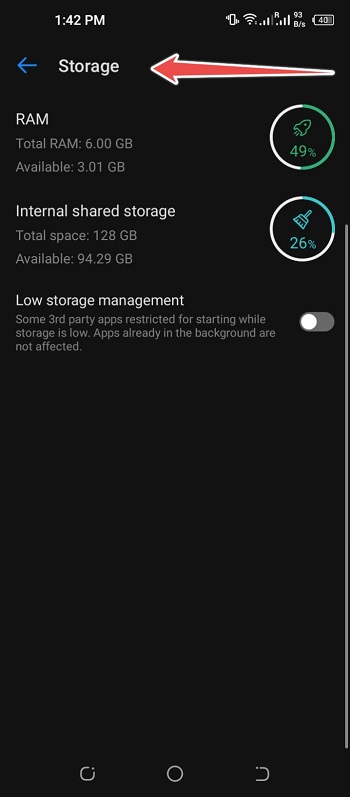 Smart Storage will be turned on in the background to get rid of duplicate or useless data.
4:  Delete Unused Apps from the Phone
There are probably a number of applications on your phone that you never use, and some of them were pre-installed. You probably have a lot of wasted space on your phone due to useless applications. You may clear up your Android device's trash and save space by removing useless applications. Here are the steps to take to remove unused apps:
Go to Settings and Tap on "Apps" or "Manage Apps"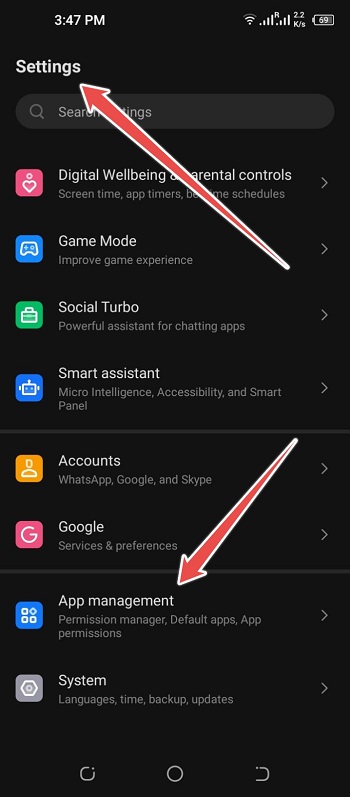 Click over "App Settings"  and you'll find the List of Installed Apps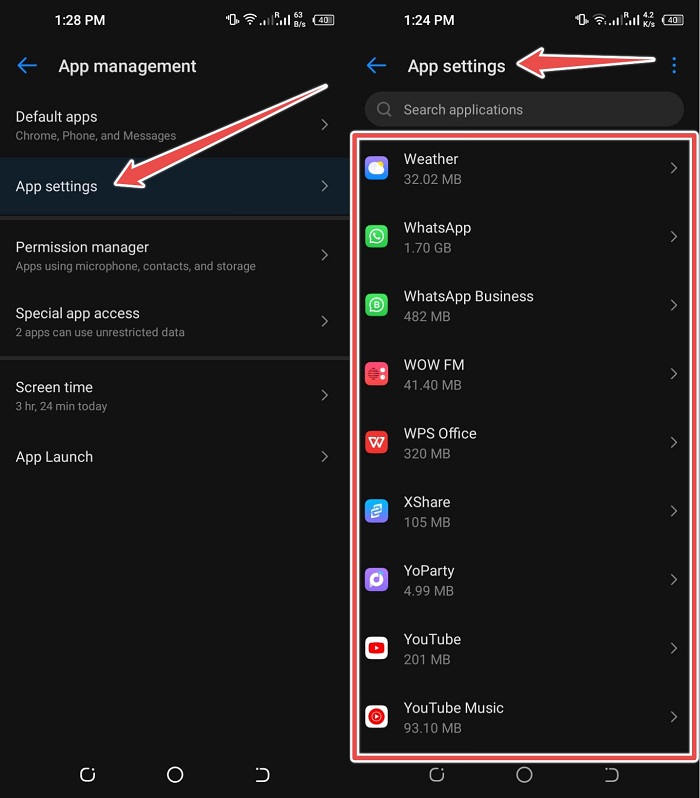 Choose an App You Want to Uninstall and Tap on it
Now Select "Uninstall" to Remove it from Your Phone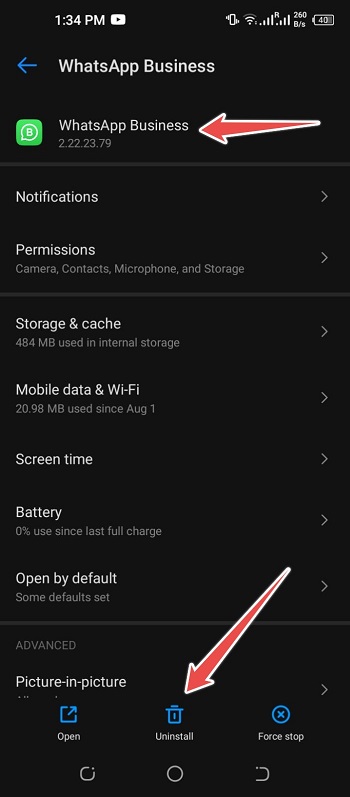 5:  Use an SD Card for Large Files
It's possible that you have large files on your phone that you don't need, but at the same time, you don't want to get rid of them. To fix this, just move the file to your phone's SD card.
If it doesn't have a slot for an external SD card, you can also move it to a computer or another device.
Transfer huge files from your Android phone's internal storage to the external SD card using the phone's file manager. It might take a while to transfer a really big file.
A file manager may also be used with an OTG connector to copy data from the device's internal storage to an external storage device. As an alternative, you could just plug it into a computer and email it that way.
6:  Delete Third-Party App
The applications that you have installed on your Android phone are not authorised by the manufacturer of your phone. They take up too much space on the phone's memory and are too large.
However, even if they are moved to an external storage device, such as a microSD card, they still take up valuable space on your Android device and may even slow it down.
If you have them installed, you may save up space on your phone by removing their associated installation files.
What are the Benefits of Emptying Trash Regularly?
Cleaning up your trash will make space for new apps and files. In addition, cleaning up your trash will remove any malicious files or software that might compromise your device.
The functionality of your phone will be enhanced too. Moreover, your device will run more smoothly and quickly. All in all, there are several ways in which regularly removing trash may help your device work flawlessly, including reducing the frequency with which it freezes or reboots.