Reading someone else's text messages is easy, even if they don't have their phone nearby. Today's technology provides an opportunity for someone to keep tabs on another person's actions from afar. Reading someone's text messages without their permission is now possible because of top-notch spy software on the market.
Spying software provides high-quality services and products that are easy to set up and utilise, and some of them allow you to spy on someone's text messages without their phone for free. Parents can use a text message tracker too in order to keep track of their children's text messages.
How to Hack Messages? (iOS and Android)
When it comes to getting someone else's phone, it's the most obvious obstacle to overcome. Don't worry about it. No phone is required to read the text messages and get the necessary information.
Enter the Apple login details for an iPhone user into one of the spy apps we have suggested in this article. Everything you need to know about their phone will be at your fingertips from here on out. You accomplish everything without anybody noticing you.
It's, however, a bit more difficult on Android. It's a downside of Android devices since they don't connect to a central storage facility, which ultimately makes it a bit hard to access all data in one place. But don't worry as there is still time to act.
In the event that you are certain they will click on the link, you may send them an email with a spoof link containing the spyware. By clicking on it, the intended user will be prompted to install the application, which he or she will do without realising it.
Hack Text Messages on the iPhone?
Due to Apple's efforts, iPhones are incredibly secure. However, spy apps may intercept text messages and transmit them straight to your phone. You don't even need to install a spy app on your iPhone in order to monitor it.
An iCloud account is pre-installed on every iPhone, storing all of your important data in one place. Having the iCloud account's login credentials is all that is required. It's, therefore, possible to collect all of this information into a dashboard that can be accessed through a computer or smartphone at any time.
You must create an account with a spy app before you can begin. Xnspy is considered one of the best spy apps, and there are many good reasons for it. To complete the process, you'll need to enter the user's iCloud account information. If your phone has two-factor authentication, you'll have to intercept the code. You can do this by logging onto another iOS device using their iCloud credentials. You may now access all of the phone's information on your online dashboard, including text messages and other data.
Hack Text Messages on Android?
For an Android smartphone to be hacked via its text messages, a spy programme must be installed as well as physical access to it.
In order to give it a start, you'll need to sign up for a spy app such as Xnspy to hack and read someone's text messages on Android. An Android smartphone must first be unlocked in order to install the spy app. On your control panel, change all security settings to allow access to SMS messages and other information that you received when purchasing the product.
How to Install Xnspy Spy Software?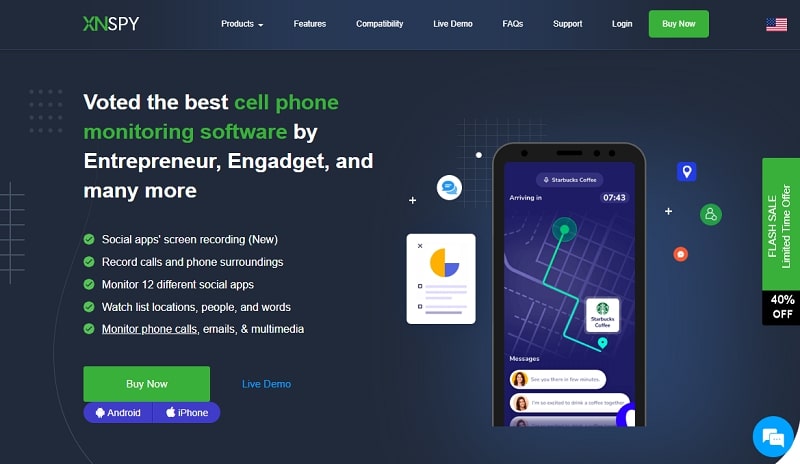 Similar to the different software that helps you Track Someone's Phones Location for Free, Xnspy software is one of the best spy applications, enabling you to read text messages on an iPhone or Android. You'll need physical access to the device if you are using an Android device. Once you install this spy app on the target phone, you'll be able to view all incoming and outgoing messages without having to physically access the phone.
There is no need for physical access to an iOS device, on the other hand. To remotely read someone's SMS messages, all you need are their Cloud credentials. In addition, Xnspy gives its customers an online dashboard from which they can see all of the text messages that they will send and receive.
Take a look at the instructions below for installing Xnspy:
When you subscribe to Xnspy, you'll get an email with a link.
Open the download link sent to your email account, but on the web browser of the target phone, not your own.
It'll begin downloading on their smartphone.
Open the app you just downloaded. Complete the setup by following the instructions.
Can You Get Messages from Another Phone to Your Phone?
Without a shadow of a doubt, getting text messages on your smartphone from another phone may be possible. Registering with one of the spy applications mentioned above is all it takes. Messages from the phone you want to monitor will be transmitted to your online dashboard after your account is authorised. It'll enable you to access current information.